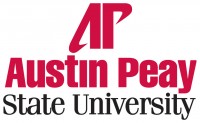 Clarksville, TN – On a muggy evening in late June, several Austin Peay State University graduate and undergraduate students hiked up to the mouth of Dunbar Cave in the hopes of finding a few bats.
The group brought with them a large Harp trap, consisting of a metal frame inset with rows of thin fishing line, and three high-frequency microphones and computerized recording units. After setting up their equipment, they sat in the cool dark of the cave opening and waited.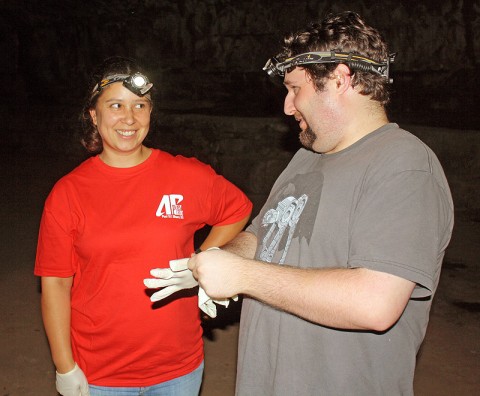 "Sometimes bats fly over nets, so what we've done is set up three separate ultra sound recorders around the entrance of the cave," then-graduate student Josh Schulte said. "The high frequency acoustic monitoring is much more likely to record any bats in the area."
Several decades ago, the students probably wouldn't have needed the traps or the high-tech microphones. Thousands of bats once roosted inside the cave and could easily be seen fluttering out over the adjacent Swan Lake. That, unfortunately, is no longer the case.
"When we began our work here, there were very few bats, simply a single bat or two," Dr. Andrew Barrass, principal investigator for the "Bat Project" with the APSU Center of Excellence in Field Biology, said. "We have been working since 2005 to try and restore bat populations in the cave. In June 2006, the Dunbar Cave State Natural Area built a new 'bat friendly' cave entrance gate, and they were interested in us tracking the progression of bats slowly coming back into the cave."
The good news is that since the "Bat Project" began, the students' data shows a steady increase in a few bat populations. The bad news is that the population of one particular species, known as the Little Brown bat, has declined in recent years. Its disappearance is likely the result of a major ecological disaster afflicting bat populations nationwide known as White Nose Syndrome (WNS). The fungal disease has led to the death of about five to seven million bats in North America in only the last four years.
In 2010, then-APSU graduate student Seth McCormick discovered a Little Brown bat with the WNS fungus while conducting field research in Dunbar Cave. The site was quickly closed off to the public, but state officials such as the Tennessee Wildlife Resources Agency, recognizing the important work APSU students were doing, have allowed them rare access to the cave in order to continue their research.
"I got a nice email the other day from the state's Natural Areas program," Barrass said. "It said they'd like for us to expand our work. Not reduce our work, but expand our work. We're one of the few universities researching bats within a cave."
The spread of WNS has closed many caves nationwide and limited important research on bat behavior.
The APSU students are now involved in research with possible major ramifications. That's because little is known about White Nose Syndrome, but its effect on agriculture and the economy could be devastating. Bats eat tons of insects each year, providing a major benefit to the agricultural economy. A recent article in the journal "Science," co-authored by University of Tennessee professor Gary F. McCracken, suggests that the "loss of bats in North America could lead to agricultural losses estimated at more than $3.7 billion/year."
The APSU students are working closely with McCracken and his graduate students to test bats more often for the WNS fungus during cave surveys. Dunbar Cave, however, has proven to be a bit of an anomaly. Unlike most bat roosting sites infected with WNS – where bat populations rapidly collapse with a near 100 percent mortality rate – Dunbar Cave's population, aside from the Little Brown bat, is increasing. The cave's Tricolor bat, or Eastern pipistrelle, has continued to increase since the APSU "Bat Project" began. State officials have tasked APSU students to see if that trend is continuing.
"We haven't had the mortality that most other sites have," graduate student Veronica Mullen said. "We've also seen an increase in females. Their presence is more reproductively significant."
The hope is with increasing numbers of females being trapped, that will mean the populations are accepting the cave and populations will grow. More females suggests more opportunities for mating, which in turn mean more bats.
"They (state officials) are also hoping we find evidence of Gray bats using specific cave chambers," Mullen said. "They're federally endangered bats. They historically used Dunbar Cave, but due to the fire and human disturbance, we haven't seen signs of them in many years."
In the 1970s, vandals set fire to Civil Defense boxes stored inside the cave. When the flames were finally put out, investigators found thousands of tiny bat skeletons littering the cave floor.
"We hope with the recent cave closure and with less human disturbances, there will come an influx of more species," she said.
During cave surveys early this year the students identified several Long Eared bats using a cave chamber. It was the first time this species had been identified in the cave.
Their "Bat Project" research and success has led to a growing interest in the field among a new generation of APSU students. Alisha Andrews, a junior biology major, recently joined Mullen on some night excursions to Dunbar Cave.
"Being an undergraduate, that night was really awesome that I could come out to the cave and work with graduate students," she said. "I'm told that not a whole lot of people are studying this right now, so it's good to be a part of something that can make such a big impact."
Another senior biology major, Alyssa Moe, assisted with banding captured bats.
"Most people simply don't understand how complex bat behavior really is," she said. "They communicate to each other in milliseconds."
In the years since McCormick discovered the bat infected with WNS, a few new cases have been detected inside Dunbar Cave. And even when bats miraculously survive, the results of WNS aren't pleasant.
"Many of the bats we capture are generally healthy and have beautiful golden brown fur coats," Barrass said. "Yet, some of these recent captures show the signs of skin necrosis and infection caused by WNS fungus. Often the fungus will invade the bat's skin cells and kill chunks of tissue, leaving holes in the bat's wings."
For now, Barrass and his students continue their research, hoping that the fungus doesn't destroy the bats and all their years of hard work.
"It's kind of sad," Schulte said. "With White Nose Syndrome killing so many bats and seeing what the bats are going through, what if this is the one of the last opportunities we have to study these highly intelligent creatures?"
For more information on the bat research taking place at Dunbar Cave, contact the APSU Center of Excellence for Field Biology at 931.221.7019 or the Bat Project website at www.apsu.edu/bat.