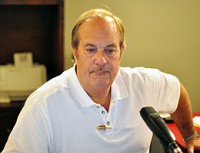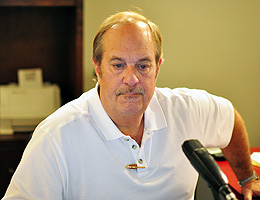 Clarksville, TN – Embattled Ward 1 Clarksville City Councilman, and state legislative candidate Nick Steward, admitted to stealing from the Army while serving in Afghanistan, and receiving a "general discharge" for his crime.
In an exclusive interview on Clarksville news talk radio station, WJZM, Steward said that he took some computer parts for his personal use while ordering supplies for his unit.  Steward said he was caught "by my chain of command" and eventually discharged from service.  This is the first time that Steward has admitted to his indiscretion publicly.
Steward is running in the Republican primary for the Tennessee State House District 74 seat, against Lauri Day, a Houston County native.
Steward has been the focus of criticism since he voted against the revised Clarksville city charter at the July city council meeting, after previously voting for it.   Since that vote, a local group, the Common Sense Coalition, has published a background check on Steward, and made several accusations about his ability to continue to serve on the city council.
The controversy surrounding Steward's military discharge first came up last week when former Clarksville Mayor and retired Colonel Ted Crozier withdrew his support for Nick Steward, and questioned Steward's military record.  Crozier said, "He needs to come clean about his discharge."  Crozier says he feels "used" by Steward, but takes responsibility for "Not checking him out.  I fall on my own sword for that one."
The information that was made public by the Common Sense Coalition lists several "run-ins" with the law committed by Steward while living in Virginia, and serving in the military. In July of 2003, forced entry/detain judgement. December of 2004, driving under revoked/suspended license and expired tag. February 2005, failure to appear. February 2005, identity fraud, reduced to disorderly conduct. April 2005, contempt/failure to obey court order.  October 2005, driving under suspended license.
Steward admits that he made some "youthful mistakes" and "Hopes people can understand and forgive me for that.  What I would hope the citizens of Clarksville, and residents of District 74 will take a hard look at is what I've done for Clarksville, and the commitment I've made to this community, and will continue to do."
Steward has a near impossible task ahead of him, especially in a military town.  Sources indicate that the legislative delegation from Clarksville is "embarrassed" by the defeat of the charter revision, and Steward specifically.  His military discharge, and admission of stealing will be a hard thing for people to forgive, but Steward said "I want the people to know that I have made mistakes in my life, and can't do anything about it, but learn from it and move forward."
Neal Revlett, of the Common Sense Coalition, contends that Steward should probably not be allowed to continue to serve on the city council and has turned his findings over to the Election Commission and the District Attorney. "He has always had questions swirling around him about his residency.  He was basically a squatter in former ward 1 councilman Barbara Johnson's basement while running for the city council, and his current address doesn't even have electricity turned on."
Steward admitted to having his electricity turned off by the Clarksville Department of Electricity for non payment, but has since made restitution, and says he lives with his girlfriend, who lives in district 74.  Steward also admitted to receiving a DUI will attending a management class in Arkansas, in January of 2010.  Steward was elected to the city council in November of 201o.
Steward said, "It was the event that convinced me I needed to stop drinking, and I haven't had a drink since. I realized that I didn't need anything to cloud my judgement."  Steward denies rumors that he has had his paycheck garnished to pay child support. "I get a monthly check, and I have set up a system of payments to fulfill my responsibility."
Several fellow city councilmen have voiced their support for Steward, following his vote against the charter revision.  Bill Summers, Kaye Jones, and Deanna McLaughlin have expressed their support for Stewards decision to vote on the issues as he sees fit.  All three have consistently voted against the charter revision throughout the process, and have been critical of Clarksville Mayor Kim McMillan's leadership on the topic.
Steward was expected to debate his primary opponent, Lauri Day, in Houston County this weekend, but she withdrew at the last minute, stating she had business in Nashville to attend to.  Democratic incumbent John Tidwell was at the debate, and refused to acknowledge Steward at the event.
To hear the entire interview, listen to the Clarksville in Review podcast.