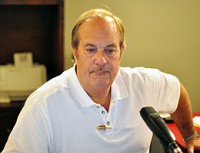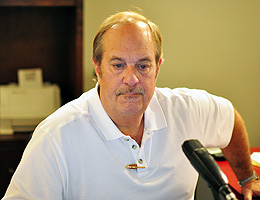 Clarksville, TN – Neil Revlett, founder and chairman of the Common Sense Coalition is calling for embattled Ward 1 City Councilman, and Tennessee State House District 74 candidate Nick Steward to resign his council seat, and claims that Steward may have committed voter fraud.
In a press release, Revlett claims:
"The Common Sense Coalition of Montgomery County appreciates that Mr. Steward answered many of the questions about his character in an interview with Hank Bonecutter on the radio program "Clarksville in Review" and other local media.
Mr. Steward admittedly does not live at the address where he is registered to vote. He asserts that this doesn't matter because he lives with his girlfriend, who resides within Ward 1 and State House District 74. He did not provide this address for verification.
Mr. Steward voted on Friday, July 13th, 2012. If he claimed to live at his address on Tandy Drive, we believe this constitutes voter fraud. CSC member and Ward 1 constituent Mr. Ronald Green submitted a complaint to the Administrator of Elections so that this can be fully investigated.
Mr. Steward's revelation about his 2010 DWI doesn't add up. He claims to have had a BAC of .02 which is well below the legal limit of .08 in Arkansas. Given his history of deceptions and half truths, we have no reason to believe he is providing full disclosure now.
Regarding his military discharge; the Army placed Mr. Steward in a position of trust, and he used this position to steal from the taxpayers. Furthermore, Mr. Steward only came forward with this information after the Common Sense Coalition and the media began investigating it. It is our position that his actions render him unsuitable to hold elected office at any level of government.
It is for these reasons that the Common Sense Coalition of Montgomery County calls for Nick Steward to resign as Ward 1 City Councilman."
When contacted about these most recent claims, Steward responded with this email:
"It is unfortunate that Ms. Day (Lauri Day, Steward's Republican party primary opponent) and her allies would continue to communicate only about me, instead of her vision for the citizens of Montgomery County. I admit that have made my fair share of mistakes in my past, which despite them being hard to confront and relive, I have fully addressed for all to know, through print newspaper articles and over the air waves.
With the treatment that Ms. Day and those who do her dirty work have shown me, it is no wonder that good people are so reluctant to be involved in the political process.
I would ask the voters to simply compare at my record of doing great things for this community against the blank page of the alternative, since she refuses to articulate what she would do for this community. The younger me has plenty of things in my past that I regret, but I hope that voters consider me as a neighbor and Christian and judge whether or not to trust me based on my record. It is not the worst moment in your life that should define you, but your reaction to it."
To hear the interview with Nick Steward, www.wjzm.com/podcast.
For more on the story, see: Nick Steward answers critics, admits to stealing from Army