Austin Peay vs. UT Martin
Sept. 22nd, 2012 • 6:00pm • Clarksville, TN • Governors Stadium (10,000)

Clarksville, TN – After a trio of difficult road games to open the season, Austin Peay finally will play its first home contest when UT Martin comes to town, 6:00pm, Saturday, in Governors Stadium.
The 0-3 Govs are in desperate need of a victory. APSU is coming off a 34-14 loss at Tennessee State where the Govs held a lead at halftime. In fact, the Govs were outscored 20-0 in the final half of their first Ohio Valley Conference game.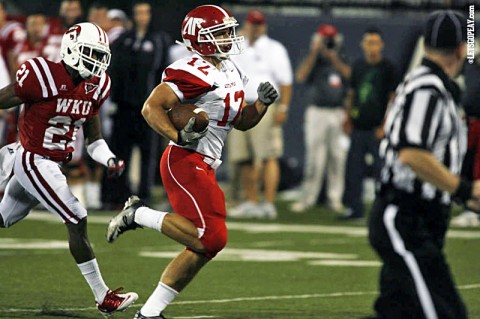 This game not only is another OVC contest, but a Sergeant York Trophy one as well. However, the Governors have enjoyed great success under Rick Christophel in home openers. In his sixth APSU season, the Govs have lost just one time under the former Govs alum in his previous five contests. That include a 23-17 victory last season in the OVC opener against Eastern Kentucky.
Offensively, the Govs must develop more offensive consistency. Against Tennessee State, running back Wesley Kitts rushed for 91 yards, but most of those yards came in the first half. Wide receiver Devin Stark had nine catches for a career-best 124 yards and two TDs.
Quarterback Jake Ryan completed 25 of 48 passes for 271 yards-the second most passing yards of his career.
The Govs and Tennessee State split evenly time of possession in the first half, but the Govs barely had the ball 10 minutes in the second half.
Defensively, the Govs will seek someone to step into the leadership role provided by senior safety Antwaun Majors, who suffered a torn ACL last Saturday and is gone for the season. EnRiques Perry, who started previously for the Govs, will fill in for Majors at the position.
Junior linebacker Josh Carroll is one Governor the Govs could turn to for leadership. Fellow linebacker Craig Salley led the Govs in tackles last week with 11 while the defensive front, led by Earnest Smith, Iosua Siliva and Reese Bulmash held TSU to just 112 rushing yards last week.
But the front must also get more pressure on the quarterback to help a secondary that permitted more than 300 yards last week.
In fact, UTM is led offensively by fifth-year senior quarterback Derek Carr, who burned the Govs a year ago.   Carr has thrown for 659 yards so far this season, completing 49 of 96 passes.
His favorite target is preseason All-America receiver Quentin Simms, who has 22 catches for 294 yards.
Former UT tackle Montori Hughes (3.5 TFL) and fellow lineman DJ Roberts (4.5 TFL) anchor a Skyhawks defensive front while inside linebacker Ben Johnson has 34 stops so far.
Cody Sandlin is considered one of the top kickers in FCS.
Worth Noting
This will be APSU's second game in the 2012 Sergeant York Trophy series. However, they won't play their third and final game until the season's final weekend, November 17th, against Tennessee Tech.
This will be Austin Peay's 2012 home opener. The Govs are 4-1 under Rick Christophel in home openers.
Austin Peay has enjoyed only 18 winning seasons in 75 years of football and only two winning seasons since the turn of the century–a 7-5 mark in 2002 as a non-scholarship program and a 7-4 record in 2007 in Rick Christophel's first season.
After owning a school-record 26 seniors in 2009, the Govs had half that many (13) in 2010. This season
the Govs have 15.
Fifth-year seniors Antwaun Majors, Jake Ryan, Preston Frye, Preston Rouse and Zac Burkhart are in graduate school after receiving their degrees either in May or August.
APSU head coach Rick Christophel (1971-74) was the first of three brothers who migrated from Reading, Ohio, to play quarterback at Austin Peay. Randy Christophel played quarterback at APSU from 1975-78 while Rob played the position from 1981-82.
Scouting UT Martin
The 2-1 Skyhawks opened the season with a 20-17 win at Memphis on a Cody Sandlin 43-yard field goal with four seconds left.
Sandlin and Quentin Simms were named Preseason All-OVC. In fact, Simms was named preseason All-America by Phil Steele Magazine. He has 22 catches for 294 yards so far this season.
Quarterback Derek Carr has thrown for 659 yards, completing 49 of 96 passes.
Former UT tackle Montori Hughes (3.5 TFL) and fellow lineman DJ Roberts (4.5 TFL) anchor a Skyhawks defensive front.
Inside linebacker Ben Johnson has 34 tackles after three weeks.
Setting The Scene
The Series: APSU trails the series 25-33-2l UT Martin has won the last 4 games
Last Meeting: October 11th, 2011; Austin Peay 23, UT Martin 61
Govs Game Captains: TBA
Offensive Notes
Austin Peay enters the game with a streak of scoring in 76 straight games. The last time APSU was shutout was by Drake, 54-0, September 24th, 2005.
APSU finished the 2011 season ranked 13th in the FCS in sacks allowed per game (1.0). It was the second straight year the Governors were ranked in the Top 15 in fewest sacks allowed per game. They were 8th in 2010. However, with a revamped offensive line in the season opener, senior quarterback Jake Ryan was pressured constantly, being sacked twice. He was sacked just once at No. 15 Virginia Tech and Tennessee State.
With a 12-yard first-quarter pass reception, Devin Stark reached the 1,000-career pass reception yard mark in his career. He became only the 13th receiver in school history with 1,000 receiving yards. Stark followed up his 1,000 receiving yards with a spectacular one-handed 20-yard TD catch in the right corner of the end zone.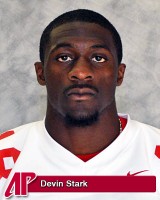 Devin Stark finished the first half against Tennessee State with six catches for 92 yards and two TDs—both APSU scores, one a 20-yard score and the other a seven yarder. He ended the game with nine catches for a career-high 124 yards, his second career 100-yard receiving game. His previous 100-yard performance came against Memphis a year ago.
When Wesley Kitts finished with 110 yards on 22 carries against Virginia Tech it made it two straight games for the senior running back with 100 yards rushing (he had 104 versus Western Kentucky). Kitts is the first APSU running back to open with two consecutive 100-yard rushing performances since Chris Fletcher opened 2007 with four straight 100-yard rushing efforts.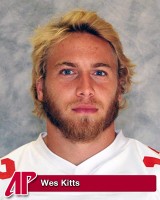 Although he failed to reach 100 yards for the first time this season at Tennessee State, Kitts finished with 91 yards on 16 carries. He is one of 25 rushers averaging 100-yards per game so far this season, tying him for 23rd at 101.67 yards per game.
When Wesley Kitts rushed for 104 yards against Western Kentucky he became the first Governors to rush for more than 100 yards against a Football Bowl Subdivision (FBS) program. He then eclipsed that yardage figure with 110 yards on 22 carries at Virginia Tech.
Jake Ryan's 271 passing yards against Tennessee State ranks as the second most in the senior's career. He had 314 yards against TSU in 2011.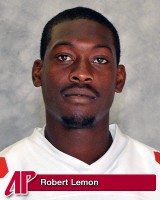 When Robert Lemon caught four passes for 47 yards against Tennessee State it matched the total number of receptions he had a year ago. It also matched his previous career best number of receptions (UT Martin/November 6th, 2010)
Austin Peay recorded just three yards total offense in six plays during the third period versus TSU.
Receiver-turned-running back Terrence Oliver recorded his first career TD with a 10-yard run against Virginia Tech.
Senior wide receiver Devin Stark finished 2011 with 53 receptions on the season, the most by a Gov since Lanis Frederick grabbed 77 in the 2006 season. He also had seven TD catches, most by a Govs receiver since Frederick had seven in 2006.
Devin Stark's four receptions at Virginia Tech, his career total reached 81, putting in a 10th-place tie all-time in receptions with Daniel Herndon. After his nine receptions against TSU, he is now 10th all time, needing just two catches to move up to eighth.
Senior quarterback Jake Ryan is third on the APSU passing list for completions (325), attempts (671) and yards (3535)
Running back Wesley Kitts served as the third-string backup for two seasons to Terrence Holt and Ryan White and the back up to White a year ago. He finished the 2011 season with 495 yards, averaging 5.9 yards per carry. He owned the Govs' longest TD run of 37 yards.
Stark was named second-team preseason All-America by the FCS Senior Bowl.
When wide receiver/running back Terrence Oliver looked up in the second quarter against Western Kentucky, good friend, former prep teammate and now roommate O.C. Brown was blocking for him. In 2009, Brown was the primary subject of the Academy Award-winning documentary "Undefeated" while at Manassas High School with Oliver also make appearances in the production.
Defensive Notes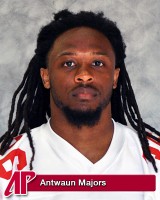 Although the Governors defense is more experienced in 2012, the depth chart still reveals much youth. In fact, only three seniors, safety Antwaun Majors, tackle Anthony Marion and linebacker Darrick Dillard were listed on the two-deep entering the season. Dillard is currently out with a leg injury while Majors suffered a leg issue against Tennessee State.
Junior linebacker Craig Salley, a former walk-on, recorded his career's first doubledigit tackle performance with 11 against Tennessee State, including 10 solo stops.
Junior safety EnRiques Perry came off the bench to tally six tackles, most in the second half in replace of senior starter Antwaun Majors. He also was credited with one of the Govs sacks.
Junior defensive tackle Iosua Siliva was credited with a career-best five tackles against TSU, all solo stops.
When the Governors held TSU to 112 yards rushing, Saturday, it was the fewest yards rushing allowed by the Govs in an OVC game since they held Eastern Kentucky to 133 a year ago.
In three games this season, APSU has allowed nine touchdown passes.
With Tennessee State passing for 322 yards, Saturday, it meant the Govs have permitted 906 yards passing over the first three games this season.
The Governors failed to force a turnover against Tennessee State.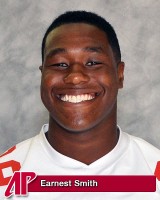 Junior defensive end Earnest Smith produced his career's best performance against Virginia Tech. Smith finished with eight tackles, including a sack of All-America candidate Logan Thomas. He also was credited with another tackle for loss along with forcing a fumble.
Junior linebacker Craig Salley was credited with the Govs' other sack of Logan Thomas while also recording eight tackles total against the Hokies.
Senior safety Antwaun Majors not only was APSU's tackles leader (88) in 2011, but finished eighth in the OVC, averaging 8.0 per game. A former walk on, Majors had 80 or more tackles in each of the last two seasons, finishing with 84 tackles in 2010 and 88 in 2011.
Strong safety Antwaun Majors picked up where he left off a year ago by being credited with a team-high 10 tackles against Western Kentucky. He also had the Govs' only sack.
Senior safety Antwaun Majors was named preseason first-team All-OVC by Phil Steele Magazine in its Fall 2012 Preview. Majors, who led Austin Peay in tackles last season with 88, was the Governors only first-team selection.
Junior defensive lineman Reese Bulmash was named second-team preseason All-OVC by the Phil Steele publication. Bulmash again is expected to anchor the Govs' interior defense in 2012. After gaining much experience in 2010, the Marietta, GA, native moved into the starting lineup in 2011, being credited with 21 tackles, including 2.5 for loss.
Antwaun Majors was named second-team preseason All-OVC by the website College Sports Madness. Junior linebackers Josh Carroll and Rip Rowan were named third-team preseason All-OVC.
Special Teams Notes
Senior placekicker Stephen Stansell enters the game still needing two field goals made to pass Tom McMillan (33) to become the school's all-time leader in that category. Stansell missed his only attempt, a 41 yarder, in the fourth quarter against TSU.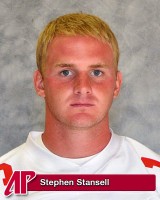 Stansell is ranked second all-time in point-after-touchdowns made with 75.
Stansell was the only OVC kicker to be perfect in point-after-touchdown attempts in 2011. He ended the season 22 of 22. In his career he is 75 of 77 (97.4 percent) in extrapoint attempts, ranking No. 1 in career extra-point percentage.
A strong suit of the Governors in recent years, special teams have been the Govs' achilles heel in the early going. Western Kentucky returned a kick for a TD against the Govs and also blocked a field goal. Virginia Tech blocked a punt to set up one TD and utilized a long punt return to set up another.
Stansell has both a new holder and snapper in 2012. After Nick Newsome served as APSU's long snapper for four seasons, the Govs have turned to redshirt sophomore Michael Dunphy in 2012. In addition, back-up kicker and long snapper Walter Spears now is serving as holder for Stansell after Jake Ryan handled much of the duties a year ago.
Back at punter is sophomore Ben Campbell, who is exclusively playing the position after also being a tight end in 2011. Campbell averaged 37.6 yards per punt in 2011. He had five punts better than 50 yards. In the opener at WKU, he averaged 40.4 yards per punt. He punted nine times against Virginia Tech. He is averaging 37.6 yards per punt this season.
Two seasons after losing All-America kick return specialist Terrence Holt, APSU still is seeking a replacement for kickoff and punt returns. Freshman J.J. Rutledge showed some of those abilities at Western Kentucky. He had a 54-yard kickoff return during the night. Meanwhile, Ean Pemberton returned his first career punts against Virginia Tech.