APSU Sports: Austin Peay Volleyball

Clarksville, TN – Austin Peay State University's volleyball team could not find its form that led to four wins in its last five outings and dropped its Ohio Valley Conference opener in four sets (32-30, 22-25, 20-25, 23-25) to Jacksonville State, Friday night, at the Memorial Health Building.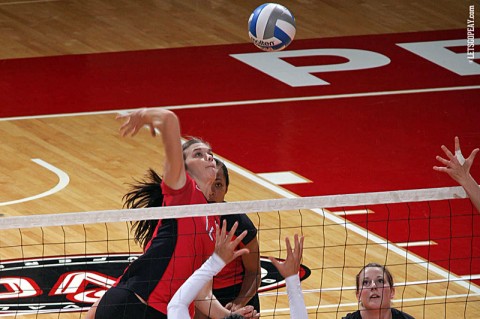 Yes, Austin Peay (6-10, 0-1 OVC West) opened its season at the Memorial Health Building after power went out at the Dunn Center less than an hour before first serve. The teams waited over two hours for power to be restored before moving to the building affectionately called "The Red Barn." Friday's match became the first intercollegiate contest played in the facility since 1983, which also was a Lady Govs volleyball match.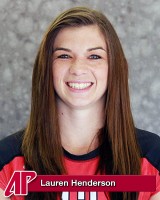 In the opening set, Austin Peay battled back from a three-point, 14-11, deficit and fended off several Jacksonville State (7-8, 1-0 OVC East) set points to win in overtime. The Lady Govs climbed back into the set and took a 20-18 lead with three consecutive blocks – including two solo stops by junior Lauren Henderson.
Austin Peay would have the first chance at set point, 24-23, but could not convert and then had to thwart five JSU set points. The set turned on a Gamecocks service error which the Lady Govs capitalized on with sophomore Liz Landon's kill and another block to win 32-30.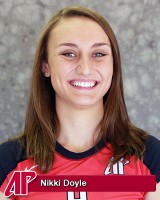 Jacksonville State recovered from that opening set disappointment and dominated the second and third sets. The Gamecocks won the second frame in wire-to-wire fashion. The third set was closer with six ties and three lead changes, but JSU took control with a 9-3 run that built an 18-12 lead and it did not look back.
Austin Peay will look back at the fourth set as the one that got away. The Lady Govs built a 9-3 lead in the early going. Jacksonville State was unable to chip away at its deficit until a 3-0 run cut the lead to two points, 20-18. The Lady Govs got caught in a bad rotation matchup-wise and surrendered a match-ending 5-0 run after leading 23-20.
Henderson led Austin Peay with 16 kills and six blocks. Senior Nikki Doyle added 16 kills and sophomore Jada Stotts added 10 kills.
Emily Rutherford led Jacksonville State with a match-high 19 kills. Hivya Leite added 14 kills.
Austin Peay will have a short turnaround before hosting Tennessee Tech in a 2:00pm, Saturday contest. The location of that match has not been determined. Please visit LetsGoPeay.com or follow APSU Athletics on Twitter (@LetsGoPeay) for up-to-date information.
Box Score
Austin Peay Lady Govs
Jacksonville State vs Austin Peay
(September 21st, 2012 at Clarksville, TN)
Jacksonville State

ATTACK

SET

SERVE

SRV

DEF

BLOCK

GEN

##
Player
SP
K
E
TA
PCT
A
SA
SE
RE
DIG
BS
BA
BE
BHE
Points

1

RUTHERFORD, Emily

4

19

6

62

.210

1

0

1

1

23

0

3

0

0

20.5

4

MEYER, Jen

4

11

3

29

.276

5

0

0

0

1

0

2

0

0

12.0

7

SIERAWSKI, Kaley

4

7

5

17

.118

0

0

0

0

1

0

2

0

0

8.0

9

MERGET, Nicole

4

9

4

25

.200

1

1

3

0

2

0

3

1

0

11.5

11

AGAMY, Alina

4

3

2

15

.067

48

1

2

0

13

1

0

0

0

5.0

14

LEITE, Hivya

4

14

7

42

.167

0

1

1

0

3

1

0

0

0

16.0

2

BOHNE, Samantha

4

0

0

0

.000

0

0

1

0

6

0

0

0

0

0.0

3

LAWSON, Kris

1

0

0

1

.000

0

0

0

0

0

0

0

0

0

0.0

6

COLE, Kelly

4

0

0

0

.000

0

0

2

0

15

0

0

0

0

0.0

8

ANBOUBA, Grace

4

0

0

0

.000

0

0

0

1

1

0

0

0

0

0.0

10

HEREDIA, Abbey

1

0

0

1

.000

0

0

0

0

0

0

0

0

0

0.0

12

BUSING, Lauren

2

0

0

0

.000

0

0

0

0

1

0

0

0

0

0.0

21

ANDERSON, Kelsey

4

0

0

0

.000

2

1

2

0

27

0

0

0

0

1.0

Totals

4

63

27

192

.188

57

4

12

2

93

2

10

1

0

74.0

TOTAL TEAM BLOCKS: 7.0
TEAM ATTACK BY SET
Set
K
E
TA
Pct

1

18

9

54

.167

2

17

4

45

.289

3

14

8

42

.143

4

14

6

51

.157

SET SCORES
1
2
3
4
TEAM RECORDS
Jacksonville State

(3)

30

25

25

25

7-8, 1-0 OVC

Austin Peay

(1)

32

22

20

24

6-10, 0-1 OVC
Austin Peay

ATTACK

SET

SERVE

SRV

DEF

BLOCK

GEN

##
Player
SP
K
E
TA
PCT
A
SA
SE
RE
DIG
BS
BA
BE
BHE
Points

1

FIELDS, Cami

4

0

2

6

-.333

42

0

0

0

20

0

2

0

0

1.0

5

SAIN, Alex

4

6

2

25

.160

1

0

2

0

15

1

2

0

0

8.0

8

LANDON, Liz

4

8

3

21

.238

4

1

1

0

5

1

3

0

0

11.5

9

DOYLE, Nikki

4

15

8

50

.140

0

1

2

2

15

1

0

0

0

17.0

12

HENDERSON, Lauren

4

16

5

44

.250

1

1

3

0

4

2

4

0

0

21.0

14

STOTTS, Jada

4

10

9

46

.022

1

0

0

1

18

0

3

1

0

11.5

2

HULL, Calyn

1

0

0

0

.000

0

0

0

0

0

0

0

0

0

0.0

3

ADAMS, April

4

0

0

0

.000

1

0

0

1

14

0

0

0

0

0.0

15

PLYBON, Hillary

1

0

1

4

-.250

1

0

0

0

1

0

0

0

0

0.0

Totals

4

55

30

196

.128

51

3

8

4

92

5

14

1

0

70.0

TOTAL TEAM BLOCKS: 12.0
TEAM ATTACK BY SET
Set
K
E
TA
Pct

1

18

10

55

.145

2

14

4

44

.227

3

9

8

43

.023

4

14

8

54

.111

Site: Clarksville, TN (Memorial Health Bldg)
Date: Sep 21, 2012 Attend: 123 Time: 2:00
Referees: Tyler Adams, James Lawson
Game moved to Memorial Health Building after power
could not be restored at Dunn Center.


| | | | | | |
| --- | --- | --- | --- | --- | --- |
| | 1 | 2 | 3 | 4 | Total |
| Tie scores | 19 | 1 | 6 | 4 | 30 |
| Lead changes | 9 | 0 | 3 | 2 | 14 |