Clarksville, TN –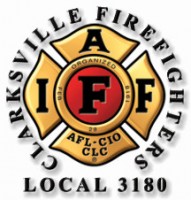 Clarksville Firefighters Association Local 3180 presented 70 tickets to their upcoming fundraising concert featuring John Michael Montgomery and Bucky Covington to Amy Carroll of Big Brothers, Big Sisters of Clarksville.
The concert is at 8:00 p.m. on October 20th and features country music superstar John Michael Montgomery; as well as Bucky Covington, who finished eighth during the fifth season of American Idol. "I kid people all the time and I say if you got married in the 90's there probably was a John Michael Montgomery song playing at your wedding," said David Kirkland the president of Firefighters Local 3180.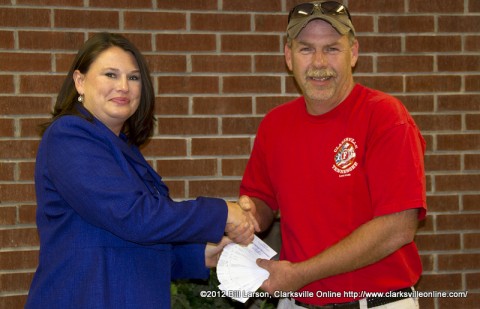 Kirkland speaking about the donation to Big Brothers, Big Sisters said, "Some people buy the tickets, but can't come to the show for whatever reason and they frequently will donate those back; and we give them to community organizations such as Big Brothers Big Sisters, so that they can give them out to the kids, and the volunteers and parents. That way the ticket doesn't go to waste, someone actually gets to use the ticket and see the show."
The show is being held at Municipal Auditorium in Nashville, Tennessee. Tickets are $26 each. While the firefighters Association has a call center contacting people to see if they would like to buy tickets, you don't have to wait! You can call Dave Kirkland at (931) 801-1164.
Amy Carroll, the executive director of Big Brothers, Big Sisters accepted the tickets on behalf of the organization. "Any opportunity that we can get to give the kids something that they may not get otherwise is wonderful!" she said, "This will probably be many of the kids first exposure to country music, as we have a very diverse group of kids in our program. We've had a few of the kids who asked who is that when told about the concert, and I say that he is a country musician. They responded, I've never heard country music before. So it will be interesting for them to see something different."
Big Brothers and Big Sisters is planning on chartering a bus to transport their people to Nashville, "We know the transportation can be an issue for some of the kids, all they've got to do is get here, get on the bus, relax and enjoy the evening," said Carroll. The concert is on Saturday night, so the kids won't have to worry about going to school the next morning.
The funds raised by the concerts are used by the Clarksville Firefighters Association for a variety of purposes including donations in our community.
Earlier this year, the Fire Fighters Association made a gift of an AED to the City of Clarksville for Heritage Park.
They also plan on having a smoke detector giveaway in late October or early November. "We want to make sure if you didn't have a smoke detector, come get one," said Kirkland. "We will be giving them out as long as supplies last; which will be as many as we can afford to buy. We want to make sure that everyone has a smoke detector because it is a proven fact that they do save lives!" Watch for more information as it becomes available right here at Clarksville Online.
They are planning to make a sizable donation to the American Red Cross for their Disaster Relief Services here locally. The American Red Cross supports burnout victims, provide disaster release, emergency assistance, and they help support area fire rescue services.
They are also going to be making a donation to the Wounded Warrior Project. "We feel like that is a very important charity here in our community; particularly this community. The wounded warrior Project is hands down one the best out there!
These philanthropic projects are a good fit for the Clarksville Firefighters Association, "When we are looking for projects we as an organization want to undertake, we look for those that help people to be safe, and live good lives."
Clarksville Firefighters Local 3180 has been in existence since 1988. Through the years they have provided support to a number of community organizations including Youth Athletics; Big Brothers, Big Sisters of Middle Tennessee; and Camp Rainbow. "What we do for a living is we save lives, save property; that is what our job is, that's what we are charged to do. When we make our donations we try to keep that focus in mind. Anything we can do to help the public that is what we are there for."