APSU Sports: Austin Peay Football

Richmond, KY – Austin Peay will jump back on the road this weekend seeking that elusive first victory when the Govs battle Eastern Kentucky, 2:00pm, Saturday, in Ohio Valley Conference play at Roy Kidd Stadium.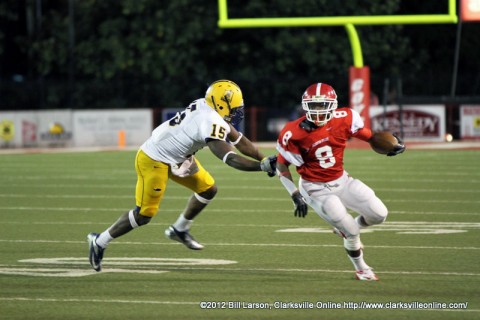 The Governors, 0-6 overall and 0-3 in the OVC, will be battling the preseason choice to win the conference title. Eastern Kentucky already has 21 OVC titles under its belt. The Colonels are coming off a disappointing final-second OVC road loss to Tennessee State.
The Colonels have played three of their last four games on the road and are back at Roy Kidd Stadium for homecoming.  Although the Govs have won two of the last three games against EKU, they have not won in Richmond since 1977.
EKU is led by seniors Matt Denham, T.J. Pryor and Tyrone Goard. A 2012 Walter Payton Award candidate, Denham is the OVC leader with 760 yards rushing and six TDs.
Pryor leads the OVC and ranks seventh nationally in passing effi ciency (161.4)-he has passed for 944 yards while completing 55.4 percent of his passes. He has thrown nine touchdowns to just one interception this season-and that a Hail Mary pass.
Goard has only 20 receptions but six have gone for scores. He is averaged 23.3 yards per catch.
Austin Peay, meanwhile, is not only seeking to gain 2012's first win, but also snap a streak of nine straight OVC games.
Last week, wide receiver Devin Stark posted career highs in receptions (10) and receiving yards (125) in the Govs' 52-14 loss to Murray State. Quarterback Jake Ryan completed 25 of 40 passes-he had seven passes dropped for 246 yards.
Freshman running back Reco Williams stepped in to finish with 110 yards on 21 carries against Murray State for APSU's fourth 100-yard rushing performance.
Defensively, linebacker Josh Carroll recorded a career-best 15 tackles.
Worth Noting
This is Austin Peay's 76th season of college football, including nine non-scholarship seasons (1997-2005).
This is Austin Peay's 40th Ohio Valley Conference season. The Govs are 95-181-2 alltime in OVC play.
After winning its first two OVC games a year ago, the Govs have now lost nine straight league contests.
Austin Peay has enjoyed only 18 winning seasons in 75 years of football and only two winning seasons since the turn of the century–a 7-5 mark in 2002 as a non-scholarship program and a 7-4 record in 2007 in Rick Christophel's first season.
After owning a school-record 26 seniors in 2009, the Govs had half that many (13) in 2010. This season the Govs have 15.
Fifth-year seniors Antwaun Majors, Jake Ryan, Preston Rouse and Zac Burkhart are in graduate school after receiving their degrees either in May or August. Senior offensive tackle Preston Frye also graduated last spring and is in graduate school.
APSU head coach Rick Christophel (1971-74) was the first of three brothers who migrated from Reading, Ohio, to play quarterback at Austin Peay. Randy Christophel played quarterback at APSU from 1975-78 while Rob played the position from 1981-82.
Scouting Eastern Kentucky
For a third straight game Austin Peay will be facing a Walter Payton Award candidate. Running back Matt Denham has an OVC-leading 760 yard rushing yards.
Senior quarterback T.J. Pryor is EKU's all-time leading passer with more than 6,000 yards passing.He has 944 yards and nine TDs in 2012.
Preseason All-OVC receiver Tyrone Goard has only 20 catches but is averaging 23.2 yards per catch and has six TD catches.
Free safety Brandon Stanley leads the Colonels in tackles with 41 tackles.
Linebacker Anthony Brown has 35 tackles overall, including 6.5 tackles for loss.
Strong safety Brooklyn Fox has intercepted three passes in 2012 while also recovering a fumble.
Setting the Scene
The Series: Austin Peay trails the series, 5-39
Last Meeting: September 24th, 2011; Austin Peay 23, Eastern Kentucky 17
Offensive Notes
Austin Peay enters the game with a streak of scoring in 78 straight games. The last time APSU was shutout was by Drake, 54-0, September 24th, 2005.
APSU finished the 2011 season ranked 13th in the FCS in sacks allowed per game (1.0). It was the second straight year the Governors were ranked in the Top 15 in fewest sacks allowed per game. They were 8th in 2010. However, with a revamped offensive line in the season opener, senior quarterback Jake Ryan was pressured constantly, being sacked twice. Since then he has been sacked just five times.
The Govs are tied 20th nationally in sacks allowed this season.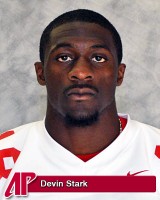 APSU has run 169 offensive plays the last two games, 79 against Murray State.
Austin Peay has scored 66 points this season, 39 of them in the second quarter.
Austin Peay has scored just 20 second-half points, being outscored 59-3 in the fourth quarter.
Senior wide receiver Devin Stark set a career best in receptions (10) and yards (125) against Murray State. It was his third career 100-yard game and second this season (he had 124 versus TSU).
Redshirt freshman running back Reco Williams, helping replace the suspended Wesley Kitts, rushed for 110 yards on 21 carries against Murray State, including his first career TD run of 32 yards.
Senior quarterback Jake Ryan finished with 241 yards passing (25 of 40) against Murray State. The pass yardage was the second most of of 2012. He had 271 at Tennessee State.
Senior Wesley Kitts is ranked 27th nationally in rushing, averaging 100.40 yards per game.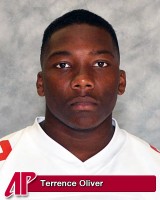 Junior running back/wide receiver Terrence Oliver enjoyed a career performance against Eastern Illinois, catching nine passes for 100 yards. He caught his first career TD pass against Murray State.
Senior wide receiver Devin Stark has caught at least two passes in all five games this season. He has 33 receptions for 403 yards on the season.
With a 12-yard first-quarter pass reception against Tennessee State, Devin Stark reached the 1,000-career pass reception yard mark in his career. He became only the 13th receiver in school history with 1,000 receiving yards. Stark followed up his 1,000 receiving yards with a spectacular one-handed 20-yard TD catch in the right corner of the end zone.
When Wesley Kitts finished with 110 yards on 22 carries against Virginia Tech it made it two straight games for the senior running back with 100 yards rushing (he had 104 versus Western Kentucky). Kitts is the first APSU running back to open with two consecutive 100-yard rushing performances since Chris Fletcher opened 2007 with four straight 100-yard rushing efforts.
When Wesley Kitts rushed for 104 yards against Western Kentucky he became the first Governors to rush for more than 100 yards against a Football Bowl Subdivision (FBS) program. He then eclipsed that yardage figure with 110 yards on 22 carries at Virginia Tech.
Jake Ryan's 271 passing yards against Tennessee State ranked as the second most in the senior's career. He had 314 yards against TSU in 2011.
Receiver-turned-running back Terrence Oliver recorded his first career TD with a 10-yard run against Virginia Tech.
Senior wide receiver Devin Stark finished 2011 with 53 receptions on the season, the most by a Gov since Lanis Frederick grabbed 77 in the 2006 season. He also had seven TD catches, most by a Govs receiver since Frederick had seven in 2006.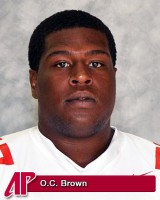 Stark was named second-team preseason All-America by the FCS Senior Bowl.
When wide receiver/running back Terrence Oliver looked up in the second quarter against Western Kentucky, good friend, former prep teammate and now roommate O.C. Brown was blocking for him. In 2009, Brown was the primary subject of the Academy Award-winning documentary "Undefeated" while at Manassas High School with Oliver also make appearances in the production.
Defensive Notes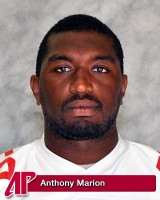 Although the Governors defense is more experienced in 2012, the depth chart still reveals  much youth. In fact, only three seniors, safety Antwaun Majors, tackle Anthony Marion and linebacker Darrick Dillard were listed on the two-deep entering the season. Majors is out for the year after suffering a torn ACL while Dillard has not played since the opener.
Junior linebacker Josh Carroll was credited with 15 tackles–an APSU season best–against Murray State, including two for a loss.
Junior linebacker Craig Salley leads the Govs in tackles with 46, followed by sophomore safety Steven Rich with 39 and Carrol with 38. Rich and Salley each had nine stops versus Murray State.
Junior Tyreon Clark, starting at strong safety, was credited with his first career sack against Murray State on a blitz.
A trio of sophomore defensive backs–Steve Rich, Montez Carlton and Johnathan Shuler–not only led APSU in tackles against UT Martin with seven but also had interceptions
Junior linebacker Craig Salley, a former walk-on, recorded his career's first double-digit tackle performance with 11 against Tennessee State, including 10 solo stops.
Junior defensive tackle Iosua Siliva was credited with a career-best five tackles against TSU, all solo stops.
Junior defensive end Earnest Smith produced his career's best performance against Virginia Tech. Smith finished with eight tackles, including a sack of All-America candidate Logan Thomas. He also was credited with another tackle for loss along with forcing a fumble.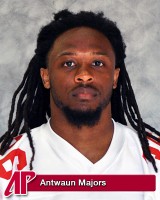 Senior safety Antwaun Majors not only was APSU's tackles leader (88) in 2011, but finished eighth in the OVC, averaging 8.0 per game. A former walk on, Majors had 80 or more tackles in each of the last two years, finishing with 84 tackles in 2010 and 88 in 2011.
Senior safety Antwaun Majors was named preseason first-team All-OVC by Phil Steele Magazine in its Fall 2012 Preview. Majors, who led Austin Peay in tackles last season with 88, was the Governors only first-team selection.
Special Teams Notes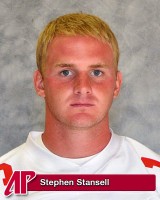 Senior placekicker Stephen Stansell became Austin Peay's all-time leader in field goals made (34) with a pair of 35-yard field goals against UT Martin. He passed the longtime mark held by Tom McMillan, who had 33 from the 1986-89.
Stansell is ranked second all-time in point-after-touchdowns made with 78.
Stansell was the only OVC kicker to be perfect in point-after-touchdown attempts in 2011. He ended the season 22 of 22. In his career he is 75 of 77 (97.4 percent) in extra-point attempts, ranking No. 1 in career extra-point percentage.
Stansell has both a new holder and snapper in 2012. After Nick Newsome served as APSU's long snapper for four seasons, the Govs have turned to redshirt sophomore Michael Dunphy in 2012. In addition, back-up kicker and long snapper Walter Spears now is serving as holder for Stansell after Jake Ryan handled much of the duties a year ago.
Two seasons after losing All-America kick return specialist Terrence Holt, APSU still is seeking a replacement for kickoff and punt returns. Freshman J.J. Rutledge has handled much of those duties in the season's first half. Meanwhile, Ean Pemberton returned his first career punts at Virginia Tech.
For a second straight week sophomore punter Ben Campbell averaged better than 40 yards per punt when he boomed six punts for a 42.2 yards per game average against Murray State, including a career-long 68-yard punt.
A week earlier, Campbell averaged a season-best 42.3 yards per punt against Eastern Illinois, including a long of 50 and two downed inside the 10-yard line. As a result, he was recognized the as College Football Performance Award honoree for OVC punting.