Statement from the Family of Sheriff Norman E. Lewis Jr.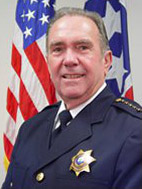 Montgomery County, TN – The family of Sheriff Norman Lewis wishes to notify everyone that at 3:39pm today, October 14th, 2012, their beloved husband and father has gone on to be with our heavenly father.
Funeral arrangements are being handled by Neal-Tarpley Parchman Funeral Home and will be released at a later time.
The members of the Montgomery County Sheriff's Office ask for you thoughts and prayers on behalf of the family as we all navigate this difficult time.