Clarksville, TN – Joga Bonito Foot-Skills Academy is pleased to announce that former Clarksville resident Christian Albelo has been selected to the 36 player roster for the U.S. U-15 Boys National Team Training Camp.
The team's training camp will begin October 27th through November 3rd at The Home Depot Center in Carson, California. Christian's parents, as well as his former Joga Bonito Foot-Skills Academy Coach, Amilcar Castro, will be joining him in California to watch and show their support for the rising soccer star.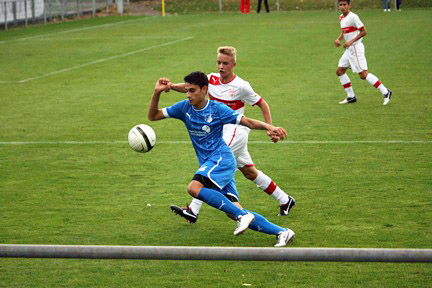 Christian, a midfielder, is the only player on this elite roster who represents a prestigious soccer club from Europe.  Christian currently plays for TSG 1899 Hoffenheim in Germany.
"Christian started like any other American kid practicing other sports," Francisco Albelo said about his son's passion for soccer. "One day, while staying with his grandparents during a time Christian's mother and I both were deployed, he told my father that baseball was boring."
This conversation led to a very symbolic moment for the Albelo family.  Christian was seven years old when his grandfather (a baseball enthusiast!) took him to the soccer field for the first time.  Christian discovered a passion for soccer and never looked back.
In 2011, the military family received orders to move to Germany.  Moving across the Atlantic has provided Christian the opportunity to showcase his talents on an international level.  Starting with a German local club TSV Amicitia Viernheim, Christian (then 13 years old) played up two ages with the U-15 squad and led the team in scoring and guided them to the league title.   In May of 2012, Christian was recruited to join the prestigious TSG 1899 Hoffenheim, where he now continues his soccer development.
Christian is currently preparing for the National Training Camp, and Christian's Joga Bonito family couldn't be happier.
"I am overjoyed and proud for Christian and his family," said Amilcar. "Christian overcame all the odds to come to this significant step towards a professional career."
Christian is ready for the next challenge, the U.S. National Team Camp.
"I am very happy to get this opportunity- it's absolutely great," says Christian. "This has been my dream ever since I started playing soccer and it's finally coming true, now all I have to do is play my heart out."
About Joga Bonito Foot-Skills Academy
Joga Bonito Foot-Skills Academy is a local youth soccer academy that trains and develops players to achieve at a high level of competition.  Located in Clarksville, Tennessee, JBFSA provides opportunities for players of all ages to train with experienced coaches who believe that regardless of socioeconomic status, cultural background or any other stereotypical inhibitions, every player has the opportunity to achieve life's highest rewards.