Austin Peay vs. Samford
November 9th, 2012 | Dave Aaron Arena | Clarksville, TN

Clarksville, TN – It has been a rare occasion Austin Peay men's basketball team has opened at home, at least under head coach Dave Loos.
In fact, Friday's 7:00pm, season opener against Samford in Dave Aaron Arena is only the fifth time in Loos' 23 season the Governors have opened a season at home. It has been since the 2003-04 season the Governors (Knoxville College) have played at home. It has been since the 1995-96 season since the Govs played a Division I team (Northern Illinois) at home to open the season. Normally the Govs are paying the bills through guarantee games or related tournaments.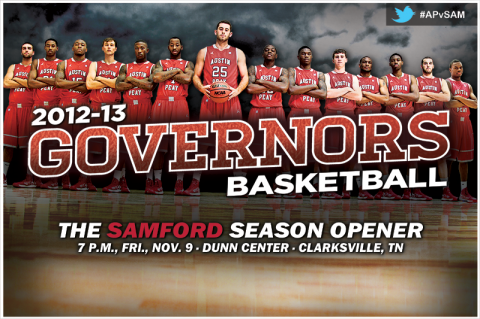 Samford and Austin Peay certainly are familiar with each, the former being a member of the Ohio Valley Conference from 2003-04 to 2007-08. But the Bulldogs have a new face on the bench since the Govs last saw the Bulldogs.  Bennie Seltzer, a former Indiana assistant coach, has replaced Jimmy Tillette. In addition, former Kentucky star and long-time NBA player Scott Padget serves as a Samford assistant coach.
Seltzer was not left with a bare cupboard. Even though the Bulldogs finished 10-19 last year, they return standout guards Will Cook (8.0 ppg, 5.3 rpg) and Raijon Kelly (9.4 rpg) while forward Tyler Hood (11.1 ppg) also returns. Kelly and Hood were named to the Southern Conference All-Freshman team.
Samford's 2012-13 roster is not only one of the youngest in the Southern Conference, but one of the youngest in the nation as well. A total of nine of the Bulldogs' 14 players are underclassmen this season-and no senior dots the roster.
The Governors also are on the young side. After watching four key starting seniors end their respective careers a year ago, the Govs have just two seniors, one being Anthony Campbell, who is coming off ACL surgery on the same knee in consecutive seasons; and the other is guard Jerome Clyburn, who will miss the season's first month after knee surgery.
The Govs started a pair of freshmen, guard AJ Lynch and center Chris Horton in the exhibition victory against Central Missouri. Campbell and fellow forward Will Triggs, a junior, led the way with 17 points while sophomore Chris Freeman came off the bench to add 16 points.
Junior guard Travis Betran, a late signee from Kilgore College, is expected to man the guard position next to Lynch while Campbell and Triggs will flank Horton up front.
The Governors are 47-33 all-time in season openers while Loos holds a 9-13 record in season openers.
What You Should Know
The Series: This is the 21st meeting between Austin Peay, a member of the Ohio Valley Conference, and Samford, a Southern Conference member. The Governors hold a 14-6 advantage in the series and were 9-3 against the Bulldogs when they were OVC members from 2003-04 through 2007-08. The two teams last met in the 2007-08 season, the two teams splitting the two contests.
Deeper Meanings
What A Win Would Mean: The Govs would take a 1-0 mark into the Triple Crown Cancun Challenge. They would improve to 15-6 all-time in the series. Head coach Dave Loos would improve to 12-5 against the Bulldogs. The Govs would improve to 48-33 all-time in openers, with Loos going to 10-13 in season openers.
What A Loss Would Mean: It would be the second straight season the Govs opened with a loss. The Govs would drop to 32-25 all-time against current Southern Conference teams. It would drop Dave Loos to 0-1 against new Samford coach Bennie Seltzer. It would be Dave Loos' 311th APSU loss and 364th all-time.
About The 2012-13 Govs
Redshirt senior forward Anthony Campbell, whose father Mark played both basketball and baseball at Northeast Missouri (now Truman State), was MVP for Edwardsville High School in a tournament played at Lantz Gymnasium, home of OVC foe Eastern Illinois.
Redshirt sophomore guard Thomas Greer played for his father, Mike, at West Carroll High School where he was a Class A Mr. Basketball nominee. His sister Addy, was a walk-on player at UT Martin a year ago.
Redshirt sophomore forward Joe Harms, a physics major, spent this past summer working on building a fully-functioning desktop Nuclear Magnetic Resonance (NMR) machine for university use. His work was a subject of a feature on NBCsports.com.
Junior center Matt Hasse's grandfather, John Kucer, played basketball at Toledo. Hasse's family owns a small island in Canada, where they travel every summer to fish.
Junior forward Will Triggs was a prep teammate of forward Anthony Campbell as a sophomore. As a prep senior, Triggs recorded double-doubles in 28 games.
As a college freshman at Southern Miss, Jerome Clyburn broke a the bone in his left foot during the first practice. After missing the first nine games, he returned to action and then broken the bone in his right foot three games into his season.
Sophomore guard Herdie Lawrence played in the backcourt alongside Saah Nimley at the same Collins High School that produced former UConn women's star Maya Moore.
Sophomore forward Chris Freeman played for his uncle, former Kentucky star Reggie Warford, two years ago at Muhlenberg County HS. His cousin, Derick Warford played football with New England. Another cousin, Bob Lanier, is a former Detroit Pistons star and is a member of NBA Hall of Fame.
Junior guard Travis Betran, a Harlem, NY, native, didn't begin playing basketball until he was in fifth grade, but became a regular at Rucker Park, the most famous streetball court in the country.
Freshman forward Preston Herring was a secondteam Alabama All-State selection as a 6-3 guard in 2009-10. A little more than a year later he earned All-State honors as a 6-7 forward/center, growing four inches in a little more than a year.
Freshman center/forward Chris Horton was a member of three straight high school state championships at Columbia High School in Decatur, GA. Horton's father. Eddie, played for Austin Peay back in the mid-1970s.
Freshman guard AJ Lynch was called the "most underrrated guard" in Alabama while playing at Bount High School in Mobile.
Freshman guard Corey Arentsen played his AAU Basketball for the St. Louis Eagles, a program that produced former Govs' guard Colby Pierce and center Zac Schlader.
OVC begins Divisional Play in 2012-13
The OVC begins divisional play for men and women's basketball beginning with the 2012-13 season, with APSU a part of the league's new West Division. The addition of Belmont, July 1st, gave the OVC 12 member institutions, the largest Conference membership since the league's inception in 1948 (the OVC is currently the nation's eighth-oldest Division I conference).
The West Division will include APSU, Eastern Illinois, Murray State, Southeast Missouri, SIU Edwardsville and UT Martin.
The East Division will include Belmont, Eastern Kentucky, Jacksonville State, Morehead State, Tennessee State and Tennessee Tech.
The 2012-13 schedule features 16 games with each team playing divisional foes twice during the season (home and away) and playing teams in the opposite division once a season. When creating the schedule it was a priority to play as many games as possible after January 1st; the final schedules feature only a handful of late December games.
Men's games will continue to be played on Thursday and Saturday while the women's games will be played on Saturday and Monday for a second straight season. The 2013-14 schedules will mirror these schedules, meaning if a team played the 2012-13 game at a Conference opponent, that team will host that same opponent in 2013-14.