APSU Sports: Austin Peay Men's Basketball

Rosemont, IL – Austin Peay State University's second trip as part of the Triple Crown Cancun Challenge takes the Governors all the way to Chicago as they face DePaul, 1:00pm, Saturday, in the AllState Arena.
The Governors are coming off a 74-54 road loss at Western Kentucky, Tuesday, in first-round tourney play while DePaul incurred a stunning 71-59 home loss to Gardner-Webb, Thursday. This is the first meeting between the two teams. Both then will leave Sunday for Cancun to complete tourney play.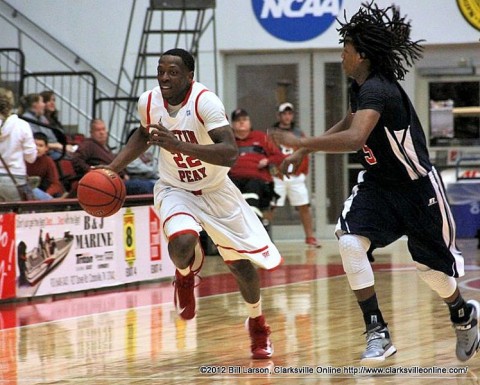 The young Governors will seek to learn from Tuesday's loss that saw the Govs tied at halftime, 33-33. As well as the Govs played in the first half they were just the opposite in the final half. APSU scored only 21 second-half points, shooting below 30 percent from the field.  The Governors finished the game with 18 turnovers and just seven assists.
With Western Kentucky focusing on senior Anthony Campbell and junior Travis Betran, the Govs turned to freshmen AJ Lynch and Chris Horton. The point guard Lynch scored a team-high 15 points while the 6-8 Horton ended up with his first double-double, scoring 12 points and grabbing 10 rebounds.
Lynch is expected to get some backcourt help for the Cancun tourney remainder. Jerome Clyburn, who started much of 2011-12 at point guard, has made a rapid recovery after knee surgery. He practiced Thursday for the first time since the surgery.
Former Dayton and Clemson coach Oliver Purnell is in his third season of a rebuilding process. Despite returning more than 70 percent of their scoring and rebounding from a year ago, the Blue Demons were picked to finish 13th in the Big East preseason poll.
DePaul is led by 6-8 junior forward Cleveland Melvin, who was Big East Rookie of the Year in 2011 and averaged 17.5 ppg a year ago. Guard Brandon Young averaged 14.5 ppg a year ago and has dispatched more than 100 assists in each of his first two Blue Demon seasons. In the loss to Gardner-Webb, Melvin had 18 points and Young 10. Despite their struggles, the Blue Demons did collect 10 steals.
What You Should Know
The Series: This is the first meeting first meeting between Austin Peay, a member of the Ohio Valley Conference, and DePaul, a member of the Big East.
Deeper Meanings
What A Win Would Mean: The Govs would take a 2-1 mark into Tuesday's game in Cancun against Gardner-Webb as part of the Triple Crown Cancun Challenge. They would go to 2-1. Head coach Dave Loos would improve to 1-0 against DePaul. Loos would improve to 1-1 against Oliver Purnell. It would be only APSU's. third win against current Big East Conference members. It would be APSU's first win against a Big East member since the Governors defeated Marquette, 82-72, during the 1988-89 season.
What A Loss Would Mean: The Govs would fall below the .500 mark for the first time this season. It would be their second straight loss. They would go to 0-1 all-time against DePaul. They would fall to 0-2 in the Cancun challenge. They would slip to 2-21 all-time against Big East foes. It would be Dave Loos' 311th APSU loss and 364th all-time.
Shooting Woes
Austin Peay shot only 38.2 percent in the first half against Western Kentucky, but still was able to manage a halftime tie. In the second half the Governors could only scratch out 26 percent (7 of 27) as the Hilltoppers outscored the Govs, 41-21 in the final half.
Boarded
After holding their own (23-23) with Western Kentucky on the boards in the first half, Tuesday, the Govs were out-rebounded by a 22-13 in the final half.
Seven Not So Lucky
Usually seven is considered a lucky number, but not in Austin Peay's case against Western Kentucky. The Governors were credited with just seven assists.
First Double Double
Freshman post player Chris Horton was credited with his first career doubledouble when he scored 12 points and grabbed 10 rebounds against Western Kentucky. Horton snared seven of the rebounds in the first half.
Lynch-Pin
Freshman guard A.J. Lynch recorded his first career double-figure scoring performance against Western Kentucky. The Mobile, AL, native tallied 15 points, including a trio of three pointers.
Freshman Influence
In Austin Peay's second game, the quartet–Chris Horton (12), A.J. Lynch (15), Corey Arentsen (4) and Preston Herring (2)–of freshmen accounted for 61 percent of APSU's offense against Western Kentucky.
Block Party
In two games, freshman center Chris Horton has been credited with five blocked shots.