Clarksville, TN – A 40 year old man has been charged for Impersonating a Police Officer after assuming the identity of the detective who solved his burglary case.
On November 13th, 2012, Clarksville Parks and Recreation Department received a strange post on  Facebook from a woman from Louisiana seeking help after texting someone she believed to be her cousin and found out later that it was not.
When the woman demanded to know who she was corresponding with, he said he was a Clarksville Police Detective. The investigation lead officers to determine that Danny Coleman had masqueraded as the detective who had solved his residential burglary case in March 2012.
On November 15th, 2012, around 1:30pm, Danny Coleman was booked into the Montgomery County Jail.
Danny Coleman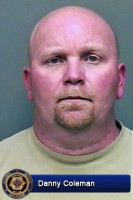 Name: Danny Coleman (W/M)
DOB: 9/2/72
Given Address: 243 White Oak Road, Apt. F, Clarksville, TN
Arresting Officer: Alan Morgan
Charged With: Criminal Impersonation
Booked Into: Montgomery County Jail
Bond: $1,000.