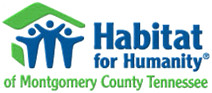 Montgomery County, TN – Habitat for Humanity of Montgomery County Tennessee will dedicate its 81st home to Deborah Harris and her son Jessie in partnership with the Tennessee Housing Development Agency and their Building Tennessee initiative.
The community celebration will be held on Sunday, December 16th at 2:00pm at the newly built home located at 143 Cross Lane.
"We're very excited to welcome Deborah and Jessie as new homeowners to Clarksville as well as dedicating our 81st home," said Shelby Logsdon, executive director of Habitat for Humanity of Montgomery County Tennessee. "Deborah has been involved with Habitat for many years as a volunteer who served on our board of directors, several committees, helped in our affiliate office and worked in our ReStore. She invested over 300 hours of sweat equity to build their home, with the final hours spent at the construction site helping to build her home."
Habitat for Humanity built three homes in 2012 in partnership with the Women Build 2012 project, Habitat for Humanity of Tennessee, Tennessee Housing and Development Agency and the Building Tennessee program, and the Affiliate.
Home sponsorships are an ideal way for organizations and business to invest in Clarksville's homeownership future, develop team esprit décor while building stable housing in partnership with Habitat families. Habitat for Humanity is a hand up…not a hand out!
About Habitat for Humanity of Montgomery County Tennessee
Since 1992, Habitat has partnered with 81 qualified applicants who invest 250 to 500 hours of sweat equity into building simple, decent and affordable housing to achieve homeownership through a twenty-year, zero-interest mortgage. Habitat collaborates with faith, civic, and business organizations who envision neighborhood revitalization through new home construction.
Program applications are accepted daily. Contact the Affiliate office at (931) 931.645.4222, on our website at www.habitatmctn.org or via Facebook/Habitat for Humanity of Montgomery County, TN.
About Habitat for Humanity International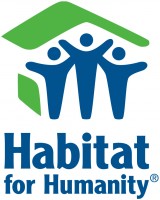 Habitat for Humanity International is an ecumenical Christian ministry that welcomes to its work all people dedicated to the cause of eliminating poverty housing.
Since its founding in 1976, Habitat has built, rehabilitated, repaired or improved more than 400,000 houses worldwide, providing simple, decent and affordable shelter for more than 2 million people. Visit www.habitat.org