APSU Sports: Austin Peay Men's Tennis

Birmingham, AL – Junior Jasmin Ademovic had a hand in two victories, but wins were hard to come by, Saturday. as Austin Peay State University men's tennis team fell to the Samford Bulldogs, 5-2, to open the spring season.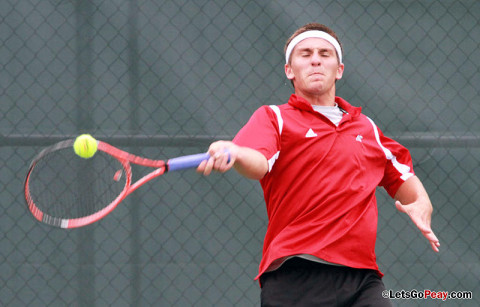 Ademovic won his No. 2 singles match against Elliott Barnwell 2-6,6-4,6-1, one of three three-setters for the Govs on the day. He also teamed with senior Sean Bailey in No. 1 doubles, defeating Zac Dunkle and Alex Sajonz 8-6.
Bailey dropped a hard-fought decision to Dunkle in No. 1 singles. Dunkle won the first set 6-4, before Bailey rebounded to take the second set by the same score. In the deciding third set, Dunkle defeated Bailey 6-1 for the victory.
Sophomore Aleksas Tverijonas also picked up a win in No. 4 singles. He defeated Sajonz 7-5,6-2 for the only victory not provided or assisted by Ademovic.
Sophomores Dimitar Ristovski (6-4,6-4) and Iago Seffrin (6-2,6-1) and senior John Storie (4-6,6-2,1-0[10-7]) were saddled with losses in the season's first meet, from the No.'s 3, 5 and 6 positions, respectively.
Ristovski and Seffrin fell to Barnwell and Garrison Laduca, 8-7(8-5), in No. 2 doubles. Tverijonas and Storie took the loss in No. 3 doubles, to Fares Kilani and Austin Akers, 8-7(8-5).
The Govs take the court again Friday, February 2nd against Southern Illinois at the Austin Peay Tennis Center. The match is scheduled for a 1:00pm start time.
Singles competition
1. Zac Dunkle (SAM-MT) def. BAILEY, Sean (APSU) 4-6, 6-4, 6-1
2. ADEMOVIC, Jasmin (APSU) def. Elliot Barnwell (SAM-MT) 2-6, 6-4, 6-1
3. Fares Kilani (SAM-MT) def. RISTOVSKI, Dimitar (APSU) 6-3, 6-4
4. TVERIJONAS, Aleksas (APSU) def. Alex Sajonz (SAM-MT) 7-5, 6-2
5. Austin Akers (SAM-MT) def. SEFFRIN, Iago (APSU) 6-2, 6-0
6. Garrison Laduca (SAM-MT) def. STORIE, John (APSU) 4-6, 6-2, 1-0 (10-7)
Doubles competition
1. BAILEY, Sean/ADEMOVIC, Jasmin (APSU) def. Zac Dunkle/Alex Sajonz (SAM-MT) 8-6
2. Elliot Barnwell/Garrison Laduca (SAM-MT) def. RISTOVSKI, Dimitar/SEFFRIN, Iago (APSU) 8-7 (8-5)
3. Fares Kilani/Austin Akers (SAM-MT) def. STORIE, John/TVERIJONAS, Aleksas (APSU) 8-7 (8-5)