Austin Peay State University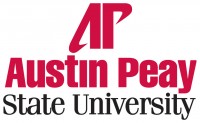 Clarksville, TN – Austin Peay State University and the Center of Excellence for the Creative Arts present the annual guitar festival this February, featuring guest artist concerts and master classes.
The concerts, which are free and open to the public, take place at 7:30pm, February 18th-20th in the Music/Mass Communication Building's Mabry Concert Hall.
The first concert on February 18th will feature award-winning APSU alumnus Gary Stewart and his duo partner Candice Mowbray in a recital of 19th century guitar music. The February 19th concert will feature past National Fingerstyle Champion Richard Smith. The final concert on February 20th will feature award-winning Tennessee State University professor of Guitar Richard Todd.
APSU alumnus Stewart has been a top prizewinner in several national guitar competitions, and his recent recording with the group Apollo's Fire debuted on the Billboard Classical Top 10.
Mowbray performs in a number of classical, jazz and world music ensembles and has been listed as one of the "Top Five People to Watch" by Hagerstown Magazine. Their program will include little-heard 19th century works for two guitars by Mozart, Beethoven, Vidal, Carulli and American turn-of-the-century guitarist William Foden.
British-born, Nashville virtuoso guitarist Smith, protégé of Chet Atkins and Jerry Reed and a past National Fingerstyle champion, will present a program of fingerstyle guitar music in his inimitable entertaining style.
Widely traveled TSU professor of guitar Todd received prizes in several national performance competitions and will present a mixed program of classical guitar music featuring works by Bach, Paganini, Legnani and the Spanish composers Federico Mompou and Regino Sainz de la Maza.
For more information about the guitar festival, contact APSU professor of music Dr. Stanley Yates at 931.221.7351.