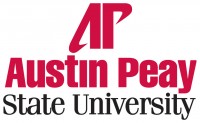 Clarksville, TN – In 2005, Austin Peay State University developed a dance minor program with one faculty member and a handful of students. Seven years later, the program has three full-time faculty members and several graduates enrolled in Master of Fine Arts programs around the country.
The name "Austin Peay" is also becoming more familiar in collegiate dance circles, with the school having choreographed pieces selected two years in a row to be performed at the American College Dance Festival gala performance.
"Seven years ago, there was nothing," Marcus Hayes, associate professor of dance, said. "Now there's all this activity and it's good. It's solid."
But rather than basking in this recent success, the three dance faculty members are moving aggressively forward to provide the APSU program with a national reputation. This semester alone, the professors have spent nearly every weekend at conferences and workshops, allowing many to hear the words "Austin Peay" for the first time.
"It's very calculated," Brian Vernon, chair of the APSU Area of Theatre and Dance, said. "It's not by chance. Marcus and (assistant professor) Margaret Rennerfeldt are purposely doing this for recruitment, for growth, for name recognition."
Below are a few of the activities Vernon, Hayes and Rennerfeldt have attended this spring semester:
Somatic Movement Training – In January, Rennerfeldt received her somatic movement educator certification from the Center for Body Mind Movement in Pittsburgh, PA.
Alabama Dance Council – In early February, Rennerfeldt was invited to teach an all-day workshop for school teachers on integrating dance or movement into classroom curriculum areas.
2013 Alabama Dance Festival – Vernon taught workshops on tap dancing to all levels of dancers attending the festival.
Huntingdon Dance Festival – Hayes was invited to the Dixie Carter Center for Performing Arts in Huntingdon, TN, to teach a dance technique course as part of the festival. APSU dance students performed for the public on the second night of the festival.
Tennessee Thespian Conference – Vernon taught a tap workshop at this conference in Memphis, attended by some 900 high school students.
The next few months also promise to be busy for the dance faculty members. In early March, Hayes and Rennerfeldt will take students to the American College Dance Festival in Jackson, MS. Hayes will teach a choreography class and two modern technique classes, and Rennderfeldt will teach two somatic workshops. Then on March 23, the two professors will head to Memphis for a Tennessee Association of Dance clinic.
"Margaret is teaching ballet, and I'm teaching jazz," Hayes said. "We are absolutely sprinkling the seeds of our program across the state."
For more information on the APSU dance minor, contact the APSU Area of Theatre and Dance at 931.221.6767.