Clarksville, TN – Austin Peay State University's softball team opened up the home part of its 2013 schedule with a sweep of Alabama A&M, Wednesday afternoon at Cheryl Holt Field, coming away with 6-0 and 6-2 victories.
Junior Lauren de Castro (3-1) and freshman Abby Guest combined to throw the shutout in Game 1 for the Lady Govs (5-3), with de Castro going the first six innings – giving up four hits and five walks with seven strikeouts – while Guest struck out two and gave up a hit in her one inning of work.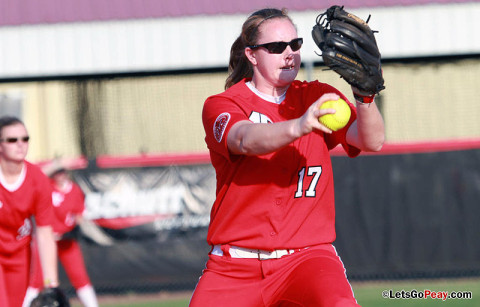 Austin Peay would back its pitchers with four straight scoring innings, starting with a two-run third inning.
Freshman Niya Sparks would get the inning going by drawing a lead-off walk and move into scoring position on a wild pitch.
Alabama A&M (0-4) would get the next Lady Govs out, but freshman Marissa Lake followed with a single to move Sparks to third – while Lake moved to second on the throw.
Sparks would score on infield out by red-shirt senior Jessica Ryan, while Lake scored on a single by sophomore Laurel Burroughs to make it 2-0.
Lake would finish the first game with three hits to lead Austin Peay, while Burroughs had two hits.
Red-shirt senior Shelby Norton drove in junior Kayla Davidson with a sacrifice fly in the fourth inning, and de Castro tripled in Burroughs and Lake in the fifth.
The Lady Govs final run came in the bottom of the sixth on a wild pitch.
Game Two
Senior Morgan Brewer (2-2) pitched the complete-game victory for Austin Peay, giving up nine hits and two runs – one earned – while striking out four and walking none.
Offensively, Austin Peay broke the scoreless deadlock in the bottom of the third inning – on a two-run single by Lake – while the third run of the inning came in on a sacrifice fly by Ryan.
The Lady Govs would add two more runs in the fourth inning, the first on sacrifice fly by junior Amanda De Vries and the second on a Ryan single.
Lake would drive in the final run of the day for Austin Peay in the sixth inning, singling in freshman pinch runner Abbie Cline with a single.
Lake would match her Game 1 total with three hits in the nightcap, while Burroughs, Brewer and De Vries notched two hits each.
Austin Peay returns to action this Saturday and Sunday, as they head to Indiana to play in the University of Evansville Tournament.
Game 1
Austin Peay 6, Alabama A&M 0
Alabama A&M 000 000 0—0 5 1
Austin Peay 002 121 x—6 8 1
Cassandra Brown, Anisa Britt (6) and Sitembile Lee; Lauren de Castro, Abby Guest (7) and Mel Pavel
WP-de Castro (3-1); LP-Brown (0-2)
HR: None
Game 2
Austin Peay 6, Alabama A&M 2
Alabama A&M 000 100 1—2 9 2
Austin Peay 003 201 x—6 12 3
Meaghan Gray, Angel Crawford (6) and Sitembile Lee, Jasmin Riley (5); Morgan Brewer and Mel Pavel
WP-Brewer (2-2); LP-Gray (0-2)
HR: None