APSU Sports: Austin Peay Men's Golf

Orlando, FL – Call Kirk Kayden a prophet.
After his Governors Golf team shot a disappointing 295 first-round Monday score in the Harmony Golf Preserve Intercollegiate, the Govs golf coach said: "If we can cut into that lead tomorrow, it will give us a chance on Wednesday…second rounds typically have been our better rounds."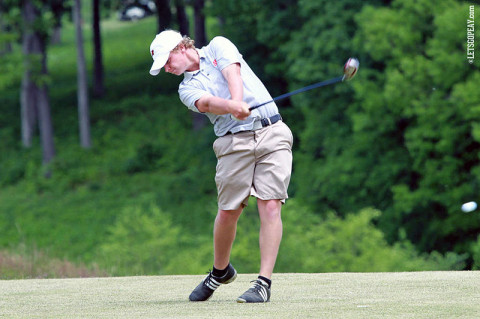 The Golf Govs certainly followed script to perfection, Tuesday. After sitting nine shots back after the first round, the Governors roared back with a 5-under 283, Tuesday, to take a one-shot lead into Wednesday final round of the first Harmony Golf Preserve Intercollegiate. The Govs sit at 578 after two rounds.
Florida Atlantic, one of the co-leaders after Monday, slipped to second at 579 (286-293) while Virginia Commonwealth moved to five strokes back at 583 (286-297).
"We really played well today as a team," APSU coach Kirk Kayden said. "When you throw out a pair of 74s (play -six, count-4 format), that tells you how well we played.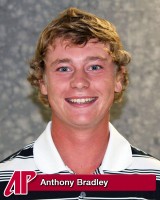 "It was a good day. We made up all that deficit-we had a lot more birdies today. I think it (Tuesday's lower score) had to do a lot with just getting back into competition."
Junior Anthony Bradley, the defending Ohio Valley Conference champion, led the way, shooting three-under 69, mixing in five birdies with just two bogeys.
"Anthony played solid all day," Kayden said. "He had a lot more birdies. He had two really nice saves on 17 and 18."
Freshman Chris Baker, however, had the day's biggest turnaround. After shooting a 76 on Monday, he bounced back with a 2-under 70, Tuesday, that included an eagle on No.  16 to go with four birdies.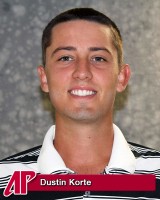 "And it could have been even better," Kayden. "Chris was at minus-5 heading to 17, but he bogeyed and doubled the final two holes.
"He's a freshman and he's learning. But to shoot a 70 in just your second start, that is pretty impressive."
A third Gov, senior Dustin Korte, fired a 1-under 71-a much better score for the senior leader who opened with a 76, Monday.
"Dustin played more like Dustin today, more like he is capable of," Kayden said.
Redshirt freshman Korey Smith had the Govs' other counting round, firing a 1-over 73. Smith had a pair of birdies and three bogeys on the day.
Junior Marco Iten, who fired a 2-under on the first day, shot a 2-over 74 as did sophomore Tucker Wallace.
"Marco is really hitting the ball well," Kayden said. "Today, he just couldn't get any (putts) to drop-he had a lot of those 12-15 footers that just wouldn't fall."
After two rounds, Bradley is in second place individually with a 143, two shots behind Florida Atlantic's Richard Donegan. Iten remains in contention just one shot back at 144 while Baker moved from 21st to a tie for seventh at 146. Korte also moved into the Top 10 with 147 (76-71).  In fact, all six Govs golfers are in the Top 15 heading into Wednesday's final round on the par-72, 7,200-yard layout.