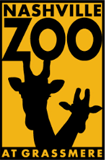 Nashville, TN – Nashville Zoo is pleased to announce the births of two litters of clouded leopard cubs. On March 26th, Jing Jai gave birth to one female cub and Baylie gave birth to one male and one female. All three are doing well and are being hand-raised by the Zoo's animal care staff.
"Nashville Zoo is a leader in clouded leopard conservation, with 18 clouded leopards born at our off-exhibit breeding facility since 2009," said Karen Rice, carnivore supervisor at Nashville Zoo. "These cubs will remain a part of the Association of Zoos and Aquariums (AZA) clouded leopard population as breeding cats, education or exhibit animals. Whatever role they play, they will contribute to the ongoing conservation effort."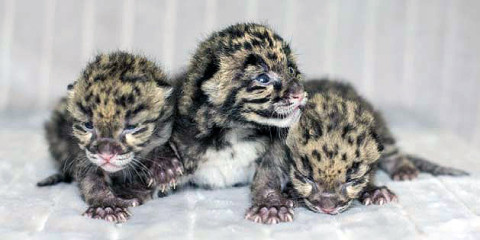 Clouded leopards are considered endangered because of deforestation, poaching and the pet trade.
Nashville Zoo is a member of the Thailand Clouded Leopard Consortium, an ongoing collaboration with the National Zoo, Point Defiance Zoo, Clouded Leopard Species Survival Program and Zoological Park Organization of Thailand (ZPO) to develop a multi-faceted clouded leopard conservation program that includes a viable self-sustaining captive population.
At just seven years old, this is Jing Jai's sixth litter. Both she and her mate Arun came from the Khao Kheow Open Zoo in Chonburi, Thailand in 2008 as part of the Consortium's effort to save the species from extinction. This is the second birth for 4-year old Baylie and her mate Chet. Baylie was born at the National Zoo's Smithsonian Conservation Biology Institute in Front Royal, Virginia, and Chet was one of three cubs born to Jing Jai and Arun at Nashville Zoo in 2009.
Nashville Zoo is accredited by the prestigious Association of Zoos and Aquariums, assuring the highest standards of animal care and husbandry. Attracting more than 787,000 visitors annually, the Zoo is considered one of the top things to do in Nashville.
The Zoo is a non-profit organization located at 3777 Nolensville Pike and is open every day except Thanksgiving, Christmas and New Year's Day. The mission of Nashville Zoo is to inspire a culture of understanding and discovery of our natural world through conservation, innovation and leadership.
For more information about Nashville Zoo, call 615.833.1534 or visit www.nashvillezoo.org.