Rivers and Spires Festival | Friday April 19th | 5:00pm-10:00pm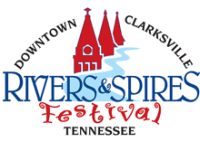 Clarksville, TN – The 11th Annual Rivers and Spires Festival kicked off last night with performances by several outstanding bands that rocked Downtown Clarksville. The Festival continues tonight at 5:00pm with more music and activities for the entire family.
Chris Monhollen a multi-talented musician and award winning vocalist from Clarksville, Tennessee hits the Family Fun Stage at 5:00pm. He has performed in numerous shows and local festivals in the Middle Tennessee area.
Yesterday, a Beatles cover band, will be on the Public Square Stage starting at 5:30pm. Performing all eras of Beatles music in their original key, wearing drainpipe trousers and playing authentic instruments, Yesterday – The Beatles Tribute has performed on five continents. Yesterday recreates note for note the music of the Fab Four.
For the kids, Lew-E Circus will be at the Family Fun Zone at 6:00pm and 7:00pm. Using an exciting and fun filled program, the audience is transported through the worlds of Reading, Science, Mathematics, History, and more. Juggling, Plate Spinning, Balancing, Magical Illusions, and Audience Interaction demonstrate learning through the circus arts. Children of all ages will howl with laughter, interact, and live out their Circus Dreams with Lew-E.
Headlining tonight is the Michael Jackson tribute band Who's Bad. Their live performance is an unrivaled celebration of pop music's one true King. Their power-packed performance of Michael Jackson's expansive catalog has ignited crowds on every continent and can only be described as a jaw-dropping, musical must-see.
As the longest-running Michael Jackson tribute band, and the only one to predate his untimely passing, Who's Bad has sold out nearly 50 venues in the United Kingdom including London's O2 where the King of Pop was slated to end his career.
Over 100 years of collective professional experience and sold-out shows at every major House of Blues, Colorado's Bluebird Theatre, LA's Gibson Amphitheatre as well as international pavilions such as Ningbo Grand Theatre (China), Romania s Sala Palatalui to Teatro do Bourbon Country (Porto Alegre, Brazil) tell the story: no corner of the earth is safe from this infectious party production.
Who's Bad takes the stage on Public Square at 8:30pm.
Bring your family and friends out tonight and discover what makes Clarksville's Rivers and Spires an award winning event.
For more on the upcoming Rivers and Spires Festival, see:
Rivers and Spires Festival this weekend has something for everyone
Rivers and Spires Festival April 18th-20th
Friday Rivers and Spires Event Schedule
Aspire To Stardom
5:00pm | Family Fun Stage
Chris Monhollen
5:00pm | Family Fun Stage
The Carter's
5:00pm | Courthouse Stage
Yesterday
5:30pm | Public Square Stage
AWAKEN
5:45pm | Courthouse Stage Map
Last Band Standing
6:00pm | Strawberry Alley Stage
Lew-E Circus
6:00pm | Family Fun Zone
InVeyn
6:00pm | Strawberry Alley Stage
Clarksville's Got Talent
7:00pm | Courthouse Stage
The Breakfast Club
7:00pm | Public Square Stage
Lew-E Circus
7:00pm | Family Fun Zone
Whiskey Angel
7:00pm | Strawberry Alley Stage
Falter
8:00pm | Strawberry Alley Stage
Transcend the Fallen
8:00pm | Strawberry Alley Stage
Who's Bad – Ultimate Michael Jackson Tribute Band
8:30pm | Public Square Stage
About the Rivers and Spires Festival
The 11th annual Rivers & Spires Festival will be held April 18th-20th, 2013 in Historic Downtown Clarksville. This event has five stages of entertainment with over 100 entertainers performing all three days.
From children's activities, arts & crafts, car shows, military exhibits, BrewFest, shopping and so much more this is truly an event for the whole family. Admission to the Festival is free including all concerts and many of the games and activities.
For more information about Rivers & Spires visit their website at www.riversandspires.com.