2013 Rivers and Spires Festival | April 18th-20th | Clarksville, TN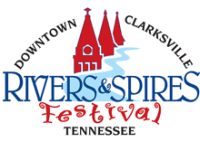 Clarksville, TN – The 11th annual Rivers and Spires Festival will be begin Thursday April 18th and continue through Saturday, April 20th. The streets of Historic Downtown Clarksville will be lined with food vendors, arts and crafts, and kids' activities.
There will be over 100 acts performing all three days on five separate stages. Music, art, food, there is something at Rivers and Spires for everyone to enjoy. And the truly great thing is that all the concerts and activities are free.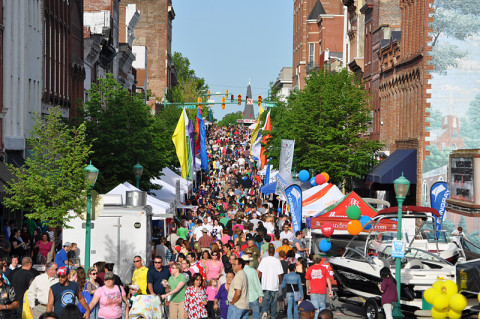 Headlining the event, is none other than Grammy nominated country musician Jo Dee Messina. She will be on the Public Square Stage Saturday night, starting at 7:00pm.
Christian group, Building 429 will be on the Family Fun Stage Saturday night at 5:00pm. The group brings their
inspirational message to Clarksville with their Give Me Jesus tour.
These concerts are free and open to the public.
Besides all the music, Rivers and Spires includes a variety of events. A list of some of the events is listed below.
Events
Arts Galore
Come and shop with us in Historic Downtown Clarksville to find all kinds of unique art from local and regional artists. All pieces are handcrafted and/or homemade. Mediums include: woodworking, pottery, paintings, illustrations, fabric/clothing, jewelry, furniture and much more.
Aspire to Stardom
This award-winning Youth Talent Show features some of the area's youngest entertainers. From singers to dancers, magicians to comedians, this show has it all. Those interested in competing must fill out and application and attend try-outs. If selected, you will perform in front of a panel of talent scouts! This could be your BIG BREAK!
Brewfest
A combination of sampling, teaching, cooking and great friends makes for one exciting experience. Enjoy nearly 40 different craft brews and all the festivities that surround the drinks. Tickets are required for this area and can be pre-purchased or sold at the gate. IDs will be checked at the gate.
Car Shows
Gearheads will delight in the Motor Madness that takes over the Festival streets! Two car shows are part of this year's Festival: Memory Lane Cruisers featuring vintage vehicles of all makes and models and Corvettes on the Cumberland showcasing one of America's most loved vehicles – the Corvette.
Children's Parade
Once again, kids 12 years of age or younger and their accompanying adults can join all the fun – characters in costume, small floats and walkers – in the ninth annual Rivers & Spires Children's Parade.
Festival of Nations (formerly International Streetfest)
This Clarksville favorite has been redesigned and enhanced! The diverse cultures of the Clarksville community are showcased in an array of costumes, dance, food and visual arts. Festival of Nations is a whole world of culture, cuisine and entertainment in one area. Among the diverse regions representated are cultural experiences from Japan, Panama, China, India, Africa, the Phillipines, Germany, Mexico, Puerto Rico and many more!
Get DOWNtown
The festival's Thursday night kick-off party always features great food, music and entertainment for young professionals… and those who are just looking for a good time. This event is hosted by the Chamber of Commerce and Clarksville Young Professionals.
Green Zone
This area, located in the Madison Street UMC parking lot, teaches children and families about stewardship, recycling and Earth's valuable resources. Local businesses can set up a booth to teach Festival patrons about their company's green initiatives.
Family Fun Zone
Travel through our inflatable jungle, climb velcro walls, paint, create, or participate in all kinds of interactive entertainment! The Kidz Zone is a fun area filled with over 20 FREE events for kids of all ages to enjoy. Special kids entertainer will perform on Friday and Saturday at various times. Also look for Mascot Mania where all of your children's favorite characters compete in fun games and silly challenges!
Marketplace
Open on Friday and Saturday the Marketplace is a plethora of vendors selling everything from sunglasses to antiques. This flea-market inspired area is a bargain shoppers paradise!
Montgomery County Animal Control Mobile Adoption Trailer
The Montgomery County Animal Control and Adoption Services will be unveiling its new Mobile Adoption Trailer during the  Festival. The trailer will be parked at the corner of Hiter and Commerce Streets in the Kid's Zone of the festival.
This adoption trailer has many great features, including heat/air conditioning, running water, see-through sides for easy viewing of the animals and 22 kennels.
Quilts of the Cumberland
This FREE art show features quilts of all shapes and sizes. The artistic beauty of these pieces will amaze you. Juried exhibitions as well as non-juried exhibitions will take place at this year's show. Those interested in participating in the exhibition may fill out an application.
U.S. Army's Orange County Chopper
At the Military Appreciation area, the U.S. Army's famed Orange County Chopper will be making its first appearance in Middle Tennessee since 2011. The detailed motorcycle will be on display both Friday and Saturday at Rivers and Spires.
From children's activities, arts & crafts, car shows, military exhibits, Brewfest, shopping and so much more this is truly an event for the whole family.
Come out this weekend to Downtown Clarksville and experience the Rivers and Spires Festival.
2013 Rivers and Spires Event Schedule
Uncle Lenny
5:30pm | Public Square Stage
Last Band Standing
6:00pm | Strawberry Alley Stage
Radiation Blues
6:00pm | Strawberry Alley Stage
Kopecky Family Band
7:00pm | Public Square Stage
Artifas
7:00pm | Strawberry Alley Stage
Sideshow Romance
8:00pm | Strawberry Alley Stage
Cowboy Mouth
8:30pm | Public Square Stage
Naked Animals
9:00pm | Strawberry Alley Stage
Aspire To Stardom
5:00pm | Family Fun Stage
Chris Monhollen
5:00pm | Family Fun Stage
The Carter's
5:00pm | Courthouse Stage
Yesterday
5:30pm | Public Square Stage
AWAKEN
5:45pm | Courthouse Stage Map
Last Band Standing
6:00pm | Strawberry Alley Stage
Lew-E Circus
6:00pm | Family Fun Zone
InVeyn
6:00pm | Strawberry Alley Stage
Clarksville's Got Talent
7:00pm | Courthouse Stage
The Breakfast Club
7:00pm | Public Square Stage
Lew-E Circus
7:00pm | Family Fun Zone
Whiskey Angel
7:00pm | Strawberry Alley Stage
Falter
8:00pm | Strawberry Alley Stage
Transcend the Fallen
8:00pm | Strawberry Alley Stage
Who's Bad – Ultimate Michael Jackson Tribute Band
8:30pm | Public Square Stage
Stompin in the Alley
10:00am | Strawberry Alley Stage
The Tabernacle Dance Teams
10:00am | Courthouse Stage
Kindermusik with Abby
10:00am | Family Fun Zone
Dance Force
10:30am | Courthouse Stage
Meet and Greet Mascots
10:30am | Family Fun Zone
Harris Holt Martial Arts
11:00am | Courthouse Stage
Cumberland Heights Glee Club
11:00am | Family Fun Stage
Lew-E Circus
11:00am | Family Fun Zone
Barksdale Elementary Bengal
11:15am | Family Fun Stage Map
Natalies Dance Network
11:30am | Courthouse Stage
HUI HAWAII O tenesi Hawaiian Civic Club
11:45am | Family Fun Stage
Kriegisch Martial Arts
12:00pm | Courthouse Stage
Mommy and Me Yoga
12:00pm | Family Fun Zone
Montgomery Central Elementary School Honor Choir
12:15pm | Family Fun Stage
Folklore Dances from Mexico
12:30pm | Courthouse Stage
S.T.A.R.S. Dance Studio
12:45pm | Family Fun Stage
Static Calm
1:00pm | Strawberry Alley Stage
Woodlawn Elementary School Chorus/Drum Team
1:00pm | Family Fun Stage
Rock 101
1:00pm | Courthouse Stage
July Michael and Band
1:00pm | Public Square Stage
Zumba for Kids Zumba for Kids
1:00pm | Family Fun Zone
D4G (Dance For God) Northeast Baptist Church
1:30pm | Family Fun Stage
Ballet Folklorico Viva Panama
1:45pm | Family Fun Stage
Future Soldier Swear-in Future Soldier Swear-in
1:45pm | Courthouse Stage
Last Train
2:00pm | Courthouse Stage
Saints of Havana
2:00pm | Public Square Stage
Filippino American International
2:00pm | Family Fun Stage
Stone Cold Fire
2:00pm | Strawberry Alley Stage
Okawa Baize Karate
2:15pm | Family Fun Stage
Move with the Mascots
2:30pm | Family Fun Zone
Safe Harbor
2:45pm | Family Fun Stage
Mike Short Jr and StateWide
3:00pm | Public Square Stage
Grace Note Youth String Orchestra
3:00pm | Courthouse Stage
Lew-E Circus
3:00pm | Family Fun Zone
Cooking Show
3:00pm | Brewfest Stage
Water Fun and Safety Too
3:00pm | Family Fun Zone
Yenisley
3:00pm | Strawberry Alley Stage
CSA Youth Chorus and Percussion Ensemble
3:30pm | Courthouse Stage
Henry Macafee
3:30 pm | Brewfest Stage
Lydia Walker
3:30pm | Family Fun Stage
The Ladies of Lada, Throupe Thalia
4:00pm | Courthouse Stage
The Rooted Wings
4:00pm | Brewfest Stage
Just Off Main
4:00pm | Strawberry Alley Stage
Dixie Highway Band
4:00pm | Public Square Stage
Brandon Maddox
4:30pm | Brewfest Stage
Panamanian Dance
4:30pm | Courthouse Stage
Building 429 – Give Me Jesus Tour
5:00pm | Family Fun Stage
Lew-E Circus
5:00pm | Family Fun Zone
Cooking Show
5:00pm | Brewfest Stage
GEEZER
5:00pm | Courthouse Stage
Chris Janson
5:30pm | Public Square Stage
Sean Shaver
5:30pm | Brewfest Stage
Black Velvette Band
5:45pm | Courthouse Stage
Last Band Standing
6:00pm | Strawberry Alley Stage
Heidi Jean
6:00pm | Brewfest Stage
Jo Dee Messina
7:00pm | Public Square Stage
ExitRight
7:00pm | Courthouse Stage