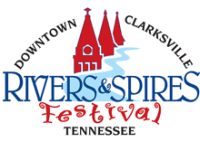 Clarksville, TN – At 5:45pm, on Saturday April 20th, Black Velvette set foot on the Courthouse Stage of the Rivers and Spires Festival and played in front of a large audience. From the first note of "Baggage Claim" their opening number, they had the crowd clapping and dancing in front of the stage.

Lead vocalists Anna Henderson and Tina Huff combine for a sultry sound that goes perfectly with the hot licks and edgy sounds from the band. Black Velvette commanded the stage and electrified the audience.

"They made Rivers and Spires for me," stated Ronnie Jenkins of Nashville TN. "I had a wonderful time. They played very good music with a great Variety. Everyone was up dancing and enjoying the music. No one wanted it to end."

During the performance, Tina's son Chris Huff brought his girlfriend, Hayley Downey, on stage and proposed. She said "Yes!"

Black Velvette played a mix of songs from country to classic rock. The songs they played were "Baggage Claim", "Tornado", Little White Church", "Stay", "Kiss Me or Not", "Pontoon", "Heartbreaker", "Better Dig Two", Troubadour", "Mama's Broken Heart", "Fastest Girl in Town" and "Hit Me with your Best Shot."

"I think they are an inspiration to Clarksville. I think that they are lively and what music is all about. They have a good range of music. They hit everybody's interest and really got the crowd going. I really like them alot,"  said Kacy Collins from Jackson, TN.

Black Velvette is a six piece band that has been together for 5 years. They play old and new country, classic rock and country rock. The band is fronted by Anna Henderson and Tina Huff.

Anna Henderson (Lead and harmony vocals) was born and raised in Clarksville, TN. She started singing at age 5 and debuted at the 14 with my father's band. She learned to sing and harmonize by listening her mom and dad around the kitchen table.

Lenny Henderson (Lead and rhythm guitar) was born and raised in Tumwater, Washington. He started playing guitar at the age of 8. He moved to Clarksville in 1985, met Anna (above) and they married April 19th, 1986. They have been playing music together for 27 years.

Tina Traylor Huff (Lead and harmony vocals) was born and raised in Clarksville, TN. She debuted at the age of 15. Her mother and father both played music. Tina sang with a few bands back in the 80's and 90's.

Jimmy Cheshire (Lead and rhythm guitar – Lead and harmony vocals) was born and raised in Waynesville, GA.

Rob D'Angelo (Drums) is from Warsaw, NY. He is a professional full-time drummer.

Chris Roberts (Bass) was born and raised in Nashville, TN. He has played with too many artists to mention.

"We love Clarksville and we love this event. This is the second time we've played Rivers and Spires and it just gets better and better each year," said Anna Henderson of Black Velvette. "We appreciate getting invited to play and sing here. We love Rivers and Spires."

Black Velvette helped bring another successful Rivers and Spires to a rocking close.
Upcoming Shows in Clarksville
April 27th – Cheap Shotz, 9:30pm-1:30pm
May 4th – Wize Guys, 9:00pm-1:00pm
May 22nd – Cheap Shotz, 9:30pm-1:30pm
June 1st – Wize Guys, 9:00pm-1:00pm
June 15th – Whiskey River Saloon, 9:00pm-1:00pm
About Black Velvette
Black Velvette has been together since 2009 when Lenny Henderson and Anna Henderson asked Tina Traylor Huff to join them and they named the band Black Velvette that day. Tina and Anna met in 1988.
Tina had her band "Southern Accent" and Lenny and Anna had joined the "Southern Pride Band." There was never really any competition between Tina and Anna. They just loved to sing and so that's what they did. They became close friends as the years went on and when Anna moved back to Tennessee they reconnected. Black Velvette was formed and they've been hitting it hard ever since.
They pride themselves on playing the music that made them what and who they are today. They stay true to their country music roots. It's what they were raised on and that's the way it is. They play the new country but they also throw in some pop, blues, and classic and southern rock. If it's good music it's going to be in their set list.
For more on Black Velvette, see them on facebook at www.facebook.com/black.velvette
Photo Gallery
Baggage Claim
Tornado
Sections
News
Topics
Anna Henderson, Baggage Claim, Better Dig Two, Black Velvette, Cheap Shotz Sports Bar & Grill, Chris Huff, Chris Roberts, Clarksville TN, Classic Rock, country music, Courthouse Stage, Fastest Girl in Town, Hayley Downey, Heartbreaker, Hit Me with your Best Shot, Jackson TN, Jimmy Cheshire, Kacy Collins, Kiss Me or Not, Lenny Henderson, LIttle White Church, Mamma's Broken Heart, Nashville TN, Pontoon, Rivers and Spires Festival, Rob D'Angelo, Stay, Tina huff, Tina Traylor Huff, Tornado, Troubadour, Tumwater WA, Warsaw NY, Waynesville GA, Whiskey River Saloon, Wize Guys