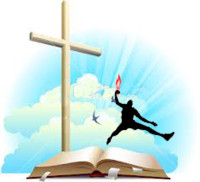 Clarksville, TN – Praising God is one of the most important things we can learn while on this earth because to praise Him, as He intends for us to praise, involves every aspect of our life.
Praise is meant to be the focal point of our relationship with God. Praise isn't just a surface thing. It isn't just saying "Praise the Lord" all day long. The secret of praise is something that flows from the center of what is really us. It is something that brings an immediate response from the heart of God.
This something is "true praise." Beyond the mechanics of praise lies the heart of praise and the way to bring Heaven into hell. To praise God is to express our acceptance of something that God is permitting to happen. So to praise God for difficult situations such as sickness or disaster means that we accept its happening as part of God's plan to reveal His perfect love for us.
We can't really praise God without being thankful for the thing we are praising Him for. And we can't be thankful unless we believe He is an omnipotent, loving Father that is working everything out for our good. Praising then involves both gratitude and joy that God is keeping His word to work good through everything if we love Him. (Romans 8:28)
"Rejoice always, pray without ceasing, in everything give thanks for this is the will of God in Christ Jesus for you." (I Thessalonians 5:16-18 NKJV) "For God is the King of all the earth sing praises with understanding" (Psalms 47:7 NKJV) We're not supposed to push our understanding out of the way, grit our teeth and say "It doesn't make sense to me, but I'll praise the Lord if it kills me, if that's the only way I can get out of this mess."
That's not praising, that's manipulating. We have all tried to manipulate God and it's wonderful to know that He loves us too much to let us get away with it. We are to praise God with our understanding, not in spite of it. Our understanding gets us into trouble when we try to figure out why and how God does something, but He wants us to accept with our understanding that He does it. This is the basis of our praise. God wants us to understand that He loves us and that He has a plan for us. "And we know that all things work together for good to those who love God, to those who are called according to His purpose." (Romans 8:25 NKJV)
Are you surrounded by difficult circumstances right now? Have you been struggling to understand why they have come to you? Then try to accept with your understanding that God does love you and has allowed these circumstances because He knows that He can bring good out of this for you. Praise Him for what He has brought into your life; do it deliberately and with your understanding and He will take care of the rest.
Praising God isn't a magic formula for success. It is a way of life that is solidly backed up in God's Word. We praise God, not for expected results, but for the situation just as it is. As long as we praise God with an eye secretly looking for the expected results we're only kidding ourselves and can be certain that nothing will happen to change us or our situation.
It is of course, a fact that when we honestly praise God, something does happen as a result. His power obviously flows into the situation, and we will soon notice a change in us or around us. The change may be that we come to experience a real joy and happiness in the midst of what once appeared to be a miserable situation, or the situation may change. But this is a "Result" of praise, and must not be the motivation for praise.
Praise isn't a bargaining tool. We don't say, "I'll praise you so that you can bless me Lord." To praise God is to delight ourselves in Him. The psalmist wrote, "Delight yourself also in the Lord and He shall give you the desires of your heart." (Psalm 37:4 NKJV) Notice the order of importance here. We don't just list our hearts desires, then delight ourselves in the Lord in order to get them. We're first to be delighted, and once we've experienced being really delighted with God, we'll discover that everything else becomes secondary. Still it is true that God does want to give us all our hearts desires. Nothing short of that is His wish and plan for us. We just have to learn to put God first.
God does have a perfect plan for our lives. We may look at the circumstances surrounding us and think we've been standing still forever in one painful spot. The more we pray and cry for God to help us, the more the circumstances seem to pile up. The turning point can't come until we begin to praise God for our situation instead of crying for Him to take it all away.
God can't move in our lives to reveal His perfect plan for us until we joyfully accept our present situation as part of that plan. What happens next is God's move, not ours. We as Christians need to remind ourselves frequently that God is in total control. It is easy to fall into the trap of thinking that we have the power to manipulate or change a situation simply by reciting a certain form of a prayer.
When we sincerely accept and thank God for a situation, believing that He has allowed it to come about, there is released into the situation a supernatural, divine force that can cause changes beyond what can be explained as an unfolding of natural events. Any form of sincere prayer opens the door for God's power to move into our lives. But the prayer of praise releases more of Gods power than any other form of petition. The Bible gives examples which show this fact again and again. "But thou art holy, O thou that inhabits the praises of Israel." (Psalms 22:53 KJV) No wonder God's power and presence is near when we praise Him. He actually dwells, inhabits, and resides in our praises.
An example of how God works while we praise Him is (II Chronicles 20). It's the story of King Jehosophat when he was surrounded by a powerful army. He cried out to God saying "… We have no power against this giant multitude that is coming against us; nor do we know what to do, but our eyes are upon You." (II Chronicles 20:12 NKJV) An important stop in the act of praising God is to take our eyes off the threatening circumstances and look to God instead. We are not to be blind to the very real threats of evil in our lives, seeing them for what they are only gives us greater cause to praise and thank God for working in them perfect control and authority. We are not to be preoccupied with the appearance of evil around us. See it, admit our helplessness to cope with it in our own strength, and then turn to God.
God said to Jehosophat. "Don't be afraid nor dismayed because of this great multitude, for the battle is not yours, but God's (II Chronicles 20:15 NKJV) God knows we don't have the power to deal with the circumstances of our lives, He's just waiting for us to completely turn the problem over to Him. "You won't need to fight in this battle. Position yourselves, stand still and see the salvation of the Lord…" (Chronicles 20:17 NKJV) What a promise, all we have to do is stand still and firm in our faith in Him and rejoice while we watch God go to work.
The next morning Jehosophat gave the orders to his army. "… He appointed those who should sing to the Lord, and who should praise the beauty of holiness, as they went out before the army and were saying's Praise the Lord, for this mercy endures forever." (II Chronicles 20:21 NKJV)
Benjamin Franklin once said, "The Lord helps those who help themselves." But nothing could be further from the truth. The Lord helps those who are helpless. It isn't enough to just be helpless though, we have to give up trying to help ourselves and surrender to God.
"Now when they began to sing and to praise, the Lord set ambushes against the people… who had come against Judah, and they were defeated." (II Chronicles 20:22 NKJV) I think it's safe to say that if Jehosophat had decided that he had better play it safe and order his men to fight, the outcome would have been very different.
Many of us are constantly defeated by the circumstances around us because we aren't ready to accept that the battle is God's not ours. God's word makes it clear that the only way out of that dilemma is a step of faith on our part. Believing that God's promises are true, accepting them, and daring to trust in them leads to understanding.
The reason for this is simple. Our human understanding is so limited that we can't possibly grasp the magnitude of God's plan and purpose for us. If our understanding had come before our acceptance, we'd never be able to accept very much. Jehosophat would never have dared follow God's plan for the battle if he had insisted on understanding it. God's promise undoubtedly staggered Jehosophat's understanding. But from the Bible we read he was a man that believed and trusted God. As a result he relied on and trusted in God.
Joshua was another example along with many others that I could go on and on about. The best example we have is Jesus Himself. The Bible says that Jesus came to earth to make it possible for us to praise God. Isaiah foretold Jesus coming and said that "He would come to preach the gospel of good tidings… to bind up and heal the broken hearted, to proclaim liberty to the physical and spiritual captives, and the opening of the prison and of eyes to those who are bound… to grant consolation and joy to those who mourn… the oil of joy for mourning, the garment of praise instead of heavy burdened and failing spirit." (Isaiah 61:1-3 AMP)
You may recognize your own condition on the list. Are you broken hearted? Bound by physical limitations, sickness, or spiritual limitations? In physical prison or imprisoned by your own spiritual blindness? Are you mourning? Unable to rejoice, thank or praise God? Is your Spirit heavily burdened and failing?
Perhaps it's because you haven't fully accepted and understood the Good News Jesus came to bring. Praise is an active response to what we know God has done and is doing for us in our lives and in this world through His Son Jesus Christ and the Holy Spirit.
We have every reason to rejoice and praise God "For because of our faith, he has brought us into this place of highest privilege where we now stand, and we confidently and joyfully look forward to actually becoming all that God has had in mind for us." (Romans 5:2 AMP)