Clarksville, TN – The first thing you're likely to notice about Tyler Rogers is his throwing motion. The Govs closer comes set, then dips and fires, submarine-style, to the plate.
The lanky righty combines his style – to a right-handed batter, it looks as though the ball leaves Rogers' hand behind the batters' back – with low-90s heat and a slider that borders on unhittable some days. It's small wonder that he's developed into one of the all-time greatest closers in OVC history.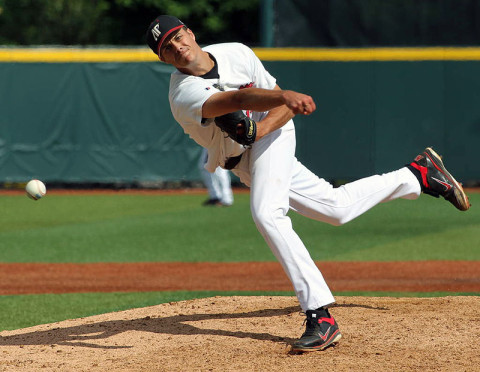 Quite impressive for a guy with little high school pitching experience who just started tossing submarine-style less than four years ago.
Rogers' was an infielder for much of his high school career at Chatfield High School in Colorado. With a pair of Division I pitchers already on the roster – Rogers' twin brother Taylor went on to play for Kentucky and Mark Shannon went to Northern Colorado before winding up at UNLV – Rogers' opportunities to shine on the mound during Colorado's shortened spring season were few.
The coaches at Garden City Community College saw something in Rogers' during summer ball, enough to offer him a chance to pitch for the Kansas school. It wasn't long after he got there that the decision was reached for Rogers' to try his hand at coming from underneath.
"They said I was 'projectionable', which I didn't really understand at a two-year school," Rogers said. "I definitely got lucky, because they saw something. That spring, (head coach) Chris Finnegan asked me to try to drop down, and it felt pretty natural, so I stuck with it."
As a setup man his first season at Garden City, Rogers' production was solid if not overpowering – a 1-1 record in 24 appearances with a 4.50 ERA is not a bad line for a guy learning his craft on the fly.
He exploded as a sophomore, saving 13 games and going 6-3 with a team-best 2.37 ERA en route to second-team All-Jayhawk West honors, which caught the eye of Austin Peay pitching coach Joel Mangrum and earned Rogers a scholarship to Austin Peay.
"We wanted him to close when we signed him," Mangrum said. "He wasn't a totally finished product when he got here, but his development is all on him. He's a self-made individual. Now, he's one of, if not the, best underneath guy in college baseball.
"Velocity, location and deception are the biggest keys for a pitcher, and he's got all three. There's no secret with him. He throws underneath, he throws hard and he throws strikes; you're either going to hit him or you won't. To look at him, I don't think you'd be super intimidated, but I don't think hitters always know what they've gotten themselves into when they step in against him."
Since joining the Govs, all Rogers has done is become the best closer in school history by any statistical measure. After recording a school-record 12 saves in his first season, the hard-throwing righty has made a mockery of the competition at times in 2013.
He has an Ohio Valley Conference single-season record 19 saves along with a team-best seven wins and a 1.85 ERA. With four regular-season games remaining and what the Govs hope is a deep run in the OVC Tournament and return NCAA trip, Rogers has an outside chance at eclipsing the NCAA record of 23 saves, set by Southern Cal's Jack Krawczyk in 1998. With two more saves, he would become the OVC's all-time leader in career saves.
"I think about the numbers a bit," Rogers said. "Last year, I was more aware of the numbers, so this year I feel like I handle it better. I'm aware of it and it's cool, but it doesn't mean anything."
While Mangrum insists that he's not had to work much on Rogers' delivery – focusing mostly on making sure he hits the same arm slot with every pitch – there have been some adjustments. Mangrum and Rogers have worked on adjusting his leg kick three times, as well as having him come set standing up; Rogers junior college coaches had him come set in a hunched over position when he was starting out as a submariner.
"He was taught that way for posture reasons in junior college, when he was first picking this up," Mangrum said. "He could get to the plate quicker and make sure he was in the same arm slot all the time."
The low arm slot allows Rogers to attack the low part of the zone with ease, something that leads to a high groundout rate (55.8 percent), when it doesn't lead to strikeouts (29.2 percent). Both Mangrum and Rogers agree that his assault on the lower part of the strike zone has been instrumental in his success.
"Even when he misses out over the plate, it's down and that's part of what's made him so successful," Mangrum said.
"I'd say the downward movement of the fastball has been huge," echoed Rogers. "It's about pitching to contact and getting more groundballs."
As Rogers continues to develop, so will his repertoire. Essentially a two-pitch guy right now, Rogers works 'every day', according to Mangrum, on developing a changeup to complement his arsenal. Continued work on his craft has allowed him to refine other aspects of his mound presence.
As a 6-5 hurler continuously dropping down to pitch, Rogers occasionally lost his balance upon delivery last season – which, Mangrum is quick to point out, has yet to happen in 2013 and is a by-product of improved timing and balance.
As befits most closers, Rogers' memory is short. That might be helped because, as Mangrum puts it, "A closer's mentality is his true personality. It's just who he is."
"I'm pretty relaxed and I think that helps me late in games," Rogers said. "I try not to think about the bad appearances. I've succeeded more times than I've failed, and I've got to remember that I'll do it again."