Montgomery County, TN – On Thursday, May 23rd, the Montgomery County Sheriff's Office arrested Roni Proctor, 26, for DUI and other charges in relation to the vehicle accident involving two Montgomery Central High School cheerleaders on Highway 48/13.
According to Sheriff's Spokesman Ted Denny, "Montgomery County Sheriff's Department received a tip Roni Proctor was at the Fortune Market on Highway 48. She was taken into custody without incident by Deputy Cody Lannom, Deputy Dan Gagnon, and SGT Kenny Austion."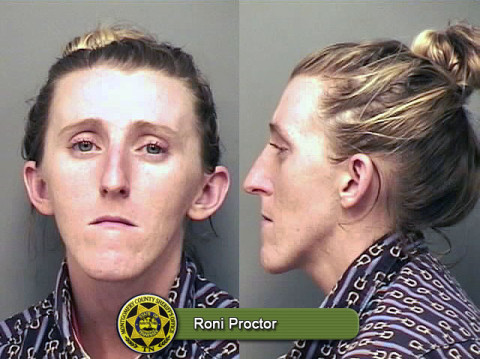 On Thursday, May 16th, around 7:10am, a 1998 Chevy S10 pickup driven by Roni Proctor crossed the center line and crashed head on into a 2006 Chevy Malibu.
The driver of the Malibu, 17 year old Kylie Eastin, who along with her passenger, 15 year old Ashley Travis were Lifeflighted to the Vanderbilt University Medical Center in Nashville, TN. Roni Proctor was transported by EMS to Gateway Medical Center.
According to the Tennessee Highway Patrol report, Proctor was drunk at the time of the accident. Eastin tried to avoid the oncoming vehicle but could not.
Proctor has been charged and booked into the Montgomery County Jail. Her bond is set at $105,000.
For more on the story, see: Two Montgomery Central High School Cheerleaders injured in DUI accident Thursday Morning
Roni Proctor
Name: Roni Proctor
DOB: 8/8/86
Gender: F
Race: W
Given Address: 2350 Leatherwood Road, Cumberland Furnace, TN
Arresting Officer: Cody Lannom
Charged With: DUI – Driving Under the Influence, Two Counts Vehicular Assault, Improper Lane Use
Booked Into: Montgomery County Jail
Bond: $105,500