Greensboro, NC – An excellent freshman season drew to a close for Austin Peay State University sprinter Breigh Jones, Friday, in the quarterfinals at the NCAA East Preliminaries, hosted by North Carolina A&T.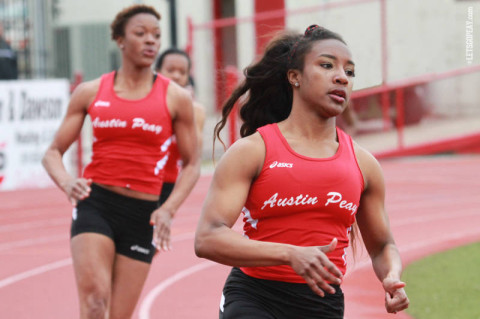 Jones placed seventh out of the first lane in Heat Two on the Irwin Belk Track at Aggie Stadium with a 53.91 run. She finished ahead of Kentucky's Morganne Phillips, who entered the East Prelims ranked eighth in the region.
"We are extremely pleased with her meet," said head coach Doug Molnar. "She needed help to get in this meet, then she placed in the top-20; just a phenomenal rise."
Overall, Jones finished 20th regionally, and was fifth out of six freshmen competitors who advanced to the quarterfinals. She was the first Austin Peay freshman to qualify for a preliminary round since pole vaulter Molly Bartkiewicz in 2007.
"Being in Lane One today slowed her just a bit; she couldn't get out quite as well," Molnar said. "She'll be a force down the road now that she's got some experience this year."