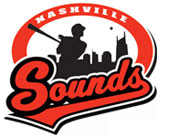 Nashville, TN – Iowa left-hander Chris Rusin held the Nashville offense in check and the Cubs belted a pair of homers in a 6-2 victory over the Sounds on Tuesday evening at Greer Stadium in the opener of a four-game series.
Rusin (4-4), who retired 13 consecutive batters at one point, allowed one run on six hits over a season-high eight innings to pick up the victory. The southpaw struck out eight batters and threw 72 of his 97 pitches for strike on the night.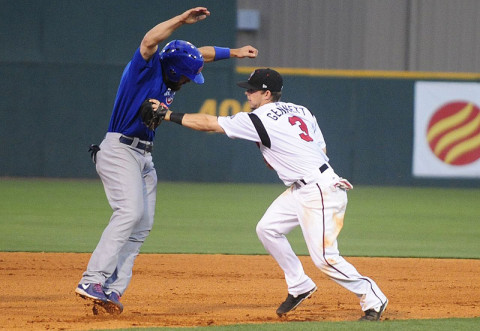 Third baseman Stephen Parker (2-for-4, two doubles) staked the Sounds to a 1-0 lead in the bottom of the first inning with an opposite-field, two-out RBI two-bagger to left-center off Rusin that plated Scooter Gennett, who had opened the frame with an infield single.
Iowa responded in the second with a pair of unearned runs against Zach Kroenke that resulted from a throwing error by shortstop Blake Davis. Both runs in the frame scored on sacrifice flies, off the bats of Edwin Maysonet and Luis Flores, as the visitors grabbed a 2-1 advantage.
Red-hot Nashville first baseman Hunter Morris (2-for-4) extended a couple of streaks with a leadoff single in the bottom of the second. He has hit safely in a season-best eight straight games (11-for-29, .379) and has reached base safely in his last 19 tilts.
Iowa extended the lead to 3-1 in the fifth when Rusin helped his own cause with an RBI single up the middle that brought home Flores.
Maysonet, the former Sound, swatted his fifth home run of the year in the top of the sixth, a two-run shot to left-center that chased Kroenke. The blast stretched the Iowa lead to 5-1.
Kroenke (2-7) took the loss for Nashville after allowing five runs (three earned) on seven hits over 5 2/3 innings of work.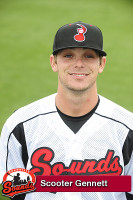 Iowa first baseman Brent Lillibridge added another Cubs roundtripper in the seventh when he led off with a solo shot to left-center that struck the guitar-shaped scoreboard. The I-Cubs have homered in 11 straight games.
Morris closed out the scoring in the bottom of the ninth with a two-out RBI single to right off Eduardo Sanchez that plated Parker, who had doubled earlier in the frame.
The teams continue the series with another 7:05pm meeting on Wednesday night. Right-hander Johnnie Lowe (0-0, 4.71) will make his first start of the year for the Sounds and face Iowa right-hander Nick Struck (3-3, 5.93).
Box Score
Iowa Cubs (24-26) 6, Nashville Sounds (14-36) 2
May 28th, 2013
1
2
3
4
5
6
7
8
9
R
H
E
Iowa Cubs
0
2
0
0
1
2
1
0
0
6
8
0
Nashville Sounds
1
0
0
0
0
0
0
0
1
2
9
1
BATTING
2B: Murphy (4, Kroenke), Jackson, B (6, Kroenke).
HR: Maysonet (5, 6th inning off Kroenke, 1 on, 2 out), Lillibridge (4, 7th inning off Heckathorn, 0 on, 0 out).
TB: Murphy 3; Maysonet 4; Jackson, B 2; Watkins; Rusin; Lillibridge 5.
RBI: Maysonet 3 (20), Flores, L (7), Rusin (1), Lillibridge (6).
2-out RBI: Maysonet 2.
SF: Maysonet; Flores, L.
GIDP: Bogusevic.
Team RISP: 2-for-4.
Team LOB: 2.BASERUNNING
CS: Jackson, B (4, 3rd base by Kroenke/Lalli), Lillibridge (2, 2nd base by Kroenke/Lalli).
PO: Jackson, B (2nd base by Kroenke), Lillibridge (1st base by Kroenke).FIELDING
DP: (Murphy-Watkins-Lillibridge).
a-Singled for Heckathorn in the 8th. b-Flied out for Garner in the 9th.
BATTING
2B: Parker, S 2 (9, Rusin, Sanchez, E).
TB: Lalli 2; Gennett; Parker, S 4; Davis, B; Morris, H 2; Statia.
RBI: Parker, S (16), Morris, H (25).
2-out RBI: Parker, S; Morris, H.
Runners left in scoring position, 2 out: Halton; Kroenke; Gindl.
GIDP: Gennett.
Team RISP: 2-for-7.
Team LOB: 6.FIELDING
E: Davis, B (5, throw).
DP: (Gennett-Davis, B-Morris, H).
Pickoffs: Kroenke 2 (Jackson, B at 2nd base, Lillibridge at 1st base).
Iowa Cubs
Player
IP
H
R
ER
BB
SO
HR
ERA
Chris Rusin (W, 4-4)
8.0
6
1
1
0
8
0
3.55
Eduardo Sanchez
1.0
3
1
1
0
1
0
3.86
Totals
9.0
9
2
2
0
9
0
4.83
WP: Sanchez, E, Kroenke.
Pitches-strikes: Rusin 97-72, Sanchez, E 23-14, Kroenke 102-55, Heckathorn 27-20, Olmsted 16-9.
Groundouts-flyouts: Rusin 9-2, Sanchez, E 1-1, Kroenke 6-4, Heckathorn 4-0, Olmsted 1-1.
Batters faced: Rusin 29, Sanchez, E 6, Kroenke 24, Heckathorn 8, Olmsted 3.
Umpires: HP: Jordan Ferrell. 1B: D.J. Reyburn. 2B: Chris Segal. 3B: Kolin Kline.
Weather: 86 degrees, clear.
Wind: 4 mph, R to L.
T: 2:49.
Att: 3,025.