Johnnie Lowe Makes First Triple-A Start; Clay Hensley Debuts As Sound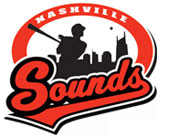 Nashville, TN – The Nashville Sounds held on to an early four-run lead Wednesday night at Greer Stadium to defeat the visiting Iowa Cubs by a 4-3 margin.
The Sounds put two runs on the board in the first inning via outfielder Josh Prince's double down the left-field line. The hit scored Caleb Gindl, who singled on a grounder into right field, and Stephen Parker, having reached base on balls.
Gindl, who finished two-for-four, added two runs in the following inning with a double off the side of the left-field wall. The two-out rally was spurred by starting pitcher Johnnie Lowe's first career hit: a double to dead center.
Scooter Gennett, scoring the second run in the second inning, reached base with a single. The Sounds second baseman has now reached base safely in 42 of his 46 games.
Lowe kept the I-Cubs hitless through the first three innings and finished after four, allowing two runs on two hits, walking two and striking out six in his first Triple-A start. His two runs came in the fourth inning on back-to-back RBI-hits from Dave Sappelt and Brad Nelson.
The I-Cubs added a run in the fifth, attacking Clay Hensley in his Nashville Sounds debut. The right-hander, added to the Nashville roster on Monday, started with a walk and allowed a double to pitcher Nick Struck. Logan Watkins drove in a run with a single to center. Hensley recorded a groundout and was relieved by Travis Webb (1-2), who prevented any further damage to pick up his first win of the season.
Frankie De La Cruz and Michael Olmsted both logged scoreless innings out of the Sounds bullpen. De La Cruz pitched the sixth and seventh innings, allowing just two hits to Iowa, while Olmsted fired two strikeouts in a hitless eighth.
Rob Wooten finished the game on the hill for Nashville to collect his seventh save of the season. After allowing two singles, Wooten collected a bunt from Watkins and got the runner at third for the first out and capped it off with a game-ending double play.
The Sounds play game three against the division-rival Iowa Cubs (Cubs affiliate) at Greer Stadium Thursday night at 7:05pm. LHP Chris Narveson is scheduled to make a rehab start for Nashville, opposite Iowa's LHP Brooks Raley (4-3, 4.53). The Sounds will be wearing retro blue uniforms for Burger King's Throwback Thursday, where fans can enjoy $2.00 beer and select concession items.
Box Score
Nashville Sounds (15-36) 4, Iowa Cubs (24-27) 3
May 29th, 2013
1
2
3
4
5
6
7
8
9
R
H
E
Iowa Cubs
0
0
0
2
1
0
0
0
0
3
8
0
Nashville Sounds
2
2
0
0
0
0
0
0
x
4
8
1
a-Flied out for Nelson in the 5th. b-Popped out for Struck in the 6th. c-Singled for Coleman, C in the 9th.
BATTING
2B: Sappelt (2, Lowe), Struck (1, Hensley), Murphy (5, De La Cruz, F).
TB: Boscan; Sappelt 2; Nelson; Struck 2; Murphy 2; McDonald; Bogusevic; Watkins.
RBI: Sappelt (12), Nelson (33), Watkins (14).
Runners left in scoring position, 2 out: Lillibridge 2; Maysonet.
GIDP: Bogusevic.
Team RISP: 3-for-12.
Team LOB: 8.BASERUNNING
SB: Bogusevic (13, 2nd base off Lowe/Lalli).FIELDING
DP: (Watkins-Murphy-Nelson).
BATTING
2B: Prince (9, Struck), Lowe (1, Struck), Gindl (11, Struck).
TB: Prince 3; Lowe 2; Gennett 2; Gindl 3; Morris, H.
RBI: Prince 2 (17), Gindl 2 (28).
2-out RBI: Prince 2; Gindl 2.
Runners left in scoring position, 2 out: Morris, H; Davis, K; Davis, B.
SAC: Prince.
GIDP: Lalli.
Team RISP: 3-for-9.
Team LOB: 7.FIELDING
E: Lalli (1, throw).
DP: 2 (Gennett-Davis, B, Gennett-Statia-Morris, H).
Iowa Cubs
Player
IP
H
R
ER
BB
SO
HR
ERA
Nick Struck (L, 3-4)
5.0
8
4
4
2
3
0
6.07
Casey Coleman
3.0
0
0
0
2
2
0
3.00
Totals
8.0
8
4
4
4
5
0
4.82
WP: Struck.
IBB: Morris, H (by Coleman, C).
Pitches-strikes: Struck 87-51, Coleman, C 51-29, Lowe 61-38, Hensley 15-8, Webb 14-6, De La Cruz, F 33-20, Olmsted 16-12, Wooten 10-5.
Groundouts-flyouts: Struck 6-3, Coleman, C 4-2, Lowe 1-1, Hensley 1-0, Webb 0-1, De La Cruz, F 2-0, Olmsted 1-0, Wooten 2-0.
Batters faced: Struck 24, Coleman, C 11, Lowe 16, Hensley 4, Webb 3, De La Cruz, F 8, Olmsted 3, Wooten 4.
Inherited runners-scored: Webb 2-0.
Umpires: HP: D.J. Reyburn. 1B: Chris Segal. 2B: Kolin Kline. 3B: Jordan Ferrell.
Weather: 88 degrees, clear.
Wind: 3 mph, In from CF.
T: 2:58.
Att: 3,575.