Nashville's Sean Halton Homers Twice in Loss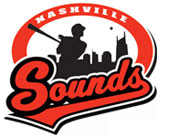 Nashville, TN – Despite an impressive showing from the Pacific Coast League's hottest hitter Sean Halton, the Nashville Sounds were outslugged by the New Orleans Zephyrs 6-3 Saturday night in front of 10,011 fans at Greer Stadium.
Halton entered the game riding a season-best 10-game hitting streak and quickly extended the streak to 11 games with his home run in the second inning off New Orleans' starter Jared Rogers (2-1). The shot was driven hard over the left field wall and put the Sounds on top 1-0.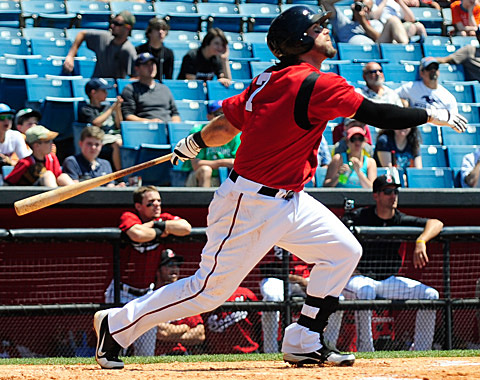 The slugger struck again in his next at-bat in the fourth inning, driving his second home run off the wall in left field. The shot scored two runs for the Sounds to make it 3-1.
The outing marks the eighth time a Sound has gone deep twice in one game this season, and is Halton's sixth two-homer game of his career.
But the Z's answered the Sounds' homers with two of their own. Kevin Kouzmanoff tied the game 1-1 in the fourth inning with a solo shot, but it was Donovan Solano's grand slam home run in the seventh that proved to be the decisive blow.
Sounds starting pitcher Mike Fiers was charged his second loss with Nashville, allowing five runs, four earned, on eight hits over 6 2/3 innings. The right-handed pitcher delivered nine strikeouts to only two walks before leaving the game when a comebacker hit is throwing arm.
Kyle Heckathorn entered the game for Fiers to close out the inning and stayed in for the eighth to deliver two walks and allow New Orleans their final run on a bases-loaded sacrifice fly. Jesus Sanchez also saw work from the mound, pitching a 1-2-3 ninth inning.
Rogers picked up the win for New Orleans, limiting the Sounds to three runs on four hits over six innings of work. Chris Hatcher pitched the ninth inning for the Z's to record his league-leading 22nd save.
Offensively, Halton and catcher Blake Lalli both finished two-for-four, while Parker's double in the seventh was the team's only other extra-base hit.
The Sounds will look to get their first win of the four-game series against the New Orleans Zephyrs (AAA-Marlins) Sunday at Greer Stadium 2:05 p.m. for Father's Day, presented by Sport Clips. Throwing for Nashville will be RHP R.J. Seidel (1-3, 4.86) opposite the Z's RHP Doug Mathis (2-5, 3.50).
The Sounds will be wearing military jerseys as a part of Piedmont Natural Gas Military Sunday, where families and friends of service men and women can receive admissions for $5.00 with a valid Military ID.
Box Score
New Orleans Zephyrs (35-35) 6, Nashville Sounds (23-44) 3
June 15th, 2013
1
2
3
4
5
6
7
8
9
R
H
E
New Orleans Zephyrs
0
0
0
1
0
0
4
1
0
6
9
0
Nashville Sounds
0
1
0
2
0
0
0
0
0
3
8
1
a-Singled for Rogers, J in the 7th. b-Walked for Varner in the 8th.
BATTING
HR: Kouzmanoff (3, 4th inning off Fiers, 0 on, 1 out), Solano, D (1, 7th inning off Fiers, 3 on, 1 out).
TB: Solano, D 5; Kouzmanoff 5; Smolinski 2; Green, N; Hernandez, Go; Petersen.
RBI: Kouzmanoff (18), Solano, D 4 (6), Mattison (18).
Runners left in scoring position, 2 out: Skipworth; Solano, D.
SF: Mattison.
Team RISP: 1-for-3.
Team LOB: 8.FIELDING
DP: 2 (Skipworth-Green, N, Solano, D-Green, N-Mahoney).
a-Flied out for Heckathorn in the 8th.
BATTING
2B: Parker, S (12, Varner).
HR: Halton 2 (7, 2nd inning off Rogers, J, 0 on, 0 out; 4th inning off Rogers, J, 1 on, 0 out).
TB: Lalli 2; Halton 8; Parker, S 2; Davis, K; Statia; Morris, H.
RBI: Halton 3 (26).
Runners left in scoring position, 2 out: Chavez, O; Parker, S.
GIDP: Davis, K.
Team RISP: 0-for-2.
Team LOB: 4.BASERUNNING
CS: Statia (1, 2nd base by Rogers, J/Skipworth).FIELDING
E: Lalli (2, catcher interference).
New Orleans Zephyrs
Player
IP
H
R
ER
BB
SO
HR
ERA
Jared Rogers (W, 2-1)
6.0
4
3
3
1
6
2
4.79
Rett Varner (H, 2)
1.0
2
0
0
0
0
0
2.35
Adam Reifer (H, 2)
1.0
0
0
0
0
0
0
0.00
Chris Hatcher (S, 22)
1.0
2
0
0
0
1
0
2.95
Totals
9.0
8
3
3
1
7
2
3.83
Pitches-strikes: Rogers, J 102-66, Varner 16-11, Reifer 13-8, Hatcher 19-11, Fiers 97-61, Heckathorn 26-15, Sanchez, Je 6-4.
Groundouts-flyouts: Rogers, J 5-5, Varner 2-0, Reifer 1-1, Hatcher 0-1, Fiers 7-2, Heckathorn 1-2, Sanchez, Je 1-2.
Batters faced: Rogers, J 22, Varner 4, Reifer 3, Hatcher 5, Fiers 31, Heckathorn 7, Sanchez, Je 3.
Inherited runners-scored: Heckathorn 1-0.
Umpires: HP: Stu Scheurwater. 1B: Kellen Levy. 3B: Shaun Lampe.
Weather: 88 degrees, partly cloudy.
Wind: 3 mph, R to L.
T: 2:47.
Att: 10,011.
Venue: Herschel Greer Stadium.
June 15, 2013