Clarksville, TN – Whenever Beachaven Vineyard and Winery holds one of their Jazz on the Lawn concerts you know you will have a really great time. That was the case with Saturday's Concert Featuring The Jim Gibson.  People were clearly ready to enjoy the weekend by spending some quality time with family and friends.
When I arrived for the concert the streets and surrounding parking lots were already full with all the cars of all the people who had arrived before me. The first thing I usually do is to go find Louisa Cooke or her husband Ed who together founded the winery 27 years ago.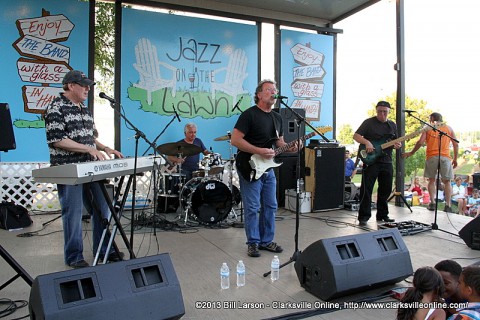 I saw that Ed was out visiting with some of the guests as I came in, so I went looking for Louisa, and I quickly found her. After a few minutes of exchanging pleasantries, I asked her how the season was going so far. She said, "Jazz on the Lawn has grown so huge! We think that we have had between 5,000 and 6,000 people at the concerts so far this season, and this is our fourth concert so far. And tonight looks like no exception." She looked up at the sky gauging the weather, and said "It's an absolutely gorgeous night for it!"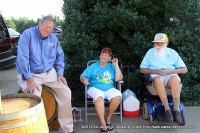 Talking about the musical act for the evening Cooke said, "Jim Gibson used to live in Nashville, but has since moved to San Diego. When he comes back to perform in Tennessee, he stops by Nashville and picks up all of his band member and have such a good time playing together again! The Jim Gibson Band is always a Jazz on the lawn favorite."
Cooke had other things she needed to do, and so I left her began to check out the ongoing festivities. I enjoy wandering around with my camera visiting with such an eclectic group of people who had one goal in mind, to enjoy great music with good friends!
When you look at the photos from the concert it is easy to see just how much of a part of the community that the Beachaven Jazz on the Lawn concerts have become. The Beachaven Vineyard and Winery opened their arms to the community, and it is clear that the community has embrace them back.
Photo Gallery
The next Concert
The next Jazz on the Lawn Concert at Beachaven Vineyard and Winery will be held on July 13th, and will feature the South Street Players out of Nashville, Tennessee
South Street is synonymous with music in Nashville and the word is out: each musician in this band is definitely a Player. Together, their versatility is instantly clear when listening to them blaze through a set list spanning five decades of hits. Their deep pocket renditions will please even the most critical ear while paying respect to the music that's underscored our lives.
The members all have pedigrees bringing session and touring pros to meld with Nashville music scene favorites. The multi-talented Eric Bikales serves as Musical Director and resident Keyboard Wizard. Soul sister Rachel Rodriguez and young blood Jared Roberts front the band with genre crunching lead vocals driven by Larry Knight's jousting guitar riffs. Anchoring this powerhouse ensemble is The Engine: Fred Satterfield (drums) and founding daddy, bassist Jim Roberts.
I look forward to seeing you there!
About Jazz on the Lawn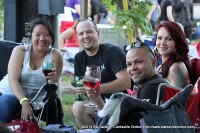 Jazz on the Lawn offers free admission with free parking.  "You gotta admit, that's the best deal around!"  The music always starts at 6:30 pm and goes until 9:30 pm.  Because seating is "general admission," it pays to get here around 5 pm to get both a good parking spot and a good viewing spot on the lawn.
As always, there are some terms and conditions.  Ours are few and simple, and we call them the "Rules of the Beach":
Please bring with you: your friends, a picnic, and a blanket and/or lawn chairs & valid ID.  Please DO NOT bring with you: pets, grills, tents, and outside alcohol.  Also, please pick up your trash!  We provide dozens of trash receptacles around the lawn.
July 13th: South Street Players
July 27th: Bicho Brothers Band?
August 10th: Joel Brown
August 24th: Top Tier
September 7th: Tina Brown
September 21st: CJQ
October 5th: Midnight Riders
October 19th: Handsome White Boyz
About the Beachaven Vineyard and Winery


The Beachaven Vineyard and Winery has been in business for 27 years. The Winery walls are covered with over 550 award-winning medals from regional, national, and international competitions. The winery has taken Best of Show awards with their wines on 11 occasions. Visiting the Beachaven Vineyards & Winery is a unique experience; as they try to make wine tasting, and wine education fun!
You can also bring a picnic basket and go to use the Winery's picnic area anytime. "I think it's great that people come in and buy a bottle of wine, then go out to the picnic area to enjoy it with their family and friends. Especially on a nice day it is a wonderful thing to do together," said Cooke. "Beachaven Vineyard and Winery also offers free tours," she continued, "Anyone who would like to come out and take a tour is more welcome to do that!"
For the next couple weeks the winery will be doing a lot of bottling; but be sure to call ahead and verify exactly when they are planning to run the bottling line.
The winery is also kicking off a new series of events called "Wine down Wednesdays." You need to call the winery to check the schedule, because it is not held every single Wednesday; but they will holding it again in August. From 6:00pm to 8:00pm during the event the winery will stay open late serving hors d'oeuvres and doing wine tastings; and everything in the store will be discounted by 20%.