Nashville's Johnny Hellweg Nabs Ninth Win In 3-2 Victory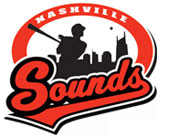 Nashville, TN – The Nashville Sounds held on to defeat the visiting Albuquerque Isotopes by a margin of 3-2 Thursday night at Greer Stadium to give Nashville the 2-2 series split.
Tied 1-1 in the fourth inning, Cole Garner helped the Sounds pull ahead with a double to the gap in right-center field, plating Kentrail Davis, who reached base on balls. Starting pitcher Johnny Hellweg (9-4) pushed a sacrifice bunt, his second of the night, to advance Garner to third. Josh Prince hit a sac-fly to drive in Garner and give the Sounds a 3-1 lead.
Hellweg limited Albuquerque to one run on four hits across six innings of work to pick up his ninth win of the year and seventh in a row. The 6-foot-9 hurler shaved his ERA from 2.61 to a league-leading 2.44 in his seventh consecutive quality start. He issued four walks and struck out four.
The unearned run in the fourth inning ended Hellweg's consecutive scoreless innings streak at 16 1/3 innings, the longest by a Sounds starter this season. Hellweg has only allowed one earned run in his last 32 innings with Nashville.
The Isotopes cut the Sounds lead to one run in the eighth inning off reliever Zach Kroenke, who pitched 1 2/3 innings for the team. Jesus Sanchez finished the game for Nashville to pick up his first save of the year. It is the first save recorded by a Sound other than Rob Wooten, who was called up to the Milwaukee Brewers earlier in the day.
Albuquerque pitcher Rob Rasmussen took the loss, his fifth, allowing three runs on four hits over six innings.
Nashville took an initial 1-0 lead in the first inning when Robinzon Diaz, 1-for-3, hit a single to left field that scored Josh Prince from third. Prince singled to lead off the game and stole two bags.
Isotopes outfielder Chili Buss leveled the game in the fourth inning with a sacrifice fly to center field. The fly scored Scott Van Slyke from third after stealing second and reaching the hot corner on a throwing error by catcher Anderson De La Rosa.
The Sounds hit the road Friday and head to Papillion, NE to take on the Omaha Storm Chasers (Kansas City Royals affiliate) in a four-game series. Throwing for Nashville will be RHP Jimmy Nelson (2-3, 3.29) opposite the Chasers' lefty Chris Dwyer (6-8, 3.63). Baseball returns to Greer Stadium on Tuesday, July 30th, when the Sounds take on the Las Vegas 51s (New York Mets affiliate).
Box Score
Nashville Sounds (38-68) 3, Albuquerque Isotopes (59-47) 2
July 25th, 2013
1
2
3
4
5
6
7
8
9
R
H
E
Albuquerque Isotopes
0
0
0
1
0
0
0
1
0
2
5
0
Nashville Sounds
1
0
0
2
0
0
0
0
x
3
6
2
a-Struck out for Rasmussen in the 7th.
BATTING
2B: Gordon, D (15, Hellweg).
TB: Van Slyke; Sellers; Buss; Gordon, D 3.
RBI: Buss 2 (77).
Runners left in scoring position, 2 out: Van Slyke; Sellers; Gordon, D.
SF: Buss.
GIDP: Sellers.
Team RISP: 0-for-7.
Team LOB: 7.BASERUNNING
SB: Gordon, D (38, 3rd base off Hellweg/De La Rosa, A), Van Slyke (5, 2nd base off Hellweg/De La Rosa, A), Buss (16, 2nd base off Hellweg/De La Rosa, A).
CS: Gwynn (8, 2nd base by Hellweg/De La Rosa, A).FIELDING
Outfield assists: Buss (Gennett at home).
DP: (Barden-Gordon, D-Van Slyke).
a-Grounded into a forceout for Hellweg in the 6th.
BATTING
2B: Garner (9, Rasmussen).
TB: Prince; Garner 2; Diaz, R; Gennett; Morris, H 2.
RBI: Diaz, R (10), Garner (29), Prince (36).
Runners left in scoring position, 2 out: Statia 2; Prince.
SAC: Hellweg 2.
SF: Prince.
GIDP: Statia.
Team RISP: 3-for-8.
Team LOB: 7.BASERUNNING
SB: Prince 2 (16, 2nd base off Rasmussen/Baker, Jo, 3rd base off Rasmussen/Baker, Jo), Gennett (10, 2nd base off Vasquez/Baker, Jo).FIELDING
E: De La Rosa, A (6, throw), Prince (8, fielding).
DP: (Prince-Gennett-Morris, H).
Albuquerque Isotopes
Player
IP
H
R
ER
BB
SO
HR
ERA
Rob Rasmussen (L, 0-5)
6.0
4
3
3
5
4
0
5.59
Luis Vasquez
1.0
2
0
0
0
2
0
0.00
Peter Moylan
1.0
0
0
0
1
0
0
2.73
Totals
8.0
6
3
3
6
6
0
4.04
Nashville Sounds
Player
IP
H
R
ER
BB
SO
HR
ERA
Johnny Hellweg (W, 9-4)
6.0
4
1
0
4
4
0
2.44
Zach Kroenke (H, 2)
1.2
1
1
1
1
2
0
4.58
Jesus Sanchez (S, 1)
1.1
0
0
0
0
1
0
2.06
Totals
9.0
5
2
1
5
7
0
4.53
WP: Rasmussen.
Pitches-strikes: Rasmussen 97-56, Vasquez 23-17, Moylan 10-5, Hellweg 101-58, Kroenke 34-19, Sanchez, Je 12-10.
Groundouts-flyouts: Rasmussen 9-4, Vasquez 0-0, Moylan 2-0, Hellweg 8-3, Kroenke 3-0, Sanchez, Je 1-2.
Batters faced: Rasmussen 27, Vasquez 4, Moylan 3, Hellweg 24, Kroenke 8, Sanchez, Je 4.
Inherited runners-scored: Sanchez, Je 1-0.
Umpires: HP: Gerard Ascani. 1B: Joel Hospodka. 3B: Tom Woodring.
Weather: 84 degrees, partly cloudy.
Wind: 5 mph, L to R.
T: 2:53.
Att: 8,170.
Venue: Herschel Greer Stadium.
July 25, 2013