Clarksville, TN – The Wilma Rudolph Event Center, located at Liberty Park, is currently seeking craft vendors to participate in Handmade Holidays.
This year's two-day event is scheduled to take place November 16th, 2013 from 10:00am to 6:00pm and November 17th, 2013 from noon to 5:00pm.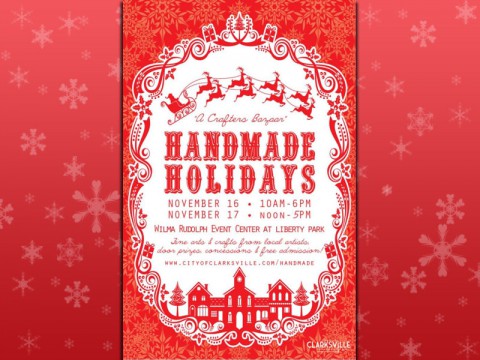 The event, "Handmade Holidays- a Crafters Bazaar", will showcase multiple vendors featuring handmade and handcrafted items. The event will be free and open to the public.
The cost for a vendor is $100.00 and includes a 10×10 space, table and two chairs. Vendors interested in participating can pick up an application form at the Clarksville Parks and Recreation office or download it at www.cityofclarksville.com/handmade. All applications must be received by November 1st, 2013 to be considered.
For more details on how to become a vendor, please contact Matt Nixon at 931.645.7476 or matthew.nixon@cityofclarksville.com.