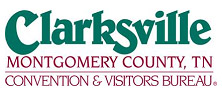 Clarksville, TN – Clarksville will host nearly 100 young women competing in the upcoming 2014 Miss Tennessee USA and Teen USA pageants.
Both events will take place at the Austin Peay State University Music and Mass Communications Building on October 4th and 5th, 2013. This will be Clarksville's fourteenth year hosting the pageants.
Theresa Harrington, Executive Director of the Convention and Visitors Bureau said, "We are looking forward to another great year hosting the pageants and welcoming the contestants, their families and supporters to Clarksville. We have had a great relationship with pageant director, Kim Greenwood and her staff for over a decade and we appreciate the opportunity to share our community with people from all over the state of Tennessee."
Both pageants have contestants from varied locations throughout the state; representing over 55 different cities. Clarksville will have four delegates representing the city-county.
Brenna Mader, Miss Tennessee USA 2013, will crown the newest title holder on Saturday night. Mader is a resident of Nashville, TN. Emily Suttle, who was crowned Miss Tennessee Teen USA 2013, will also be handing over her crown at Saturday afternoon's final teen pageant. Suttle is a native of Franklin, TN and placed in the Top 20 at the Miss USA Teen pageant held this past June.
The preliminary competition for Miss Tennessee USA will be on Friday, October 4th at 6:30pm. The Miss Tennessee Teen USA preliminary will be the same day at 8:30pm. The finals will be on Saturday, October 5th with Miss Tennessee Teen USA at 3:30pm and Miss Tennessee USA at 8:00pm.
Tickets for the preliminary competitions are $35.00 and tickets for the final competitions are $40.00. They may be purchased by credit card by calling 931.245.4346 or in person by cash or credit card at the Economic Development Council Office, 25 Jefferson Street.
Tickets will be available for pre-purchase until Tuesday afternoon, October 1st, and then at the door until they sell out. There is a $1.50 surcharge per ticket if purchased by credit card.
The Miss Tennessee USA and Teen USA pageants are directed by Kim Greenwood, Miss Tennessee USA 1989 and the wife of entertainer and Grammy award winner, Lee Greenwood.
Information about this year's delegates and the pageants can be found at www.misstennesseeusa.com. For directions to the venue and ticket information, visit www.clarksvillecvb.com and click on the Miss Tennessee USA pageant.