Clarksville, TN – Austin Peay State University's volleyball team never trailed in a three-set Ohio Valley Conference sweep (25-17, 25-23, 25-16) of UT Martin, Saturday, at the Dunn Center.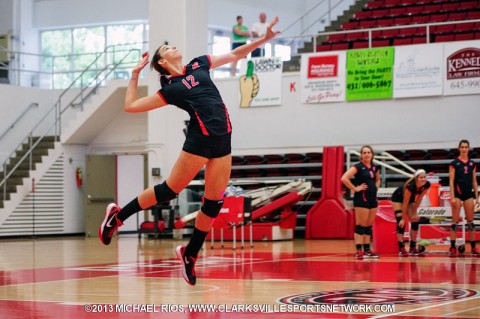 Austin Peay (8-14, 5-1 OVC) led wire-to-wire in the first set and for was not tied until 23-23 in the second set. The Lady Govs opened that second frame with a 5-2 lead and built a 19-13 advantage.
However, UT Martin climbed back into the set with a 10-4 run to tie the set, 23-23, after a kill by Madison Wessling. Austin Peay's Jada Stotts posted a kill to give APSU control and set point which it immediately capitalized on courtesy a kill by Aubrey Marsellis for the 25-23 victory.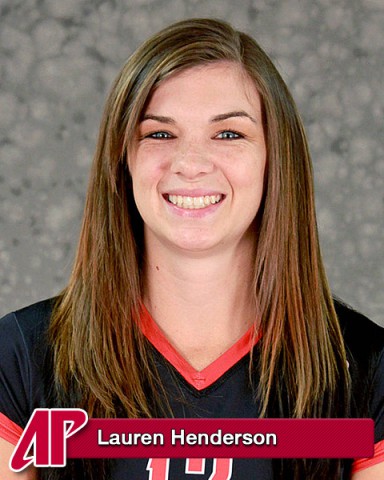 UT Martin (8-14, 2-4 OVC) did not allow Austin Peay to build a sizeable lead early in the third set, forcing the last of four ties at 5-5. The Lady Govs posted a 4-0 run to take a 9-4 advantage and secured the set with a later 6-0 run that was entirely composed of UTM attack errors to build a 19-10 lead en route to the 25-16 match-clinching win.
The Lady Govs needed just 38 kills to record the victory, finishing the match with a .248 attack percentage. No Austin Peay hitter reached double-digit kill territory, Lauren Henderson's eight kills leading the APSU effort. The Lady Govs did finish with 10.5 blocks, Marsellis again leading the effort with six stops.
UT Martin recorded 35 kills but was charged with 22 errors and finished with a .112 attack percentage. Wessling led the Skyhawks with 11 kills.
Austin Peay, which has won five straight OVC outings, returns to action with a 7:00pm, Friday OVC contest at Eastern Illinois.
Photo Gallery
Box Score
UT Martin vs Austin Peay
(October 12th, 2013 at Clarksville, TN)
UT Martin
ATTACK
SET
SERVE
SRV
DEF
BLOCK
GEN
##
Player
SP
K
E
TA
PCT
A
SA
SE
RE
DIG
BS
BA
BE
BHE
Points

1

HAZELWOOD, Lynsey

3

1

1

20

.000

2

0

2

3

8

0

0

4

0

1.0

3

KEATON, Emily

3

9

5

21

.190

0

0

3

1

9

0

3

0

0

10.5

9

DEVINNEY, Julia

3

7

3

14

.286

0

0

0

0

2

1

1

0

0

8.5

11

WHIMPEY, Allie

3

5

4

16

.062

0

0

1

0

2

1

3

0

0

7.5

14

CRASK, Amanda

3

2

3

15

-.067

31

1

2

0

6

1

0

0

0

4.0

35

WESSLING, Madison

3

11

6

30

.167

0

0

0

0

1

0

1

1

0

11.5

2

LARSON, Colleen

3

0

0

0

.000

0

0

0

0

6

0

0

0

0

0.0

4

BOWLES, Chelsea

3

0

0

0

.000

2

0

1

0

13

0

0

0

0

0.0

18

McLAUGHLIN, Michelle

3

0

0

0

.000

0

0

1

0

5

0

0

0

0

0.0

Totals

3

35

22

116

.112

35

1

10

4

52

3

8

5

0

43.0

TOTAL TEAM BLOCKS: 7.0
TEAM ATTACK BY SET
Set
K
E
TA
Pct
Sideout
Pct

1

9

6

36

.083

12-24

50%

2

17

5

42

.286

15-25

60%

3

9

11

38

-.053

12-24

50%

39-73

53%

SET SCORES
1
2
3
TEAM RECORDS

UT Martin

(0)

17

23

16

8-14, 2-4 OVC

Austin Peay

(3)

25

25

25

8-14, 5-1 OVC
Austin Peay
ATTACK
SET
SERVE
SRV
DEF
BLOCK
GEN
##
Player
SP
K
E
TA
PCT
A
SA
SE
RE
DIG
BS
BA
BE
BHE
Points

2

HULL, Calyn

3

7

1

22

.273

0

0

0

0

2

0

3

0

0

8.5

4

EBRIGHT, Sammie

3

6

0

14

.429

0

0

1

0

6

1

2

2

0

8.0

7

MARSELLIS, Aubrey

3

3

1

6

.333

30

1

3

0

6

1

5

0

2

7.5

8

LANDON, Liz

3

7

2

16

.312

1

2

0

0

4

0

1

1

0

9.5

12

HENDERSON, Lauren

3

8

1

16

.438

0

1

1

0

2

0

5

1

0

11.5

14

STOTTS, Jada

3

6

5

32

.031

1

0

0

1

12

0

0

0

0

6.0

3

ADAMS, April

3

0

0

0

.000

1

0

0

0

15

0

0

0

0

0.0

5

BALES, Lizzy

3

0

0

0

.000

0

0

1

0

5

0

0

0

0

0.0

15

PLYBON, Hillary

1

1

1

3

.000

0

0

0

0

0

0

1

0

0

1.5

Totals

3

38

11

109

.248

33

4

6

1

52

2

17

4

2

52.5

TOTAL TEAM BLOCKS: 10.5
TEAM ATTACK BY SET
Set
K
E
TA
Pct
Sideout
Pct

1

16

4

32

.375

13-18

72%

2

13

2

40

.275

15-23

65%

3

9

5

37

.108

13-17

76%

41-58

70%

Site: Clarksville, Tenn. (Dunn Center)
Date: Oct 12, 2013 Attend: 256 Time: 1:19
Referees: Anthony Marshall, Jack Gallagher


| | | | | |
| --- | --- | --- | --- | --- |
| | 1 | 2 | 3 | Total |
| Tie scores | 0 | 1 | 4 | 5 |
| Lead changes | 0 | 0 | 0 | 0 |