Martin, TN – A late Shelby Olszewski goal lifted Austin Peay State University women's soccer team to a thrilling 1-0 victory against third-seeded Southeast Missouri in the first round of the 2013 Ohio Valley Conference Tournament, hosted by UT Martin at Skyhawk Field.
Austin Peay (11-5-2, 5-4-1 OVC) advances to Friday's semifinal against second-seeded Morehead State, with kickoff scheduled for 7:00pm Southeast Missouri's season comes to an end with an 8-7-3 (6-2-2 OVC) mark.
The squads battled to a scoreless first half, but it was not without opportunities for both sides. The Lady Govs best chances came on longer shots outside the 18-yard box; senior Natalia Ariza's 13th-minute attempt was saved only by a diving stop from Southeast Missouri's Ashton Aubuchon, while Courtney Sheppard's attempt to the upper 90 in the 27th minute was punched over the bar.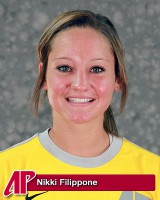 Sophomore keeper Nikki Filippone came up big for Austin Peay on a few occasions in the first half. In the 28th minute, Filippone made a great point-blank save on a wide-open shot from Natasha Minor, and stopped a looping line-drive shot from Kasey Crowden in the 35th minute.
The squads went back and forth for much of the second half, with neither side making much offensive headway. Freshman Gina Fabbro had an early opportunity; her 46th-minute header hit the post, and the subsequent rebound shot was saved by Aubuchon.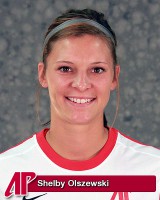 The game turned more physical as the half went along, with Southeast Missouri's Torey Byrd being issued a yellow card in the 70th minute. Minutes later, Tatiana Ariza was taken down in the box, but no foul was awarded.
The Lady Govs broke through late, just as they did in last season's semifinal appearance against SIU Edwardsville. This time it was Olszewski getting the game-winner, heading home a corner kick from Natalia Ariza with less than five minutes remaining.
Olszewski's goal came in nearly the same spot and minute as Joceline Quiceno's game-winner against SIU Edwardsville in the 2012 OVC Tournament semifinals. Quiceno's 84th minute tally propelled the Lady Govs into the final last season.
Filippone stood toe-to-toe with Aubuchon, the OVC Defensive Player of the Year, for 90 minutes. The Woodbridge, Ontario native made six saves for her season's fourth shutout, while Aubuchon made seven saves in defeat.
Friday's match against Morehead State will be broadcast on the OVC Digital Network. In other Thursday night action, SIU Edwardsville defeated Eastern Illinois, 2-1, to advance and face top-seeded UT Martin at 4:00pm, Friday.