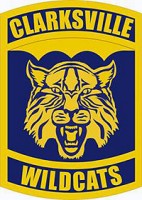 Clarksville, TN – At 9:00pm Saturday morning wrestling teams from 13 Schools started competing in William Workman Gymnasium at Clarksville High School for Slamfest 2013. By 5:00pm only two were left competing for 1st place, the West Creek Coyotes and the Cookeville Cavaliers.
With three straight pins in the 185, 195 and 220 lb weight class matches, the Cavaliers came from behind to take down the Coyotes 45-36 and earn 1st place in Slamfest 2013.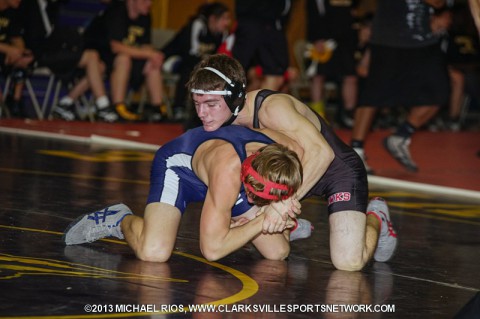 "We left out of Cookeville this morning around 5:00am. Several times the guys have just been tired. They rallied back each time to warm up and get excited and wrestle again," Cookeville head coach Scott Cook said. "They just kept fighting through each match. We had a tough match against Clarksville. Then to come out for a really tough match against West Creek, its just a phenomenal feeling. I am extremely proud of them. They have gutted it out today."
The Cavaliers went 3-0 in Pool play the first half of the day. After the Break they faced Slamfest host, Clarksville Wildcats, barely beating them 33-31.
The win advanced them to the Championship match against the West Creek Coyotes. After the first 11 matches, the Cavaliers were behind 36-27 with three weight classes left to go.
The Cavaliers won with pins at 185 and 195 and took a 39-36 lead. In the last match at 220 lbs, Cavalier Darren Houston wrestled against one of the Coyotes strongest wrestlers, Juhl Pace, who came into the tournament undefeated.
After two periods, Pace was ahead by only a point. But Houston was able to score a takedown and get the pin in the third to secure the win for the Cavaliers.
"I couldn't be more proud of our guys today. They really came through and showed a whole lot of heart," Coyote's coach Zachorie Suggs said. "Our key today was coming in and winning big, and losing small. The matches that we won, we won at six points on those pins. The matches that we lost, we only gave up three points."
The Coyotes had hosted their own quadrangular meet Thursday in which they went 3-0. They came into Slamfest after one day of rest and the junior varsity at another event.
"Those kids were dead tired at the end. We were within one match of winning the whole thing with one guy in each weight class. We were paper thin all day," Suggs said. "I couldn't have asked those guys to do any better. I can't believe the heart that they showed. The motivation and drive that they had, it was an awesome day."
Clarksville defeated the Franklin Rebels 40-31 to earn third place. The Rebels, last years Slamfest winners, earned 4th place and Overton rounded out the top 5.
"They made it to the finals last year and lost to Franklin and they were determined to win it this year. They fought hard today. I'm proud of them," Cook said.
Slamfest 2013 results
Cookeville Cavaliers 5-0
West Creek Coyotes 3-1
Clarksville Wildcats 3-1
Franklin Rebels 2-2
Overton Bobcats 3-1
Dickson Co. Cougars 3-2
Arlington Tigers 2-2
Hopkinsville Tigers 1-3
Rossview Hawks 3-2
Fort Campbell Falcons 1-3
Northwest Vikings 1-3
Hendersonville Commandos 0-4
Mt. Juliet Golden Bears 0-3
Photo Gallery