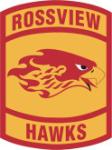 Clarksville, TN – Rossview High School center Janie White more than outscored Clarksville High School by herself with 35 points, January 3rd at the William Workman Gymnasium, as the Lady Hawks defeated the Lady Wildcats, 50-19 in a District 10-AAA contest.
Most of White's damage came in the fourth quarter, where she scored 18 points for the Lady Hawks (10-2, 4-0 District 10-AAA) to pull away for the Lady Wildcats – who were only down 10 points, 28-18, heading into the final period.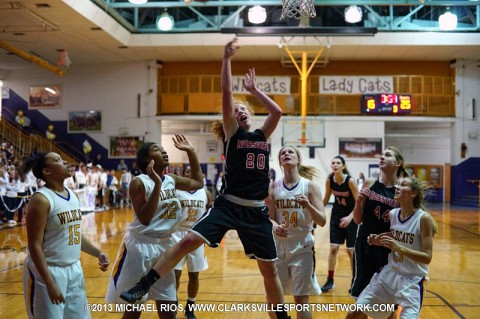 White would score eight straight to start the fourth quarter, including the final two coming on two free throws earned on what was the fifth foul of the night on Clarksville High's (7-7, 3-1 District 10-AAA) Haley Bearden – who led CHS with eight point and nine rebounds.
The Lady Wildcats lone point in the final stanza came on a free throw by Nyasia Saines, with 2:53 left in the game.
White, who also grabbed eight rebounds and blocked four shots, followed the Saines free throw by closing out the night's scoring with three baskets – including a three.
The first half opened with Rossview scoring the game's first 11 points, with White scoring nine of those points – including the first five of the opening run.
Clarksville High would get on the board at the 3:56 mark on a layup by Bearden, followed by a bucket by TaTayana Outlaw for the Lady Wildcats to make it 11-4 Rossview, with 3:12 left in the opening quarter.
But that would be as close as Clarksville High would get in the opening period, as the Lady Hawks scored the final five points of the quarter, including a buzzer beating three from Karle Pace to give Rossview a 16-4 advantage after the first eight minutes of play.
Clarksville High would answer back with four straight points to open the second quarter, to make it 16-8, but it would only score two more points the rest of the first half, while Rossview would tack on nine more – including another three just before the buzzer to end the first half, this time by Ashley Power, to make it 25-10 Lady Hawks at intermission.
The Lady Wildcats would play their best quarter of the night in the third, holding Rossview to just three points in the period, while scoring eight points to cut the Lady Hawks lead down to 10 points heading into the fourth quarter.
Both teams will return to 10-AAA action on January 7th, as Rossview travels to Henry County High School, while Clarksville High travels to play at West Creek High School.
Tipoff for both games is 6:00pm.
Photo Gallery
Box Score
Rossview 50, Clarksville High 19
| | | | | | |
| --- | --- | --- | --- | --- | --- |
| | 1 | 2 | 3 | 4 | Final |
| Rossview Lady Hawks | 16 | 9 | 3 | 22 | 50 |
| Clarksville High Lady Wildcats | 4 | 6 | 8 | 1 | 19 |
Rossview: Kiara Fisher 1, Ashley Powers 3, Janie White 35, Haylee Croom 2, Mickey Head 4, Samajia Ogburn 2, Karle Pace 3. Team totals 18 11-15 50.
Clarksville High: Nyasia Saines 3, Ke'Oshea Deaver 4, LaPrasha Fair 1, TaTayana Outlaw 3, Haley Bearden 8. Team totals 8 3-11 19.
3-point field goals: Rossview 3 (Powers 1, White, Pace 1), Clarksville High 0.
Records: Rossview 10-2, 4-0 District 10-AAA, Clarksville High 7-7, 3-1 District 10-AAA.