Johnson City, TN – Austin Peay State University women's track and field team saw two school records fall – one that stood for less than a day – on Day Two at the 36th Annual Niswonger Invitational, Saturday, hosted by East Tennessee State at the Mountain States Health Alliance Athletics Center.
Saturday's big win came in the distance medley relay, with a quartet featuring senior Xiamar Richards, junior Jessica Gray, sophomore Kymmalett Ross and freshman Molly Jordan coming out on top by more than 10 seconds with a 12:20.15.
It topped the previous school record by more than seven seconds, the second Austin Peay indoor track and field record to fall this weekend after Maikea Davis' 200m mark, Friday.
"That was a pleasant surprise," said head coach Doug Molnar about the record. "I kind of sketched out where I thought we'd be (on times) and that if we hit those times we'd be close to the record but everybody bettered my prediction and we got the record."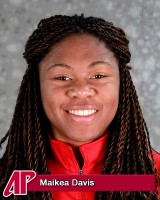 Not to be upstaged, Davis lowered that mark yet again, Saturday. She finished third overall at 24.57 seconds, and has now lowered the Austin Peay record in the 200m by nearly seven-tenths of a second in just three events with the Lady Govs.
In her first career indoor 5000m run, senior Kendra Kirksey turned in a runner-up finish in the Mini-Dome with a personal-best 18:59.01 mark. Sophomore Alexis Eldridge was seventh in that event with a personal-best 19:44.58.
Sophomore Breigh Jones took second in the 400m dash finals, lowering her season's best to 55.98 and moving up one spot from her qualifying position. Jones, Jordan, Ross and freshman Terris Morris also put together a fourth-place 4x400m run at 3:54.50.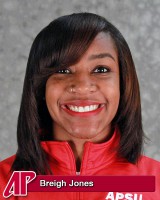 Freshmen Amia Butler and Myiah Johnson both set personal bests in the 60m hurdles final, both improving on their qualifying positions. Butler placed third with an 8.84 mark, while Johnson was one spot behind her with an 8.94 time. Butler also placed fourth in the long jump with a 5.66m (18' 7") leap.
"Really good sign for Amia and Myiah that their prelims and finals are getting better," Molnar said. "Being able to duplicate that at the conference meet will be good. I think as the freshmen – all the freshmen – continue to figure things out and put things together, we'll get better as a team."
The Lady Govs return to action next weekend at the Gladstein Invitational, hosted by Indiana.