Clarksville, TN – Austin Peay State University's men's tennis team has picked up where it left off last year, as they prepare to defend its Ohio Valley Conference team championship.
The Governors, who won the Ohio Valley Conference title for the first time since 1974 with a 17-4 overall record, is currently 5-2 this season and has been distinguished by being ranked for the first time in the program's history in the ITA (Intercollegiate Tennis Association) national rankings 72nd in Division I.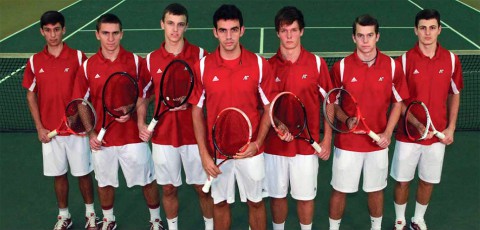 "I don't think we're at the mountaintop, but we're working hard and moving in the right direction," Austin Peay head coach Ross Brown said. "I feel good for these guys to get a little recognition, but the most important thing will be what happens during conference play."
What has been even more impressive about the early ranking and record is that the Govs only have one senior (Jasmin Ademovic) on the squad and he had missed some time with injuries.
Ademovic is 10-3 overall during the 2013-14 fall and spring seasons, and 3-1 in the number-one singles slot before missing the last two matches.
But junior Dimitar Ristovski had stepped into the number-one singles and has gone 3-0 after recording a 2-1 record at number two.
Junior Aleksas Tverijonas, who won 15 straight matches last year, is 7-0 so far this season – going 3-0 at number-two singles and 4-0 at number three singles.
Also having solid starts this spring in singles marches are sophomore Evan Borowski — who is 3-1 at number six singles — and two freshmen James Mitchell and Manuel Montenegro, who are 4-3 and 2-2 respectively playing a majority of the time at the number four and five singles slots.
The only Governor who has struggled this spring has been junior Iago Seffrin, who is 0-6 in splitting time at number three and four singles.
"We're the defending champions, but I don't know if you can say for sure we're the favorite, but we are in the mix for sure," Brown said. "We're confident and I'm confident, but you can't count on it like in any sport.
"I hope we can continue this roll and I couldn't be more pleased with the young men and women on both of our tennis teams. They're just quality people, who not only do well on the tennis courts, but do well in the class room."
Now that their pre-OVC schedule is over, the Govs now have two weeks to rest, refocus and refresh before beginning conference play on March 15th, when they open OVC play at Jacksonville State University.
"You can't play your best all the time, so you have to build up," Brown said. "I call it periodization where you set a goal of about six weeks away and build up to that goal.
"Our season goes for three months and I like to give our guys a little break to recuperate and refocus what we're doing as we go into the last part of the season. For the body to stay at a high level for a number on months in a row is just very difficult."
Austin Peay's first home OVC match is March 23rd versus Tennessee State University, while the OVC tournament runs April 17th through 19th in Nashville, TN.