Montgomery County, TN – The latest business to host a Green Ribbon Cutting for becoming Clarksville-Montgomery County Green Certified is Publix.
Montgomery County Mayor Carolyn Bowers, Clarksville Chief of Administration Bill Harpel, on behalf of Clarksville Mayor Kim McMillan, executive director of the Chamber of Commerce Melinda Shepard, and Publix District Manager David Fulmer were there to congratulate the Clarksville Publix stores for their work.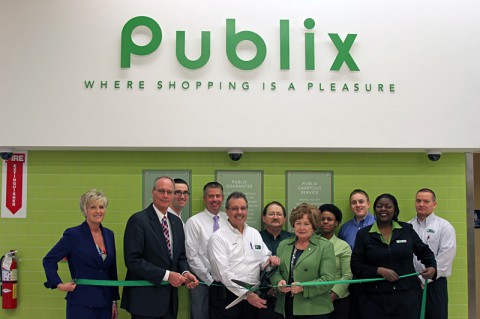 After the ribbon cutting, Madison Street Store Manager Norman Rubio, explained some of the additional conservation initiatives they had taken in the Clarksville stores.
"Publix has a strong Corporate Sustainability and Stewardship Program in place with many state of the art green team initiatives throughout the store, so we had to look for additional possibilities. Managers in the bakery and deli started double sided printing which transcended throughout the stores. The next thing we did was stop using paper checks and use direct deposit for our associates. So our managers got on board and got our associates involved and we were the first store to achieve 100 percent participation. Now, almost all Publix associates are using direct deposit and if associates want a copy of their check, they can print it off line. It's saved the corporation paper, time and money."
Rubio added, "Another big initiative on our part is what we have done with the chipped and wax cardboard. This is a lower grade cardboard that is usually not recyclable. Publix identified a source for it and asked individual stores to put a plan in place to keep it out of our compactors and the landfill. That was huge for us and for the County landfill. We are now sending it to a secondary source for reuse and we are thrilled about that."
Bowers recognized that Publix stores came into the community with a variety of sustainability practices already in place. She asked, "Do you encourage employees to recycle and do other things that improve conservation?
"We do, we encourage carpooling between associates to reduce emissions and ask them to recycle and it is working out very well," said Rubio.
Publix also turns off lights, computers and calculators, they encourage customers to use re-usable bags and have dramatically reduced the number of plastic bags used in their stores, they have outside containers at both store locations where customers can bring in paper and plastic bags and Styrofoam egg cartons, all of which are recycled and used by secondary sources and kept out of the landfill. They also work with local food ministries to provide donations.
"Congratulations and thank you for the extra steps you've taken to support this community effort," said Bowers.
Publix of Clarksville has two locations – 1771 Madison Street managed by Norman Rubio and 1490 Tiny Town Road managed by Vincent Hartley. To view Publix corporate sustainability report, visit http://sustainability.publix.com/ .
For information on how your business can participate in the Green Certification Program, contact Michelle Newell at manewell@mcgtn.net .