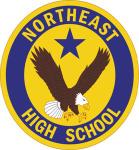 Clarksville, TN – The Northeast Eagles shutout the Clarksville Academy Cougars 10-0 in their first game of the William Workman Classic Baseball Tournament Thursday, April 10th on their home field.
Eagles pitcher Matt Heggie earned the complete game shutout victory. Heggie allowed only four hits in his six innings on the mound. He struck out six and walked four for the night.
While Heggie held is own from the mound, he got some help from a sharp looking Eagles defense who made smart plays to keep the few runners the Cougars had out of scoring position.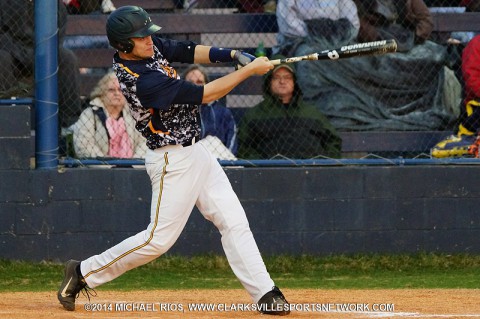 As good as Heggie and the Eagles defense looked, it was not as impressive as their offense. The Eagles must have left their bats in the sun all day, because they were hot.
Cougars starting pitcher, Phillip Smith, got in trouble early. The Eagles plated three runs from four hits in the first inning. Smith was tagged for seven of the ten total runs from 10 Eagles hits. He made one strike out and one walk before retiring after the fifth inning.
Errors compounded Smith's troubles and ultimately cost the Cougars the game in the sixth inning.
Wild pitches not stopped by the catcher let the Eagles steal home for their last three runs.
Eagles Devin Runkle and Clayton Caskey both hit multiple RBI in the game. Caskey brought in the Eagles first run of the game when he cranked a shot deep into the gap between center and right field for a standing RBI triple.
Caskey came in for the second score when his teammate Ben Wilford hit a sacrifice slow rolling grounder. After Luke Veltri hit a deep line drive into left field for a double, Kyle Primasing hit one that hugged the third base line, eluding a diving Cougar third baseman for an RBI single.
Runkle hit a sac fly for his first RBI in the bottom of the second, extending the Eagles lead to 4-0.
Three more runs by the Eagles in the fifth forced the Cougars to make a pitching change. Brayden Batson took the mound I the sixth inning, but it didn't slow the Eagles offense.
Landon Dennis led off with a double off of Batson in the bottom of the sixth. He moved to second on a ground out by Runkle and stole third.
Dennis stole home for the first of three runs stolen by the Eagles in the sixth. Later, after Batson walked the bases loaded, he threw a low pitch that got past his catcher and rolled to the fence. Before the Cougars could recover, two Eagles runners came in to end the game.
Runkle finished the game batting 1-for-4 with 2 RBI. Caskey batted 2-for-4 with 2 RBI.
The game against the Cougars was the first of two for the Eagles at home on the first day of the tournament. They went on to play the Tullahoma Wildcats in game two.
Box Score
| | | | | | | | | | |
| --- | --- | --- | --- | --- | --- | --- | --- | --- | --- |
| | 1 | 2 | 3 | 4 | 5 | 6 | R | H | E |
| Clarksville Academy Cougars | 0 | 0 | 0 | 0 | 0 | 0 | 0 | 4 | 4 |
| Northeast Eagles | 3 | 1 | 0 | 3 | 0 | 3 | 10 | 12 | 0 |