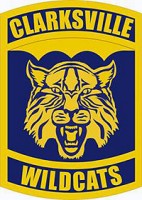 Clarksville, TN – Clarksville High School's baseball team rebounded from an extra-inning loss the night before to post a 9-1 victory over Montgomery Central High School, April 10th in the opening day of the William Workman Tournament.
After dropping its first District 10-AAA game of the season, April 9th on the road at Rossview High School, the Wildcats scored runs in five of their six at bats against the Indians (7-12) – recording 14 hits against two MCHS pitchers.
"We needed a bounce-back game and a low-scoring game where we played well defensively," Clarksville High coach Brian Hetland said. "That's the key for our team, because we made some mistakes late last night and it hurt us a little bit in that game.
"I thought our guys came out with a business-like approach against a Montgomery Central team that I feel will get it together and be strong down the stretch with the good athletes they have."
The Wildcats got on the board in the bottom of the first inning, scoring twice with two outs, with Donny Everett driving in Landon Mosteller with a double and Gabe Bowling following with a single to score Everett.
Clarksville High would take advantage of some bad luck for Montgomery Central to score its next two runs in the second inning.
With runners on second and third and two outs, Indians starting pitcher Zach Norfleet got Everett to swing and miss a pitch in the dirt for what could have been the last out of the inning with no damage being done, but the ball got away from catcher Zack Slay allowing Brady Cook to score.
Clarksville High was also able to get Mosteller in also, when Slay's throw back to the plate to try to get Cook was wild and the error allowed in the second run.
"I thought we played pretty well against Clarksville, we just didn't get any breaks," Montgomery Central coach Todd Dunn said." They're a great team and they take advantage of very break like the missed strikeout that costs a couple of runs. Then a couple of things here and there later on and you come away with a 9-1 score that was really a closer game than that score shows."
Those early runs were all that CHS starter Teal Young (2-1) would need, as he limited the Indians to six hits and one run in his six innings of work – while also striking out three and walking three.
"Teal came out and threw the ball really well and kept the ball down in the (strike) zone," Hetland said. "He's done that every time out and tonight we got him up to 90 pitches, as we try to build him up gradually with him coming out of basketball.
"He mixed his breaking ball in and his change-up in when needed and kept his pitch-count down through the first four innings and only gave up one run."
That run would come in the top of the third inning on an RBI single by Devin Prewitt that drove in Drew Sheppard – who had reached on a double.
CHS would answer back in the bottom of the inning with a sacrifice fly by Young to score Luke Chilcutt, to make it 5-1.
The Wildcats would continue to add insurance runs in the fifth and sixth innings, with Nolen Milton driving in a run in the fifth on a bases-loaded hit by pitch, while Young drove in two runs with a single and Cook one on a double in the sixth inning.
Clarksville High returns to action in the tournament on April 11th, as they host Station Camp High School at 6:30pm, while Montgomery Central squares off against the same Station Camp squad on April 12th, 11:00am, at Rossview High School's baseball field.
Photo Gallery