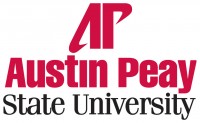 Clarksville, TN – Tucked down a hallway in the new Austin Peay State University Maynard Mathematics and Computer Science Building, there's a little-known computer lab that operates off the main campus grid. The 24 PCs that line the room have access to the internet, but they are not part of the APSU network.
"They're totally disconnected from anything on campus," Dr. Bruce Myers, chair of the APSU Department of Computer Science and Information Technology, said. "We use it to teach computer networking, but to teach that, you can't just take your typical computer in a lab and let people starting working. They're going to reconfigure things."
The lab was initially needed to assist with the department's computer networking minor, but the demand for this skill in the workforce led to more students eager for a degree in the subject.
Last month, their wish came true when the Tennessee Board of Regents established a new concentration in networking within the University's existing Bachelor of Science in Computer Science and Information Technology degree.
The networking concentration will provide APSU students with an in-depth understanding of the foundations of data communication and modern networking technology. It will also help them develop the technical skills needed to deploy and mange an enterprise network in a secure computing environment.
"We teach programming, but not every business needs somebody to write programs, but every business needs a network," Myers said.
The department's bachelor degree program previously only offered four concentrations: computer science, information systems, internet and web technology and database administration.
But the interest in networking continued to grow, so Myers tasked Dr. Jiang Li, professor of computer science, and Dr. Yingbing Yu, associate professor of computer science, with reviving an abandoned plan for a networking concentration. Amazingly, they were able to receive TBR approval in less than six months.
Part of that success came from the networking lab recently set up in the new Maynard Building.
"Several years ago, we received permission from the IT department to set up a separate networking lab," Yu said. "We upgraded that lab when we moved into the new building."
Several students have already signed up for the networking concentration, and Myers said the new program will likely have its first graduates next fall.
For more information, contact the APSU Department of Computer Science and Information Technology at 931.221.7840.