Austin Peay Sports Information

Muscle Shoals, AL – Austin Peay State University men's golf team will begin defense of its Ohio Valley Conference tournament championship, Friday, when the 2014 league championship gets underway at The Robert Trent Jones Golf Trail at The Shoals.
Last year the Governors won their eighth OVC Championship by topping the field by nine shots, an event shortened to 36 holes due to a torrential downpour on the final day at GreyStone Golf Club in Dickson, Tennessee.
As a result of last year's finish, the Govs will not tee off Friday until 10:30am, 2 ½ hours after UT Martin and Eastern Illinois open tourney action on the par-72, 7,187-yard Fight Joe course layout.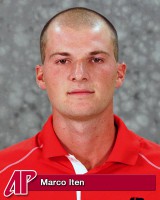 Last year the Governors set an Austin Peay record with six tournament championships, including the OVC title. This year APSU has just one title but nothing less than a seventh-place finish in the strongest schedule in Kirk Kayden's 10-season tenure.
In fact, at the last two regular-season tournaments, the Govs were among fields of 10 and 11 Top 100 teams, respectively, finishing fifth at the Old Waverly Intercollegiate in West Point, Mississippi, and sixth at the Reunion Intercollegiate at Madison, Mississippi. APSU will bring the OVC's top ranking—79th (GolfStat)—into the tournament as a result.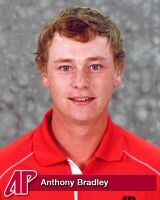 "The biggest difference between last year and this year is strength of schedule," APSU coach Kirk Kayden said. "We certainly didn't have the number of wins this year as last year but the strength of the tournaments we played in this year was the biggest difference. You don't see as many first-place finishes this season but you do see a lot of top finishes against quality fields of high-ranked teams.
"The guys played hard all season and had a remarkable regular season. We are playing well entering the tournament and I am confident we will play well in the conference tournament as well."
Kayden believes the Govs' ever-improving schedule should have his team ready to not only battle against OVC opposition but the long links layout of The Fighting Joe.
"The biggest thing is I try to do in scheduling is look at that course," Kayden said. "If that course is difficult it is going to do nothing but help us prepare for the conference championship, especially if that (league championship) course is extremely difficult like this one. Your guys can go there and say 'we are used to playing on a difficult course, one that is long, with fast greens and high rough.' These guys are adept at adapting to those courses and those conditions.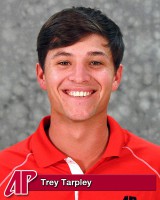 "That is how is set up our schedule, with the idea of helping us at the end of the year at the conference tournament."
APSU is led by a trio of seniors—Marco Iten, Anthony Bradley and Trey Tarpley—none of whom had any Division I scholarship offers out of high school other than from Kayden and the Govs. Iten has been the Govs' most consistent golfer in 2013-14 and hottest since the New Year.
He recently ran off a stretch of finishing first (Talis Park Challenge)/second (Memphis Intercollegiate)/first (Waverly Intercollegiate), a stretch that was reminiscent of past Kayden APSU standouts Grant Leaver, Erik Barnes and Dustin Korte. He leads APSU in scoring average at 72.8 shots per round.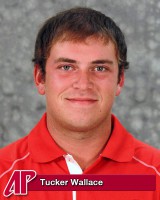 Meanwhile, Bradley already has played in a pair of NCAA Regionals, two seasons ago representing the OVC and APSU after claiming medalist honors at the league championship before being part of last season's team that won its first league title since 2009. Bradley comes in averaging 74.0 shots per round.
Tarpley has bounced back from a struggling 2012-13 to regain his 2011-12 form and become a fixture in the Govs lineup—he has played in all 11 tournaments (32 rounds) this season. He comes in averaging 75.8 strokes per round.
The other two spots belong to junior Tucker Wallace (75.1) and sophomore Chris Baker (74.9), both who were part of the Governors' OVC title run a year ago and seventh-place NCAA Regional finisher at Tempe, Arizona. Wallace got off to a slow start this season, losing his spot in the lineup, but has improved steadily during the spring to regain his lineup spot.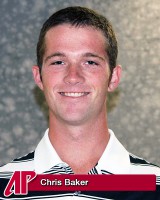 Baker, meanwhile, hit a pothole earlier this spring but has rebounded to again be one of the Govs top performers for a team that has seven Top 5 finishes during the season.
Jacksonville State finished second a year ago while Tennessee Tech was third.
UT Martin enters the tourney with the league's lowest scoring average (292.7), followed by Tennessee Tech (292.8), Belmont (293.4) and the Govs (294.6).
This is only the second time the men's championship has been played at The Shoals. The last time came in 2009 with the Governors winning by one stroke.