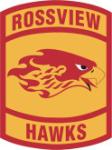 Clarksville, TN – Rossview High School's boys soccer team has been one of the upper-level teams in District 10-AAA since the school opened, but never winning back-to-back district titles.
That is until now, as the Hawks (13-3-4) made it make-to-back tournament titles with a 2-0, May 8th, victory over West Creek High School.
"I couldn't be prouder of this group of boys," Rossview coach Danny Chartrand said. "I've been telling anyone that would lesson that we're 16 or 17 (players) deep and they're genuinely not selfish and understand what the team is and they're willing to play the minutes, do what we ask them to do, no matter where it is on the field.
"It's our first back-to-back district championships, so that's something we hope to build on and keep it rolling."
The Hawks came out and really pressured West Creek (10-9-0) in the opening minutes of the match, with the Coyotes making their first appearance in the district tournament finals and Rossview wanting to take advantage of that.
The strategy paid off for Rossview in the ninth minute, as the Hawks finally broke through with a goal from Dylan Schwartz, off an assist from Jarrod Stanford.
"The first half was pretty disappointing in the things we wanted to do defensively," West Creek coach Seth Ramsey said. "We really wanted to try to limit their possession and we just didn't do that."
Rossview would add a second first-half goal 20 minutes later, with Dominic Kubas scoring off an assist from Marco Rodriquez.
"It helps always when you can get on the board early-on," Chartrand said. "For many years I've been preaching the first five minutes of a half, the last five minutes of a half and the first five minutes after scoring a goal is scored are critical times in a soccer match.
"We didn't get it (a goal) in the first five minutes, but we pressed the first five and got the opportunity to put the ball in the net in the first 10 minutes and that changes the game a little bit."
The Coyotes on the other hand didn't have a shot in the first half against the Hawks defense, but did make some adjustments at half time, along with picking up their aggressiveness to record five shots – four on goal – after intermission.
"It was a little disappointing not to be able to break through and find the back of the net at the end of a shot," Ramsey said. "I think in the second half we played a lot stronger.
"I thought there were moments that we were going to be able to do that, it just wasn't to be."
Sammy Shelton was in goal for Rossview, recording four save in the shutout, while Brad Rolen had eight save in a losing effort for the Coyotes.
Both teams move on to the Region 5-AAA Tournament, starting on May 20th, with Rossview hosting Station Camp High School and West Creek traveling to Mt. Juliet High School.
Both matches are scheduled to start at 7:00pm.
District 10-AAA Offensive MVP: Mason Gasaway, Clarksville High School
District 10-AAA Defensive MVP: Dale Cook, West Creek High School
District 10-AAA All-District Team
Rossview High School: Keith Scarbro, Dylan Schwartz, Akash Patel, Riley Benson
Clarksville High School: Mason Gasaway, Heath Meyer, Darmin Garduza
West Creek High School: Dale Cook, Mark Bussell
Springfield High School: Dakota Carlisle, Matt Herscher
Henry County High School: Ivan Hernandez
Northeast High School: John Jasmer
Northwest High School: Estaban Onate
Kenwood High School: James Ferebee
Honorable Mention: James Stevens (Rossview), Trevor Greiff (Clarksville High), James Granclin (West Creek), Matt Herscher (Springfield), Gabe Spring (Northeast), Shan Price (Henry County), Nathan Hammett (Northwest), Nick Truay (Kenwood).
District 10-AAA All-Tournament Team
Rossview High School: James Stevens, Sammy Shelton, Jack Lorey, Riley Benson
West Creek High School: Luis Santamaria, Brad Rolen, Manuel Angel
Clarksville High School: Cameron Pena, Ryan Gasaway
Springfield High School: David Calderon, Alejandro Angel
Henry County High School: Adam Owen
Northeast High School: Aarin Buchanan
Northwest High School: Max Ludwig
Kenwood High School: Alex Brack