APSU Sports Information

Auburn, AL – If Austin Peay State University senior Marco Iten could throw out holes No. 9 and 18, he would be sitting alone atop the leaderboard at the NCAA Auburn Regional.

But even with a double bogey on the front nine's final hole and a bogey on the course's final hole, Iten is tied for fourth after Thursday's Day 1 of the regional, being played at the Auburn University Club.

Iten fired a 1-under 71 to be two shots behind Louisville's Robin Sciot-Siegrist. Team-wise No. 1 and favorite Alabama shot a 1-under 287 and is six shots better than host Auburn.

The top five teams and the top individual not a member of the NCAA advancing teams will head to the NCAA Championship, May 23rd-28th, at the Prairie Dunes Country Club in Wichita, Kansas.

"I felt pretty comfortable out there," Iten said. "I was a little shaky at the start but I was able to get away with a lot of pars before I made birdies on back-to-back holes (Nos. 6 and 7). From there I thought I had my game where it needed to be."

Regional competition is nothing new for Iten. A year ago he tied for 13th at the NCAA Tempe Regional. For the day, Iten had four birdies with just the aforementioned two dark color numbers.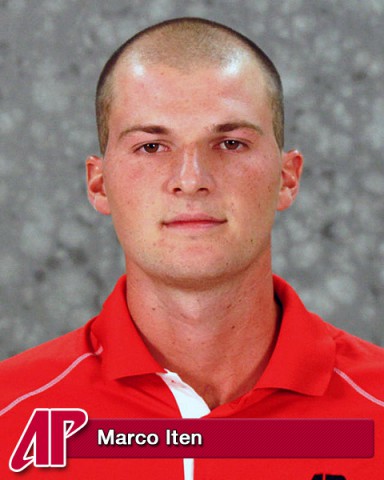 On No. 9, his second shot planted in the bunker short right of the green. His wedge then skidded across the green, forcing home to chip on the green. His chip landed short of the hole but then rolled a slope, forcing him to two-putt. He bounced with a birdie on No. 10.

On the par-4 No. 18, his second shot landed off the green long right. He three-putted, forcing him to drop from second to fourth in the standings heading into Friday.

However, it was Iten's putter that kept the senior from any other great dangers while his tee shot uncharacteristically was sprayed left and right on the fairway.

"I felt surprisingly comfortable with my short game—and that has necessarily been the case of late," Iten said. "My long game is where it needs to be for me to have some opportunities Friday."

"Marco played just real solid today—it was a good start being tied for fourth," APSU coach Kirk Kayden said. "He had just that one mistake on nine. He hadn't had bunker shot all day. He got a little skittish there and hit it a little thin.

"Otherwise he had a real good day . He made a few long putts. He just didn't make a lot of mistakes. That is the kind of golf you have to play. If you can plot your way around it and hit some fairways, you can play good golf and that is exactly what Marco did."

Iten, who won the OVC championship in late April is confident he can be in position to challenge for tourney medalist honors and be a part of the NCAA tournament field.

"I just need to keep calm and play golf," Iten said. "I don't think I need to make it any more complicated than it is. I just need to keep the nerves in check, go through a good warm-up routine and then take it is as it comes."
Box Score
| | | | | |
| --- | --- | --- | --- | --- |
| Finish | Player | Team | Round 1 | Totals |
| 1 | Robin Sciot-Siegrist | Louisville | 69 | 69 |
| T 2 | Niclas Carlsson | Auburn | 70 | 70 |
| T 2 | Yannik Paul | Colorado | 70 | 70 |
| T 4 | Cory Whitsett | Alabama | 71 | 71 |
| T 4 | Trey Mullinax | Alabama | 71 | 71 |
| T 4 | Beau Hossier | Texas | 71 | 71 |
| T 4 | Taylor Coalson | UNCG | 71 | 71 |
| T 4 | Luke Vivolo | UC Davis | 71 | 71 |
| T 4 | Zach Cabra | Sam Houston State | 71 | 71 |
| T 4 | Marco Iten | Austin Peay | 71 | 71 |
| | | | | |
Sections
Sports
Topics
Alabama, APSU, APSU Athletics, APSU Golf, APSU Men's Golf, APSU Sports, Auburn, Auburn AL, Auburn University Clulb, Austin Peay State University, Governors, Govs, Kirk Kayden, Louisville, Marco Iten, NCAA, NCAA Auburn Regional, NCAA Championship, NCAA Tempe Regional, Ohio Valley Conference, OVC, Prairie Dunes Country Club, Robin Sciot-Siegrist, Wichita KS