Austin Peay Sports Information

Hutchinson, KS – Austin Peay State University golfer Marco Iten saw his string of under-par rounds in the post season end at five on May 24th, as he finished up his opening round at the NCAA Division I National Golf Championships, but the recently graduated senior found a way to grind out a solid round of two-over 72.

Iten, who started on hole 10, was at even par on his third hole, May 23rd at the 6941-yard, par 70 Prairie Dunes Country Club, when the third weather delay of the day ended play with less than half of the 156 total golfers even being able to start their opening round.

"That was a very tough deal," Austin Peay coach Kirk Kayden said. "I've been coaching for 15 years and been to a lot of golf tournaments over my time and just never had an experience like that where we played two or three holes after getting to the golf course at 7:15 in the morning and left at six o'clock last night, but Marco handled it well."

Paired with University of Tennessee Chattanooga's Chris Robb and Wake Forest University's Cyrus Stewart, Iten picked up where he left off before the delay paring his first six holes – despite only hitting two of his first eight greens — before picking up his first birdy of the round on hole 16 and made the turn at one-under.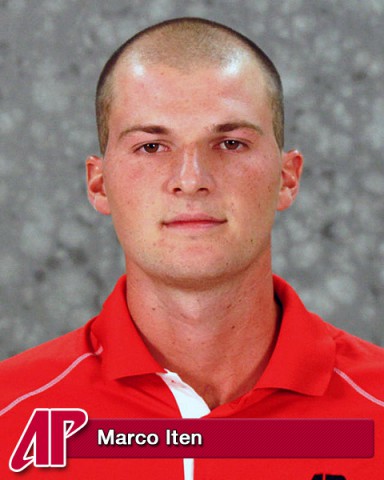 "His short game was good and he made a lot of key up and downs," Kayden said. "It's just a tough course with the pins located in some tight areas and you only have a few yards left or right, or in front or behind it and you have to put into a small area

"I think we has close to having a good round, obviously he wasn't satisfied with a two-over, but he just has to get ready for tomorrow and be prepare for however many holes we end up playing tomorrow."

But NCAA rules officials warned the group at the turn that they were behind the required pace and needed to speed up.

That warning may have gotten Iten distracted as he opened his second nine holes of the round, as his tee shot was wide of the fairway and into the tall grass leading to his first of back-to-back bogies to drop his to one-over par.

"That might have flustered him a little bit," said Kayden of the warning. "You make the turn at one-under and a rules official comes up to you and says you need to speed up and that can defiantly get into your head, but that's just part of this NCAA stuff.

"They time you and you have to make sure you meet certain check-point times and if you don't you get a warning, then if you're out of position again they give you a penalty."

Iten would regroup though, paring the next four holes, before suffering a bogey on hole seven – hit 16th or the round – after having to take an unplayable lie.

He would get the shot back with a birdy on the eighth hole, but his only bad chip of the day on his final hole of the round cost him a final bogey to finish the round at two-over.

Playing in the early group for his first round, Iten will now have to wait until tomorrow to start his second round, while the afternoon wave of golfers — who didn't start their first round of play until Saturday morning — will turn around and play a second 18 holes following their first round.

"That second group was originally scheduled to play late, early and we were scheduled early, late," Kayden said. "So that wave of teams and individuals have to tee off with their second round  before we can play our second round and that's going to take the rest of the day (Saturday).

"I'm sure we'll get a note later in the day on when we'll tee off tomorrow (Sunday) and we'll play all day tomorrow and try to get in as many holes in as we can."



About Chris Austin
Chris Austin is a graduate of Clarksville High School and Austin Peay State University.

Chris is a former Head Softball Coach for APSU, and assistant basketball coach for CHS.

Chris has worked at the Leaf-Chronicle, and WJZM News/Talk/Sports radio. Has also worked at the Sports Information Department at APSU, and has covered championship events for the Ohio Valley Conference and NCAA.

Chris is an avid sports fan and can be found at most Austin Peay State University sports events.

Web Site: http://www.clarksvillesportsnetwork.com
Email:
Sections
Sports
Topics
APSU, APSU Athletics, APSU Golf, APSU Men's Golf, APSU Sports, Austin Peay, Austin Peay State University, Chris Robb, Cyrus Stewart, Governors, Govs, Hutchinson KS, Kirk Kayden, Marco Iten, NCAA, NCAA Division I National Golf Championships, Ohio Valley Conference, OVC, Prairie Dunes Country Club, University of Tennessee - Chattanooga, Wake Forest University