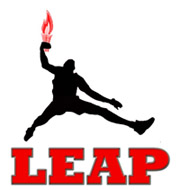 Nashville, TN – On May 7th, 2014 the LEAP Organization was selected to receive a grant award from the Nashville Predators Foundation. This year marked the Predators biggest grant program in franchise history with over $410,000 in grants were awarded to Middle Tennessee non profit organizations at Bridgestone Arena.
"We are very appreciative of the Predators Foundation selecting us for funding to enhance our youth development program" commented board member Larson Gafney.
LEAP which provides mentoring, counseling, career development and community service learning opportunities to youth ages 11 to 18 has been serving Clarksville for over 5 years.
LEAP has also acquired the former Daymar Institute campus located at 1860 Wilma Rudolph Boulevard.
In addition to converting it into a youth development center, the organization also uses it as a business incubator to help other nonprofit organizations and small business grow.
For more information visit www.leaporg.net or call 931.378.0500.