Jobs4TN Hiring event will include over 30 regional employers
Dickson, TN – Tennessee State Representatives David Shepard (D-69) and John Tidwell (D-74) will be co-hosting a job fair on Thursday, June 19th from 10:00am to 2:00pm at the Lester Speyer Community Complex, 115 Tennsco Drive, Dickson, TN.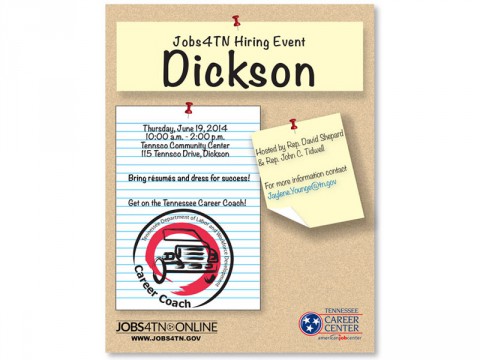 "This is a great opportunity for members of our community who are looking for work – or are looking for a better job – to come out and meet with dozens of prospective employers at once," said Representative Shepard. "I am looking forward to hearing from those who have been out-of-work to find out more ways we can help improve the economy in Middle Tennessee."
"While the unemployment rate has improved, we still have thousands of people in the area who are struggling to find a good job at a decent wage," said Representative John Tidwell. "I hope everyone who is looking for work in the area will come on out and see if they can find the right career for them."
Job Fair Information
Who: Rep. David Shepard and Rep. John Tidwell along with dozens of employers
What: Jobs4TN Hiring Event
When: Thursday, June 19th from 10:00am – 2:00pm
Where: 115 Tennsco Drive, Dickson, TN 37055
To date, over 30 employers have indicated they will be attending this Jobs4TN hiring event. Participants include: Aflac, Aid & Assist At Home, Apprisen, Arrow Exterminators, Bluegrass Heritage, Developmental Services, Express Employment, Georgia Pacific, Goodwill Career Solutions, IBEX Global, L-Core, Letica Freightlines, Liberty Mutual Insurance, Manpower, Mesilla Valley Transportation, Mid Cumberland Human Resource Agency, Middle Tennessee Lumber, Nemak, New Horizons Computer Learning Center, RE West Transportation, Schneider National, Spartan Staffing, Talentforce, The Nathan Group, The Ranch, TN Army National Guard, TN Rehabilitation Center, Trinity Marines, US Marine Corps, Whelan Security, and Woodland Hills YDC.