Pitchers to Represent Sounds, Pacific Coast League in Triple-A All-Star Game on July 16th in Durham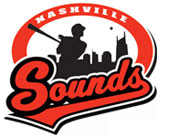 Nashville, TN – Starting pitcher Jimmy Nelson and reliever Donovan Hand have been named to the Pacific Coast League All-Star team and will represent the Sounds on the 30-man squad that takes on the International League stars in the Triple-A All-Star Game on Wednesday, July 16th at Durham Bulls Athletic Park in Durham, North Carolina.
Nelson was the top vote-getter among PCL players and will serve as the league's starting pitcher in the 6:00pm CT contest. Hand was selected as a reserve by the PCL office.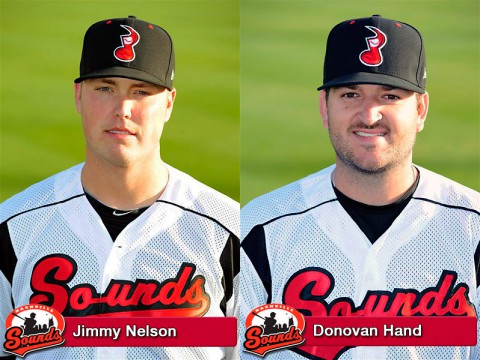 Nelson, the top prospect of the Milwaukee Brewers, has dominated the Pacific Coast League this season and currently leads the circuit in all three pitching Triple Crown categories with 10 wins, a 1.56 ERA, and 110 strikeouts.
The 25-year-old right-hander is 10-2 with his 1.56 ERA (18er/104.ip) in 16 games (15 starts) for Nashville this season. He has worked quality outings in 15 of his 16 PCL appearances. His 10 victories tie for the league lead as well as for 2nd-most in the minors this year.
Nelson's league-leading 1.56 ERA is tied for 2nd in the minors, his .179 average against is best in the circuit and 3rd-best in the minors, and he is best in the league and 2nd in the minors with 110 strikeouts in his league-high 104.0 innings.
Nelson has allowed only eight runs in 64 2/3 frames (1.11 ERA) in his last 10 trips to the hill (nine with the Sounds, one with Milwaukee), including working 6 2/3 scoreless frames last night to pick up his tenth win in Nashville's 5-0 victory over the Memphis Redbirds.
In addition to his success with the Sounds, Nelson earned his first major league victory by hurling 5 2/3 scoreless innings in a spot start for Milwaukee on May 25th at Miami.
The All-Star nod is the third straight mid-season honor for Nelson. He was previously recognized as a Southern League All-Star in 2013 and as a Florida State League All-Star in 2012.
Hand currently ranks 4th among PCL hurlers with his 13 saves. He has posted a 1-4 record and 5.40 ERA (23er/38.1ip) in 35 relief outings for Nashville this season.
The 28-year-old hurler is in his fifth campaign with the Sounds and ranks fifth in club history with 159 career appearances.
The All-Star nod is the third mid-season honor of Hand's eight-year pro career. He was previously recognized as a Southern League All-Star in 2009 and as a Florida State League All-Star in 2008.
Sounds coach Bob Skube will join the two Nashville hurlers at the Triple-A All-Star Game, where he will serve as hitting coach for the PCL squad. Skube is in his second year with the Sounds.
While there are no former Sounds among the players on the PCL All-Star roster, there is one Music City tie on the coaching staff: manager Bob Mariano from Fresno appeared for Nashville during his playing career in 1981.
The International League All-Star roster was announced yesterday and includes a pair of former Sounds: Syracuse pitcher Aaron Laffey, who pitched in Nashville briefly last season, and hitting coach Chris Tremie from the Indians organization, who was a catcher for the Sounds in 1995-96 and 1999.
The 2014 Triple-A All-Star Game will be broadcast live on television on MLB Network and the Armed Forces Network as well as on the radio on 102.5 FM "The Game" at 6:00pm CT.